Posted by Marty Dickinson on Oct 29, 2008
I have some real estate investors and agents for clients and friends. As you can imagine, most are having a rough go with the current real estate market. But, there are a few who are doing just fine…and are in fact making money in real estate! Do you want to know what their secret is? They have home staging experts to help them sell.
Home staging involves bringing in a bunch of furniture and decor to dress up a few rooms for show in a house.
What is the secret shared by the best staging experts in America? They've learned from the best! And, apparently, Sandy Dixon is the best.
I had the privilege of sitting-in for a few hours on one of Sandy's live workshops in Evergreen Colorado a couple of months ago and she is in more demand then EVER right now with this economy.
So, why do I bring this up?
Do I want you to go out and start a home staging business? Ha, only if that's what you want to do…and Sandy's home study home staging business course would be the one to buy for sure…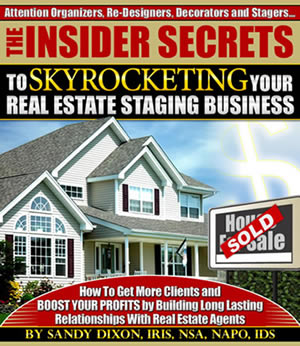 But, I have another reason.
It's to demonstrate how in even the WORST of markets and economies, opportunities present themselves. There are plenty of people out there who are doing just fine in this economy. It's just a matter of looking at your own business and doing things a little differently.
Okay, maybe a lot differently.
So, I have a question for you…
What kinds of businesses have YOU seen become popular in this down economy? Maybe your own? Tell other readers about it here!
Posted by Marty Dickinson on Sep 10, 2008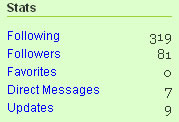 I finally took the plunge last night and made a concerted effort to build some momentum with my Twitter account. I gave myself 20 minutes and found 350 people to "follow" and out of those 350, at the time of this writing, 80 have chosen to follow MY postings on Twitter. In the time it took me to write that much of this post, I see another person has signed-on be on my list of followers but I'll stick with the 80 for easier math. In the world of measuring conversion rates, that would be a 25% conversion rate. That also means if I want 1000 followers, I need to find 4000 people to follow.
If it took me only 20 minutes to get 80 followers out of 350 people, that means it would take only 4.1 hours of my time.
Now, these are not quite of the true caliber as opt-ins to your newsletter list, but they are people who have expressed interest in giving you a "try" to see if you are interesting to them or not. If you can generate content in your Twitter messages (known as Tweets), then you stand a decent chance of attracting visitors to your website. I'll report a little more on that process in a few days.
So, what steps did I take to get 80 people interested in me within 20 minutes? Here are the 7 Twitter Steps:

Twitter Step 1) Create a photo for your profile that's interesting to people and catches their eye. Most Twitter accounts just have the person making a goofy face. I used my picture of the RUSH dogs that I use for my forum postings. Gotta be a RUSH fan to understand, but it sure does draw attention in a sea of typical portrait photos and gives the idea that I have a sense of humor.
Twitter Step 2) Get back to your Twitter home page inside your account and click on the "Everyone" tab as shown below. This will show you a list of the most recent topic additions that people have made to Twitter…within the past 5 seconds! If you refresh your browser while viewing the "Everyone" tab, a whole new list of comments will display. Yes, that's how many people are adding new comments that it only displays the most recent 5 seconds worth of posts!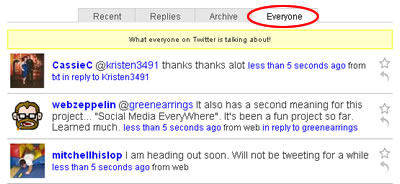 Twitter Step 3) I'll click on webzeppelin's photo and I'll see his profile.
Twitter Step 4) Notice the word Followers? That's a live link. Click on it to see his followers with links to their accounts.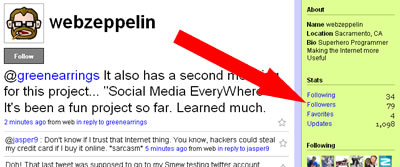 Twitter Step 5) Click the "follow" link for every account as shown below.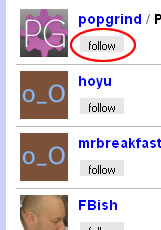 That means whenever the person makes an addition to Twitter, you will be notified within your Twitter account. You can be notified by email, but I chose to turn that off after I got my first round of a bazzilian emails! Twitter is popular!
How many times can YOU click in a minute? That's how many people you can follow and therefore attract people to follow you.
Those really are all the steps. As people see you've decided to "follow" them, they will reciprocate and follow you as well. That's the conversion rate I was mentioning earlier. Some people have only 5 or 10 followers. Others have well into the thousands.
In a future post, I'll go into some more detail about making an attractive Twitter post to get more people to take an interest in what you're writing.
Posted by Marty Dickinson on Sep 10, 2008
Twitter is one of those utilities that has two very special components: 1. Lots of people use Twitter on a daily basis; about 3 million per day in fact. With that many people talking, it's worth getting involved. 2. Twitter integrates with everything! WordPress, MySpace, Facebook, your own website. Meaning, you have lots of opportunity to increase your followers using your current Internet marketing methods.
There are several benefits to Twitter that stand apart from blogging. They are:
1. Speed – Within minutes after setting up a Twitter account, you can gain as many followers as you want. It all depends on how many times you want to click your mouse and the quality of your post. With blog posts, you have to go through an entire process for anyone to see them which is more like a domino effect over time.
2. Cost – Nothing about Twitter costs anything. It's another free promotion to include in your marketing mix, not a replacement.
3. Ease of Use – You don't have to hire a web designer to build traffic to your website using Twitter. In fact, Twitter even offers a small bit of code to allow your "tweets" as their called to your website!
So, with that in mind, here are a few things you as a business owner would use twitter for:
1. Instant Brand Recognition – The photo one chooses for a Twitter account is very important as is the profile description one writes. Avoid choosing a casual photo, but one that identifies you beign involved with your business.
2. Introduction to Online Networking – Many professionals just do not have the time to explore the social newtorking phenomenon. Twitter is very low on the time intensity scale. Yet, when they see emails coming in from people who have decided to follow their comments, they will be inspired to contribute more to Twitter posts and the overall benefits to Web 2.0 social networking relevance.
3. Communication Vehicle for Existing Customers and Prospects – Anyone on your mailing list should be following you on Twitter. Send out an email encouraging them to do so and why.
4. Recruiting of Potential Customers – What Twitter does NOT allow you to do at this time is target locally. For, say, every 1,000 people that would see a posting on Twitter, maybe 1 would be in the same state. But, with the capability of reaching so many, so fast and for so free, why not? Plus, you never know the ties someone in another state might have right to your backyard. And, people do talk and refer as we all know.  Working Twitter nationally can certainly help promote you locally. It's just a matter of numbers and the value you're able to contribute in a post.
5. Retaining Current Clients – Get every existing client you have to follow you on Twitter. It will seem to them like you are talking to them individually, offering them free advice and updates on your industry.
Twitter is growing faster than the Bird Flu! Get involved now. Start by following ME! When you setup your account, search for "martydickinson" and click the "follow" button. My account is set to automatically follow you in return.
And, all of this you can do from your cell phone!
Posted by Marty Dickinson on Sep 9, 2008
Wireless sync stands for wireless synchronization where you can bridge data between your cell phone and computer…without ever having to plug-in any hardware to dump or download those files one way or the other. How is wireless sync significant? Speed of dealing with prospects and customers. That's it. That's the only answer. Speed.
Imagine having a call coming into your assistant's phone line. The person asks some qualifying questions and enters the info into their contact management system on their computer and then hits a button. You are then notified immediately by cell phone that you need to call the prospect.
Instantly, you receive a notice on your phone with your prospect's name, phone, address, answers to questions your assistant asked, and whatever else might be important before you call the person back.
Imagine then (and here's the real money part!!) that you called the prospect back in 30 seconds after he hung up with your assistant! Now, that's speed! And, that's the power of Wireless Sync.
Any business with more than one employee is always looking for ways to increase speed of data sharing. And, until today it's been a really difficult chore. Wireless sync itself isn't so new. It's just always been expensive and really hard to setup.
I became familiar with wireless sync after a client got involved with a wireless sync company a few weeks ago and ever since they've been having setup issues and wondering whether they're getting all of their emails. Getting email is part of most wireless sync programs.
So, this morning a press release caught my eye about a Denver company offering the first wireless sync system that can be setup in literally minutes. It's easy and requires no IT staff to maintain it. They support it all for you. Checkout Wireless Sync by Visenza if you're curious.
How does wireless sync relate to a blog that is about Website Waves? This is just another display how everything is moving mobile. More and more of our business lives are integrated with cell phones.
For example, Germaine Griggs was a speaker at Big Seminar a year ago and he showed me how every time he gets an order through his website, a custom ring tone sounds and displays the customer's name, phone number and what they bought…right from his shopping cart.
You can make blog posts with your phone if it's setup correctly. You can check email with your phone and text message and lookup where you are and where you're trying to get to with maps. Cell phone usage is everywhere and in everything. And, still, I ask the question, Have you even looked at your website through a cell phone?
I really congratulate companies like Visenza for taking a complex process and making it so simple and fast to implement. You're going to see more of these mobile device services popping up over the years. My suggestion is to "plug-in" so you don't get left behind.
Posted by Marty Dickinson on Aug 26, 2008
I finally came out of my cave Monday afternoon after finishing the required 70% complete deadline for my portion of the Web Marketing All-in-One Desk Reference for Dummies book due in bookstores everywhere March/April 2009 (Wiley Publishing, publishers of the "For Dummies" books). John Arnold of Constant Contact (E-mail), Ian Lurie & Elizabeth Marsten of Portent Interactive (SEO, AdWords, Social Networking, blogs), and just added, Michael Becker (Mobile Marketing) from Iloop Mobile (personally can hardly wait to see what he'll be adding about THAT very hot topic!).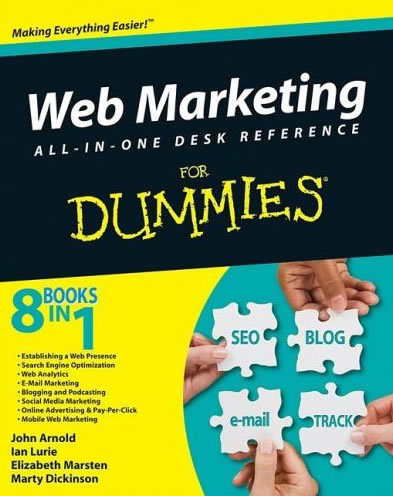 It is a true honor to be sharing pages with these industry experts as we make our contributions to what I believe will be the most talked about Internet strategy book in years.
When I was asked what I would like to write about, I immediately said, "the money part of course" So, I get the first section of the book which will be covering topics like:
Converting more visitors to paying customers
Writing promotional copy that sells
Shopping cart setup
Finding and promoting affiliate products
Starting and building your own affiliate program
Joint venturing
Which website type is the best for you
Design components that sell
Hiring helpers so you're not doing everything yourself
More coming on this topic coming soon but I have to mention that something else has happened in the process of writing this book, which is now listed on Amazon by the way. I think I've had more leads for business in the past two months than the first six months of this year combined. How could that be? I haven't been doing anything differently in my promotions than usual. Must be the book. Just by telling people about it, people are talking about it. The book isn't even out yet and people are talking about it. We're not even finished writing it yet and people are already talking about it. Strange but true.
Posted by Marty Dickinson on Aug 23, 2008
The combination of squeeze pages and affiliate programs are a match made in heaven. You can churn out a squeeze page in under an hour with no web design experience and begin promoting affiliate products within the same afternoon.
Creating squeeze pages and promoting affiliate programs came up as a topic on one of my favorite forums, SitePoint.com, where I replied as much as I could in the public area but there just comes a time where you have to show examples and give links to your examples. Forum moderators hate when you post links for fear that you're self-promoting.
So, I replied to the original poster and then offered if anyone else wanted to know what I sent to him, I'd be glad to forward a copy. Now I'm getting enough P.M.s from readers where it's just easier to put my response into a blog post so I don't have to dig up my notepad file and copy and paste the response.
Guess we're kind of taking the forum conversation to-the-blog as you are welcome to post your comments and questions here and I will respond personally.
But, first, here is the response I gave for the "how to create squeeze pages" part and I have made a separate post for how to promote affiliate programs.
Hello [poster] and thanks for writing. I'd like to start off mentioning that my goal for the rest of the year is
to add a new squeeze page to promote a new product every month. My most recent I did just in a single afternoon last friday (e.d. that was in mid-July by the way). That's how easy it is once you get the process down). And, 3/4 of that time was writing the 14-page free document as part of the incentive for people to
opt-in. You probably don't have to go that overboard to start selling.
By the end of this week, it looks like I'll be on track for $400 a month in affiliate revenue or so. Takes a few days to figure out the right google adwords to get the right kind of traffic. Here's the link to it so you can see an an example:
www.LaughAtLayoffs.com (Has averaged 15-25% opt-in rates)
To create everything that you see there, the page, the layout, the auto-responder series, the form, the thank you page, everything is in one simple online product tool. I purposely did not use any fancy graphic design because I wanted to show that even such a basic page can bring results as incentive to others who are on the non-technical side of the spectrum.
Here's my affiliate link for the online tool. Hopefully you won't mind if I get a few bucks from recommending it to you if you sign-up. (Incidentally, since this post was written, I've created a cheat sheet of sorts for using this product I'm recommending. So, you will definitely want to sign-up through my affiliate link and let me know when you do so that I can get the checklist to you.)
The same product does have a built-in feature that will let you send email to the list of people who have opted in as well. So, it's all there.
That's pretty much all you need to get started.
All the best,
Marty Dickinson
Denver CO
P.S. Check out my part 2 of this response related to how to promote an affiliate program.
Posted by Marty Dickinson on Aug 22, 2008
Whenever the conversation turns to Internet Marketing one name comes up more often than any other name…Armand Morin. Armand is the Expert that the experts turn to and watch for direction.
I first met Armand in 2000 at a conference where he was NOT a speaker. Yes he too was once an "attendee" sitting in an audience learning form other speakers. And, that's my point. People are always asking me, "Marty, HOW do you learn this Internet marketing stuff?" And, I tell them how much I spend a year on attending conferences and buying educational materials.
In the BIGinning
The BIG Seminar is the place where it all starts. It's the only Internet marketing conference I attend EVERY time. Why? Because Armand only picks truly cutting edge presenters and gives them plenty of time to deliver tons of content I usually begin implementing throughout the weekend of the conference! Yes, I don't even wait until I get back to start. I'm too energized to wait! While others are partying at the bar, I'm up until 3am trying out what I learned on my laptop.
Who Attends Big Seminar
The audience is made up of about 40% that are brand stinkin' new to the web, but you could be sitting next to a multi-millionaire who has dozens or even hundreds of websites. And, that's one of my favorite things about Big Seminar. You just never know who you're going to meet.
Money Tight?
If you are strapped for cash, Big Seminar is the ONLY conference I would recommend you attend coming this October 3, 4, and 5 in Atlanta Georgia. And, if you can't afford a couple thousand dollars toward your own education, you NEED to attend more than others! It's the only conference I can honestly say pays for itself, for me, within the first week after the conference. It's that good.
Now, let's be real…
Big Seminar has an affiliate program. That means if I refer others to attend, I get some of the bucks. Basic sales and basic Internet stuff. And sure, when you register, of course I want you to Register Here through my affiliate link. But, there's something more…
I always offer to my clients that when they attend the Big Seminar, if they've registered through my link (which they always do), they will get to meet with me as a small focus group on Friday and Saturday night in a private meeting room where we can go over what was covered during the day. I answer any questions they have and it really helps to have someone to put everything together into a summary of steps and fill in the blanks. Then, when we get back (because I always fly home on late Sunday afternoon), we schedule a conference call to go over what was covered on Sunday.
See, going to something like Armand Morin's Big Seminar is not only overwhelming from a content and learning standpoint, but just the sheer experience of it all requires some savvy to navigate through. After all, you're in an audience with typically 500 or more people. Just meeting the one right person you needed to meet could change your whole life…and your income! But, how do you navigate through Big Seminar?
You need a guide. Someone who's been there. Someone who knows most of the presenters, staff, and a good chunk of who will be in the audience too. Let me be your guide.
Not Sure Yet?
One of Armand's trademarks is having phone interviews with the speakers leading up to the conference. Would you like to sit-in as Armand talks with other experts and they discuss their Internet Marketing Secrets?
You can…and it's free.
Every Tuesday and Thursday up until the BigSeminar Armand will host a FREE training call with one of the expert  Faculty from his upcoming Big Seminar.  They will discuss what they're doing on the Internet and how they do it.
The calls are FREE…click here now to register for the calls.
Calls times, phone number Passcode etc. will be immediately sent to you via email.
In Summary:
If you're wondering where all those Internet marketing folks go to learn what's new and what really works to build a business and increase sales, Armand's Big Seminar is the place to be. I hope you'll join me and take me up on my invitation to attend the after-hours meetings to go through things. After you register, be sure to let me know. You can contact me through the Ask Marty contact form.
And, I hope to see YOU at Big Seminar October 3, 4, and 5 2008 in Atlanta!
Posted by Marty Dickinson on Jul 28, 2008
Everything I learned for the first two years of using Google AdWords was from a single book. It was that good, I didn't need another…until I discovered thie one I'm about to recommend to you here. Same author, same book, just updated. And, you don't even have buy the book right off the bat. Just get used to the guy first by signing-up for his free ecourse.
Google AdWords to a business owner today is the equivalent of what a telephone used to mean to a salesperson 20 years ago. Both have been described as the most cost-effective, measurable promotion avenues of their time. If you don't know how to manage a Google AdWords campaign for your business or product, it's the equivalent of not being able to talk coherently to a prospect on the phone about your business. If you go another day, week, month before learning how to setup an ad campaign, split test ads, and monitor your conversion rates another year will slip by and you'll look back on this moment why you didn't take the next step!
Now, I'll be honest. I've got this banner I've posted and when you click on it and eventually buy the book I'm recommending, I'm going to get a commission for the sale. If you don't have any affiliate programs of your own, then that is a whole different discussion we need to have and the subject for another post.
But, that's one of the best uses of Google AdWords is to promote affiliate products related to your industry and sphere of influence. You're intereted in the blog topics I write about related to websites and Internet marketing, so this is a fitting affiliate product for me to recommend to you. See how that works?
Get started with Google AdWords today and there's just no reason for you to try other, far more expensive programs by other speakers. Believe me I've seen what the other guys are offering and there's really nothing better than this book, especially to get you started.
Posted by Marty Dickinson on Jun 18, 2008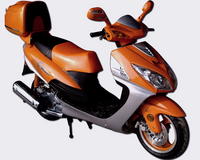 On CNN this morning, they reported a 25% increase in production for road scooters. Not the kind the kids stand up and push with one foot, but the kind you ride. We used to call them mopeds. But, then mopeds evolved into more horsepower and a sturdier ride that boasts 75 miles per gallon!
So, "scooter" it is. Now think about this. Detroit is laying off people right and left in the car manufacturing business, right? Scooter manufacturers are ramping up staffing to meet demand. Stores are selling out before you can get from looking at the website to their storefront.
Can you see the problem coming?  Sure. You get to the store only to find one or two types of scooter left for sale.  "Next shipment will be coming in next week sometime."
So, what's the answer? Selling scooters online of course…and the secret sauce…offering free shipping! Check it out. Here's one of the top sellers I found where you can buy a scooter online and have it shipped to you for free.
These guys are pretty smart.  They even have an online chat feature.  Wouldn't you want to ask people questions before you bought a scooter?  Of course.  This is the only website I've seen selling scooters that both offers the low prices, free shipping AND online chat.  Good job guys.
Visit this site just to get some ideas for layout or maybe you're even interested in buying a scooter online as they've done their homework with making things easy to find.  If it was my site, I would have the online chat piece up top in the right corner as a main feature.  They'd double their sales in a week I'll bet.  But, that's just me.
Tell me what you think of the scooter website.  Or share your view/experience with the scooter craze happening right now. Add your comments below.