Posted by Marty Dickinson on Feb 11, 2015
If you're going to use LeadsPages and facebook ads, you'll need to host your own website and add LeadsPages code to it. Why? Because facebook has determined according to this blog post, "LeadPages.net, where all LeadPages' users have their accounts, has been flagged by Web of Trust."
More coming on this topic.
Posted by Marty Dickinson on Mar 12, 2009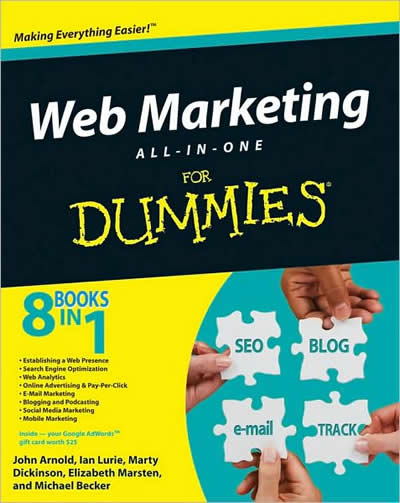 My co-authored Web Marketing All-in-One Reference Guide for Dummies book is officially in-stock at Amazon. And, even though I haven't seen the live version come in quite yet, it sure is exciting to know that it's close to being in stores everywhere! Next week I will be interviewing my fellow co-authors about their book chapters and hope to get a few nuggets showcasing the most secret Internet strategy techniques.
Here's a link to the book on Amazon for you to order right now!
As a SPECIAL LAUNCH BONUS, I'm offering 1 month access to my Level 2 membership program featuring the Internet Marketing Organizer tool. All you have to do is send a receipt to me by email at Marty@HereNextYear.com so that I have proof you've actually purchased the book and I will hook you up with a username and password to access Level 2. That's a value of $141.00 and is my special gift to you for supporting our book project. [UPDATE: We now have more than $700 in bonuses available during our week-long book launch March 23-28, 2009!! Visit WebMarketingBook2009.com for details.]
Posted by Marty Dickinson on Feb 19, 2009
I hear speakers boast how they're "ignoring" the economy or "choosing not to participate" or "not joining the membership to poverty". Just today I received an invitation to attend a workshop called Marketing Through the Meltdown.
C'mon America. We're better than this. Don't ignore your life or your future. Don't resign yourself to doom.
This isn't a time for desperate measures. But it IS a great time for considering how your product or service is essential to someone's well-being, that's all.
And, I believe just about any product or service can be promoted as an essential component to someone's well-being.
So, here are some steps for you to pick yourself up and change your mindset from one of attempting to ignore what's happening to embracing the economic situation and moving forward and upward:
1) Know people are making money - Sure, lots of companies have been laying off and shutting down, but there are plenty of new business starting-up too. Before you can make money, you have to believe you can. Doesn't that make sense? If you keep thinking "nobody's going to buy from me, nobody's going to buy anything!" then they surely won't. Don't get caught up with "who' is making money exactly, or what industry. Just change your mindset by knowing in your heart and mind and even saying to yourself that, "In every economic downturn, people do find opportunity and I are one of them!"
2) Diversify – Adapt some of your current offerings to meet the new needs of your market. Our HereNextYear blog package is a good example. In January, we had a "soft launch" of the new package deal and had a record sales month. We just got two new clients yesterday for the blog package and that's a $2500 product. Same service as what we would've done previously, just packaged differently to meet the needs of the market.
3) Acknowledge your lifestyle – Those that know me know I go skiing every weekend with my kids, sometimes once during the work week too. Sure costs money to make those trips even with paid season passes. There's gas, breakfast on the way, dinner on our way home…at least we bring bag lunches! That weekly cost adds up, but it's a lifestyle I want to uphold and it motivates me to continue to be positive and work hard to maintain that lifestyle.
4) Find what people are doing – When you find someone that's not foreclosing on their home, hang around them. Find out how they're spending their time, what seminars they're attending, what they're learning about, how they're promoting their business.
5) Learn and expand - This is not the time to turn into a t.v. zombie and watch 5 hours of news or fall into a trance listening to old Pink Floyd albums or playing Captain Jack by Billy Joel over and over again. Once you find out what people are doing to be successful, give yourself a chance to learn with them. Take a video production class. Learn SEO for your Web site or get onto the social networking bandwagon and devote an hour a day to conversing with others online with Twitter or industry forums.
They say that when the economy recovers, the world will never be the same and that we will all be so much better off. What about your personal economic growth? Does it have to wait until the world fixes itself?
Of course not. Take this opportunity now TO PARTICIPATE in this economy. Because what you have to offer really is essential but only if you believe it is.
Posted by Marty Dickinson on Dec 4, 2008
This is really more of a list for me than anything. I always find myself getting hung up on finding verbs to use in my writing copy on the web.
Writing features and benefits of a product is always the toughest part for me about copywriting for the web; just that first word in the sentence. There's no better word to begin a with than a verb when it comes to bullet points.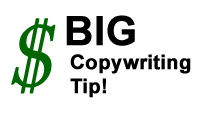 Verbs are "action words" which goes to show why they're so important in copywriting. Without verbs, we would never get anyone take action with anything.
There would be no "Click Here" or "Sign-up Now!" Verbs are not only just "important" to have in your sales writing, they are the very heartbeat of any sales process, online or off-line.
So, with that in mind, here is a list of verbs that sell. Let me know if they help you in your copywriting efforts and make sure to add a comment if you can think of a verb that I haven't listed here.
Verbs that Start with A:
Accelerate
Accomplish
Achieve
Acquire
Act
Activate
Adapt
Adopt
Address
Administer
Advise
Alter
Amaze (added)
Analyze
Anticipate
Apply
Appoint
Appraise
Approve
Arrange
Astound (added)
Assemble
Assess
Assist
Assure
Attain
Audit
Verbs that Start with B:
Believe (added)
Boast (added)
Brief
Budget
Build
Buy
Verbs that Start with C:
Calculate
Chart
Check
Claim
Clarify
Classify
Cleanse
Click
Close
Coach
Collect
Command
Communicate
Compare
Compile
Complete
Compose
Compress (added)
Compute
Conceive
Conceptualize
Conclude
Conduct
Confront
Conserve
Consolidate
Construct
Consult
Continue
Contract
Control
Convert
Coordinate
Correct
Correlate
Counsel
Create
Critique
Verbs that Start with D:
Deal
Decide
Define
Delegate
Deliver
Demonstrate
Depend
Designe
Detail
Detect
Determine
Develop
Devise
Diagnose
Direct
Discover
Dispense
Display
Disprove
Dissect
Distribute
Divert
Double
Draft
Dramatize
Draw
Drive
Verbs that Start with E:
Earn
Edit
Educate
Effect
Eliminate
Enact
Encourage
Endure
Enforce
Engineer
Enhance
Enlist
Ensure
Entertain
Establish
Estimate
Evaluate
Examine
Exceed
Execute
Exhibit
Expand
Expedite
Explain
Experiment
Express
Extract
Verbs that Start with F:
Facilitate
File
Finalize
Finance
Fix
Follow
Formalize
Form
Formulate
Find
Found
Verbs that Start with G:
Gather
Generate
Govern
Graduate
Guide
Verbs that Start with H:
Handle
Head
Help
Hire
Hypothesize
Verbs that Start with I:
Identify
Illustrate
Imagine
Implement
Improve
Improvise
Increase
Induce
Influence
Inform
Initiate
Innovate
Inspect
Inspire
Install
Institute
Instruct
Insure
Integrate
Intensify
Interpret
Interview
Introduce
Invent
Inventory
Investigate
Verbs that Start with J:
Judge
Justify
Verbs that Start with K:
Keep
Verbs that Start with L:
Launch
Lecture
Lead
Learn
License
Lift
Listen
Locate
Log
Verbs that Start with M:
Maintain
Magnify (Recent Addition)
Manage
Manipulate
Manufacture
Map
Market
Measure
Mediate
Memorize
Mentore
Model
Modify
Monitor
Motivate
Verbs that Start with N:
Name
Navigate
Negotiate
Nominate
Normalize
Note
Verbs that Start with O:
Observe
Obtain
Offer
Officiate
Operate
Order
Organize
Oriente
Originate
Overcome
Oversee
Verbs that Start with P:
Paint
Participate
Perceive
Perfect
Perform
Persuade
Photograph
Pilot
Pinpoint
Pioneer
Place
Plan
Play
Praise
Predict
Prepare
Prescribe
Present
Preside
Print
Process
Procure
Produce
Profess
Programm
Progress
Project
Promote
Proofread
Propose
Protect
Prove
Provide
Publicize
Purchase

Verbs that Start with Q:
Qualify
Question
Verbs that Start with R:
Raise
Rank
Rate
Realign
Realize
Reason
Receive
Recognize
Recommend
Reconcile
Record
Recruit
Reduce
Refer
Regulate
Rehabilitate
Reinforce
Relate
Relax (added)
Remodel (added)
Render
Renovate (added)
Reorganize
Repair
Report
Represent
Research
Resolve
Respond
Restore
Retrieve
Restructure
Review
Revise
Risk

Verbs that Start with S:
Satisfy
Schedule
Secure
Select
Sense
Separate
Serve
Service
Shape
Share
Show
Sketch
Simplify
Sell
Solve
Sort
Specify
Speak
Stimulate
Streamline
Structure
Study
Succeed
Suggest
Summarize
Supervise
Supply
Support
Symbolize
Synthesize
Systematize
Verbs that Start with T:
Tabulate
Tackle
Tackling
Talk
Target
Teach
Test
Train
Transcribe
Transfer
Transform
Translate
Treat
Travel
Troubleshoot
Tutor
Type
Verbs that Start with U:
Unify
Unite
Update
Upgrade
Use
Utilize
Verbs that Start with V:
Verbalize
Verify
Verbs that Start with W:
Weigh
Win
Write
Wrote
Are there any verbs I left out from this list? Please let me know by adding a comment.
Posted by Marty Dickinson on Aug 26, 2008
I finally came out of my cave Monday afternoon after finishing the required 70% complete deadline for my portion of the Web Marketing All-in-One Desk Reference for Dummies book due in bookstores everywhere March/April 2009 (Wiley Publishing, publishers of the "For Dummies" books). John Arnold of Constant Contact (E-mail), Ian Lurie & Elizabeth Marsten of Portent Interactive (SEO, AdWords, Social Networking, blogs), and just added, Michael Becker (Mobile Marketing) from Iloop Mobile (personally can hardly wait to see what he'll be adding about THAT very hot topic!).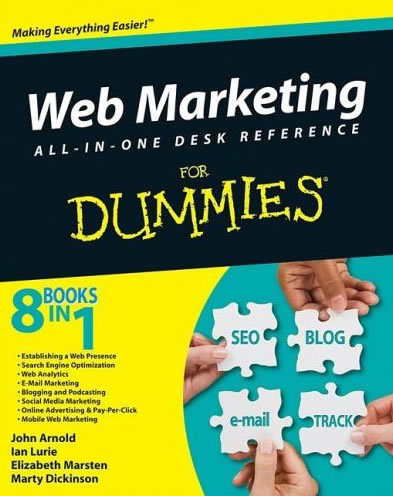 It is a true honor to be sharing pages with these industry experts as we make our contributions to what I believe will be the most talked about Internet strategy book in years.
When I was asked what I would like to write about, I immediately said, "the money part of course" So, I get the first section of the book which will be covering topics like:
Converting more visitors to paying customers
Writing promotional copy that sells
Shopping cart setup
Finding and promoting affiliate products
Starting and building your own affiliate program
Joint venturing
Which website type is the best for you
Design components that sell
Hiring helpers so you're not doing everything yourself
More coming on this topic coming soon but I have to mention that something else has happened in the process of writing this book, which is now listed on Amazon by the way. I think I've had more leads for business in the past two months than the first six months of this year combined. How could that be? I haven't been doing anything differently in my promotions than usual. Must be the book. Just by telling people about it, people are talking about it. The book isn't even out yet and people are talking about it. We're not even finished writing it yet and people are already talking about it. Strange but true.
Posted by Marty Dickinson on Aug 23, 2008
The combination of squeeze pages and affiliate programs are a match made in heaven. You can churn out a squeeze page in under an hour with no web design experience and begin promoting affiliate products within the same afternoon.
Creating squeeze pages and promoting affiliate programs came up as a topic on one of my favorite forums, SitePoint.com, where I replied as much as I could in the public area but there just comes a time where you have to show examples and give links to your examples. Forum moderators hate when you post links for fear that you're self-promoting.
So, I replied to the original poster and then offered if anyone else wanted to know what I sent to him, I'd be glad to forward a copy. Now I'm getting enough P.M.s from readers where it's just easier to put my response into a blog post so I don't have to dig up my notepad file and copy and paste the response.
Guess we're kind of taking the forum conversation to-the-blog as you are welcome to post your comments and questions here and I will respond personally.
But, first, here is the response I gave for the "how to create squeeze pages" part and I have made a separate post for how to promote affiliate programs.
Hello [poster] and thanks for writing. I'd like to start off mentioning that my goal for the rest of the year is
to add a new squeeze page to promote a new product every month. My most recent I did just in a single afternoon last friday (e.d. that was in mid-July by the way). That's how easy it is once you get the process down). And, 3/4 of that time was writing the 14-page free document as part of the incentive for people to
opt-in. You probably don't have to go that overboard to start selling.
By the end of this week, it looks like I'll be on track for $400 a month in affiliate revenue or so. Takes a few days to figure out the right google adwords to get the right kind of traffic. Here's the link to it so you can see an an example:
www.LaughAtLayoffs.com (Has averaged 15-25% opt-in rates)
To create everything that you see there, the page, the layout, the auto-responder series, the form, the thank you page, everything is in one simple online product tool. I purposely did not use any fancy graphic design because I wanted to show that even such a basic page can bring results as incentive to others who are on the non-technical side of the spectrum.
Here's my affiliate link for the online tool. Hopefully you won't mind if I get a few bucks from recommending it to you if you sign-up. (Incidentally, since this post was written, I've created a cheat sheet of sorts for using this product I'm recommending. So, you will definitely want to sign-up through my affiliate link and let me know when you do so that I can get the checklist to you.)
The same product does have a built-in feature that will let you send email to the list of people who have opted in as well. So, it's all there.
That's pretty much all you need to get started.
All the best,
Marty Dickinson
Denver CO
P.S. Check out my part 2 of this response related to how to promote an affiliate program.