Posted by Marty Dickinson on May 11, 2010
Whenever I give a workshop and start talking about selling on Facebook, someone eventually raises their hand and comments, "I thought if I try to sell something on Facebook that they would shut me down." If you try to blatently spam your followers like crazy from your main Facebook account, then sure, you run the possibility of Facebook blocking your account.
But Levis are selling on Facebook just fine according to DMNews, where they talked about how Levis has made a page for their pants and are building quite the following as a result of their Facebook page promotions.
You don't have to be Levis to sell product through Facebook. You just need to create individual Facebook "pages" for the product you're wanting to promote and do all your promotions through those pages.
Posted by Marty Dickinson on Mar 12, 2009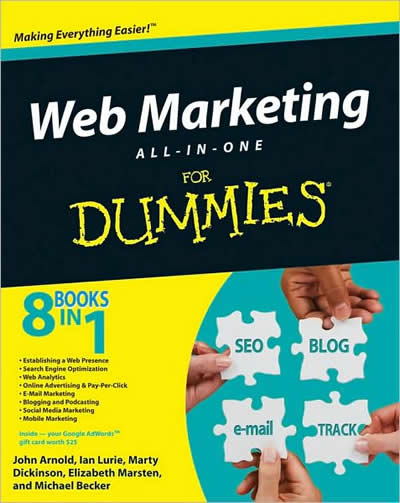 My co-authored Web Marketing All-in-One Reference Guide for Dummies book is officially in-stock at Amazon. And, even though I haven't seen the live version come in quite yet, it sure is exciting to know that it's close to being in stores everywhere! Next week I will be interviewing my fellow co-authors about their book chapters and hope to get a few nuggets showcasing the most secret Internet strategy techniques.
Here's a link to the book on Amazon for you to order right now!
As a SPECIAL LAUNCH BONUS, I'm offering 1 month access to my Level 2 membership program featuring the Internet Marketing Organizer tool. All you have to do is send a receipt to me by email at Marty@HereNextYear.com so that I have proof you've actually purchased the book and I will hook you up with a username and password to access Level 2. That's a value of $141.00 and is my special gift to you for supporting our book project. [UPDATE: We now have more than $700 in bonuses available during our week-long book launch March 23-28, 2009!! Visit WebMarketingBook2009.com for details.]
Posted by Marty Dickinson on Feb 2, 2009
So Darrell is finally launching what could be the largest business resource the web has ever seen, short of a search engine I suppose, but without all the garbage. I've been hearing about this project for months and was wondering if it would ever happen. Well, it not only happened, but it's going to be publicized starting tomorrow morning in a very real way.  Inside of a week, an estimated 500,000 will know of this new resource called the Small Biz College. I just hope their server doesn't crash! Check it out at YourSmallBizCollege.com as it's definitely worth a look.
Posted by Marty Dickinson on Jan 27, 2009
WAIT! Don't take one look at the title of this blog post and run in the other direction. The thought of "getting organized" to some is worse than chores – worse than paying bills even! 2009 is all about the little things you can do in your business to stay alive, and thrive!
First, if you understood WHY being organized can help your business, then maybe you would be less resistant to do something about it. With the downturn of the economy, people are losing jobs or their businesses left and right. "Sprint-Nextel is eliminating about 8,000 jobs in the first quarter… Caterpillar will cut 20,000 employees, contract and agency workers… Home Depot says it's cutting 7,000 jobs and closing its smaller Expo chain as the recession continues to batter the housing market." MSNBC.com, 1/26/2009
I don't add those figures in to scare you. I mention them to motivate you. Now is the time to make an extra personal effort; now is the time to stand apart from your competitors. If you get organized (and I'll give you a few tips below), then you will have a capacity to pay attention to the details of your business. If you say you are going to call your client today, then make a note, and no matter what (!), call them. If one of your best customers at one point mentioned that they liked bumper stickers about puppies, write it down and send them an out-of-the-blue thank you card with a puppy bumper sticker enclosed. How many of your competitors do you think would do something like that?
We all know that word of mouth advertising is the MOST powerful form of advertising there is. Why not use that fact to your advantage? The more you treasure your customers, and let me know it, the more they will give you repeat business. 2009 is *not* about the making "quick buck" – it's about going back to the business basics that work…doing work.
So, how do you get organized? how do you make a difference? Well, practice makes perfect. Here are a few tips to get you started on the right foot:
At the end of the day, no matter how tired you are or how much you don't want to, clean up your desk. Put all of your files and papers in a stack, round up your pens and pencils and put them in a holder, and throw trash away. You will be amazed at the difference when you show up to work the next morning – you won't dread your to-do list as much, and you will find motivation to tackel the tasks ahead.
Do not wait to get organized until you "have time", because guess what? That time will probably never come because you will always find something else that's "more important" to get done.
Hate to throw anything away? Well, you're not alone, but there is something you can do about it. Filing papers is essential. Don't let your contracts, invoices, and to-do lists pile up a foot tall. Office Max is your friend – or you can even find no-cost ways to get organized…you just need to get creative. Use old mail packaging boxes to store old papers and store them in a closet, for example.
Make groups. People remember things in 3′s – and this rule will help you immensely down the road. If you are the type of worker that can't find what you need for a meeting that is minutes away (which makes you late), then this will help. Divide your to-dos, papers, etc. into 3 stacks. (Note: you should only have to do this once, then maintenance is the key.) A stack of things to tackle *today*, a stack for the *week*, and a stack for the *month*. This will save you tons of time from having to look in all of your papers for one thing you need.
A VERY helpful tool for those of you who are hopeless in the organization department. Go to Smead and click on the "Get Organized" button. They have a system in place to help any type of worker in any situation. You fill out a 2 minute questionnaire (no, you don't have to give up contact info to see the results – it's free) and the results will give you tips to get organized based on your working environment and behavior. Yay!
That should be enough to get you started. The only question left is….when will you make time to separate yourself from your competition? To make an impact on your client list? To boost your business sales?
How about today?
Posted by Marty Dickinson on Dec 11, 2008
DM News reported in its 11/24/2008 issue that a survey conducted of 1000 adults in October by Guidance/Synovate (wanted to make sure I gave full credit to everyone there) revealed that 45% consider E-mail to be the BEST way to learn about online bargains. What does that tell us? That almost half of us "spam haters" (and that would be you and me) actually prefer to learn about bargains by E-mail. In short…we "say" we hate spam, but we actually PREFER it too!
Now, let's think about this for a minute. We're willing to tie-up a commercial spammer by his fingertips for sending even one junk email that causes us to spend the energy to click a mouse to delete it from our email servers. But, we welcome emails telling us of sales and special deals?
Another statistic in the same issue from Retailermenot.com/Harris suggested 33% at lest occasionally visit coupon websites. 9% don't buy hardly anything without checking for online coupons.
A couple of weeks ago I was watching a news program and some company that makes coupons was about to hire 50 new employees because their coupon business was booming. Can't remember who it was, but put thtat statisic together with that news program and it appears coupons are taking off.
And, one last statisic by Allen & Gerritsen showing 52% of women reported cutting back on their spending.
Put all of these buying statistics together and it means:
1. People are startving for good deals
2. Many will ONLY buy if there is a special deal
3. They want coupons
4. Email is the best way to deliver special deals
5. Therefore, make a coupon and send it to your list by email
So, the next thing I thought of is…I wonder how someone goes about creating a coupon? And, can one be created online…for free? Without a designer?
So, naturally I went on the prowl to find a free web-based coupon creator and found this one at http://marluckmarketing.com/couponmaker/.
I tried their process and in about 5 minutes of thinking about it created this coupon using the screen they've provided: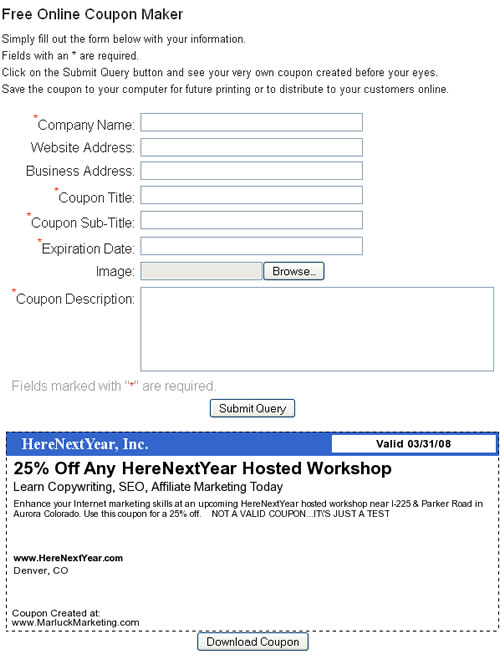 No graphic design skills needed! Didn't even have to give my email address to this website.
Does this seem like something you can do? I'll bet it is. So, what kind of coupon can YOU create to offer to your customers and prospects this week?
When you come up with the right offer, send it by email. Apparently it's the most preferred way to learn about a bargain.
Posted by Marty Dickinson on Dec 4, 2008
This is really more of a list for me than anything. I always find myself getting hung up on finding verbs to use in my writing copy on the web.
Writing features and benefits of a product is always the toughest part for me about copywriting for the web; just that first word in the sentence. There's no better word to begin a with than a verb when it comes to bullet points.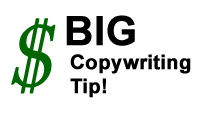 Verbs are "action words" which goes to show why they're so important in copywriting. Without verbs, we would never get anyone take action with anything.
There would be no "Click Here" or "Sign-up Now!" Verbs are not only just "important" to have in your sales writing, they are the very heartbeat of any sales process, online or off-line.
So, with that in mind, here is a list of verbs that sell. Let me know if they help you in your copywriting efforts and make sure to add a comment if you can think of a verb that I haven't listed here.
Verbs that Start with A:
Accelerate
Accomplish
Achieve
Acquire
Act
Activate
Adapt
Adopt
Address
Administer
Advise
Alter
Amaze (added)
Analyze
Anticipate
Apply
Appoint
Appraise
Approve
Arrange
Astound (added)
Assemble
Assess
Assist
Assure
Attain
Audit
Verbs that Start with B:
Believe (added)
Boast (added)
Brief
Budget
Build
Buy
Verbs that Start with C:
Calculate
Chart
Check
Claim
Clarify
Classify
Cleanse
Click
Close
Coach
Collect
Command
Communicate
Compare
Compile
Complete
Compose
Compress (added)
Compute
Conceive
Conceptualize
Conclude
Conduct
Confront
Conserve
Consolidate
Construct
Consult
Continue
Contract
Control
Convert
Coordinate
Correct
Correlate
Counsel
Create
Critique
Verbs that Start with D:
Deal
Decide
Define
Delegate
Deliver
Demonstrate
Depend
Designe
Detail
Detect
Determine
Develop
Devise
Diagnose
Direct
Discover
Dispense
Display
Disprove
Dissect
Distribute
Divert
Double
Draft
Dramatize
Draw
Drive
Verbs that Start with E:
Earn
Edit
Educate
Effect
Eliminate
Enact
Encourage
Endure
Enforce
Engineer
Enhance
Enlist
Ensure
Entertain
Establish
Estimate
Evaluate
Examine
Exceed
Execute
Exhibit
Expand
Expedite
Explain
Experiment
Express
Extract
Verbs that Start with F:
Facilitate
File
Finalize
Finance
Fix
Follow
Formalize
Form
Formulate
Find
Found
Verbs that Start with G:
Gather
Generate
Govern
Graduate
Guide
Verbs that Start with H:
Handle
Head
Help
Hire
Hypothesize
Verbs that Start with I:
Identify
Illustrate
Imagine
Implement
Improve
Improvise
Increase
Induce
Influence
Inform
Initiate
Innovate
Inspect
Inspire
Install
Institute
Instruct
Insure
Integrate
Intensify
Interpret
Interview
Introduce
Invent
Inventory
Investigate
Verbs that Start with J:
Judge
Justify
Verbs that Start with K:
Keep
Verbs that Start with L:
Launch
Lecture
Lead
Learn
License
Lift
Listen
Locate
Log
Verbs that Start with M:
Maintain
Magnify (Recent Addition)
Manage
Manipulate
Manufacture
Map
Market
Measure
Mediate
Memorize
Mentore
Model
Modify
Monitor
Motivate
Verbs that Start with N:
Name
Navigate
Negotiate
Nominate
Normalize
Note
Verbs that Start with O:
Observe
Obtain
Offer
Officiate
Operate
Order
Organize
Oriente
Originate
Overcome
Oversee
Verbs that Start with P:
Paint
Participate
Perceive
Perfect
Perform
Persuade
Photograph
Pilot
Pinpoint
Pioneer
Place
Plan
Play
Praise
Predict
Prepare
Prescribe
Present
Preside
Print
Process
Procure
Produce
Profess
Programm
Progress
Project
Promote
Proofread
Propose
Protect
Prove
Provide
Publicize
Purchase

Verbs that Start with Q:
Qualify
Question
Verbs that Start with R:
Raise
Rank
Rate
Realign
Realize
Reason
Receive
Recognize
Recommend
Reconcile
Record
Recruit
Reduce
Refer
Regulate
Rehabilitate
Reinforce
Relate
Relax (added)
Remodel (added)
Render
Renovate (added)
Reorganize
Repair
Report
Represent
Research
Resolve
Respond
Restore
Retrieve
Restructure
Review
Revise
Risk

Verbs that Start with S:
Satisfy
Schedule
Secure
Select
Sense
Separate
Serve
Service
Shape
Share
Show
Sketch
Simplify
Sell
Solve
Sort
Specify
Speak
Stimulate
Streamline
Structure
Study
Succeed
Suggest
Summarize
Supervise
Supply
Support
Symbolize
Synthesize
Systematize
Verbs that Start with T:
Tabulate
Tackle
Tackling
Talk
Target
Teach
Test
Train
Transcribe
Transfer
Transform
Translate
Treat
Travel
Troubleshoot
Tutor
Type
Verbs that Start with U:
Unify
Unite
Update
Upgrade
Use
Utilize
Verbs that Start with V:
Verbalize
Verify
Verbs that Start with W:
Weigh
Win
Write
Wrote
Are there any verbs I left out from this list? Please let me know by adding a comment.
Posted by Marty Dickinson on Nov 24, 2008
Last week I made a Camtasia video and sent it to a client. No problem. Camtasia worked just fine. Today, I started working on the instructional videos for our new HereNextYear member site (in soft launch…more about that later) and about every 5 seconds was this annoying little squeak that sounded like a really bad turntablist in a rap band pushing the record backwards to make the annoying squeak!
After a couple of hours of researching this, I finally come to find these squeaks are as a result of the new Flash player version 9. Apparently Camtasia videos do not play well with the version 9 of Flash Player. I must've just randomly clicked on a Windows update or something.
Anyway, if YOU use Camtasia for recording screenshots or live demos (still the greatest recorded presentation I know of), go watch this video and then you will find the free download link that will fix the problem.
Essentially, here's how it works….
1. Download and install the SWFMP3Fixer program
2. Unzip it (I like the free CAMUNZIP) if you don't have an unzip program
3. Open the .exe file that is displayed once you unzip the file from a folder
4. Drag one of your video files or folders into the box as I've done below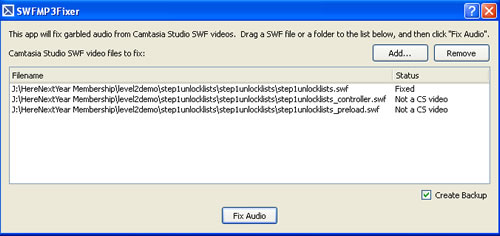 5. Click the Fix Audio button
From there, your video will be fixed and you'll need to re-upload it to your website if that's where you are hosting it.
Pretty simple…just took me a while to find the solution online. For all you Camtasia users, hope that helps a bit.
Or, you could of course just upgrade to version 6 of Camtasia where the fix is included.
Posted by Marty Dickinson on Nov 19, 2008
Okay, so I've been in this Internet marketing world for like 13 years now right? For years I have been among the many anti-spam people. If anyone even started talking to me about sending promotional emails to people who didn't first choose (opt-in) to be on my list to receive something from me, I would run the other direction as fast as I could as if being chased by a wild rabid grizzly bear!
But, my friend, times do change. And, sometimes they change quickly, abruptly, and profitably too! I'm still a big anti-spammer. Don't get me wrong. I have no intention of buying lists from a mail house and sending emails without welcome. But, if someone has bought a product online and somewhere and they have opted to receive similar promotions, or email from similar parties, then why would I NOT take advantage of that?
One of the projects I've been working on for the past few months is a business credit card affiliate program promotion which you are welcome to check out at www.SBCAlliance.com. Kicking an screaming to the partners "against" sending out thousands or even potentially MILLIONS of emails to people I don't even know, they finally did it anyway. 5 MILLION plus e-mails sent over a period of 3 weeks or so.
Know how many death threats we got? Zero.
Curious how many weeks the FTC shut down our website for? Zero.
Want to know how many sales we got after emails went out to 4,900,000 people? Ha, well, let's just say enough to cover the $120 mailing fee!
So, I'm a believer now and I'm ramping up 3 email campaigns for next week alone. Want to know how it works?
1. Here's the company that provides email advertising without spamming.
2. What you'll see when you get there is this screen shot where you'll see steps 1 and 2. First you just fill in your email address. But, this is NOT the email address that is used in the email campaign. So, don't worry about having your email address going out to 5 million people! I did!
But, the more important thing to check out is how many of each category this company has in their opt-in email lists. You could just pick one category or have a mixture of others.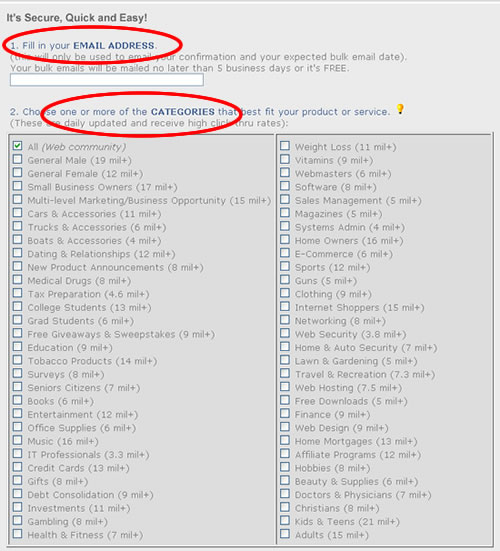 3. Scroll a little more and you'll see steps 3 and 4. Step three is a really cool feature to rotate the subject lines of your ad. It's like automated split testing to see how many people will open your emails depending on what subject lines you choose. Genius!
And, then I just wanted to show how easy it is to create an ad using this system. Using familiar MS Word functionality, you can easily create a simple text post. Or, what we did with  SBC is add a small text message alone with a graphic ad. That way the system would determine which one to display based on the type of email system the recipient is using. Another ingenius idea!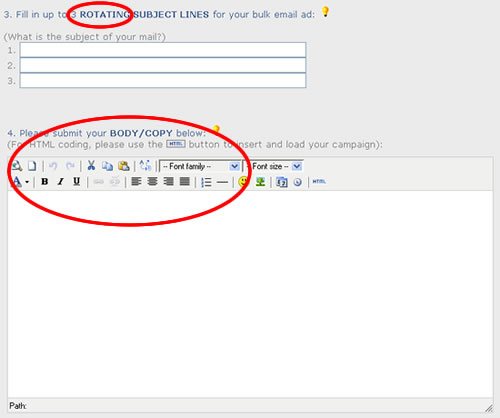 4. Finally, you're in step 5 and 6 where you're able to choose a country. So far I haven't done any out-of-country promotions using this system or any other. Have you? What have your results been?
And, then if "LOCAL" promotion is what you're after, promote to just your state or surrounding states. I love this tool!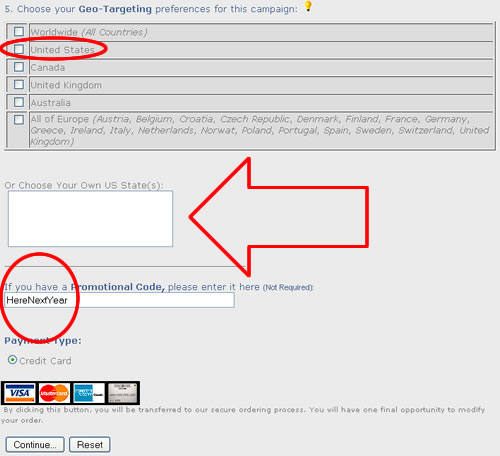 So, you're pretty much done at this point other than paying and waiting. It took us about 3 to 4 days to get our email in the queue and we were still visibly seeing visitation in our stats report 3 weeks after our initial email send.
Now, I gave you the link to this email advertising without spamming company right? Of course, that's an affiliate link and I'm going to get a couple of bucks if you sign-up and give their promotion system a whirl. But, if you DO use that link, please let me know and I will send to you the steps we used to assure our email campaign was a success.
And, we're just going to learn more every time. We'll probably start using this system twice a month for various projects. I'll keep you posted here hour our email campaigns go and what secret strategies we unveil. But, the good stuff will be reserved for those actually USING this system. And, you must do so through our affiliate link.
Rest assured this is a real company we're talking about. I've talked to their support staff myself and some really good people are behind this email system. Check it out in confidence.
Posted by Marty Dickinson on Sep 10, 2008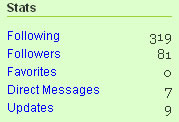 I finally took the plunge last night and made a concerted effort to build some momentum with my Twitter account. I gave myself 20 minutes and found 350 people to "follow" and out of those 350, at the time of this writing, 80 have chosen to follow MY postings on Twitter. In the time it took me to write that much of this post, I see another person has signed-on be on my list of followers but I'll stick with the 80 for easier math. In the world of measuring conversion rates, that would be a 25% conversion rate. That also means if I want 1000 followers, I need to find 4000 people to follow.
If it took me only 20 minutes to get 80 followers out of 350 people, that means it would take only 4.1 hours of my time.
Now, these are not quite of the true caliber as opt-ins to your newsletter list, but they are people who have expressed interest in giving you a "try" to see if you are interesting to them or not. If you can generate content in your Twitter messages (known as Tweets), then you stand a decent chance of attracting visitors to your website. I'll report a little more on that process in a few days.
So, what steps did I take to get 80 people interested in me within 20 minutes? Here are the 7 Twitter Steps:

Twitter Step 1) Create a photo for your profile that's interesting to people and catches their eye. Most Twitter accounts just have the person making a goofy face. I used my picture of the RUSH dogs that I use for my forum postings. Gotta be a RUSH fan to understand, but it sure does draw attention in a sea of typical portrait photos and gives the idea that I have a sense of humor.
Twitter Step 2) Get back to your Twitter home page inside your account and click on the "Everyone" tab as shown below. This will show you a list of the most recent topic additions that people have made to Twitter…within the past 5 seconds! If you refresh your browser while viewing the "Everyone" tab, a whole new list of comments will display. Yes, that's how many people are adding new comments that it only displays the most recent 5 seconds worth of posts!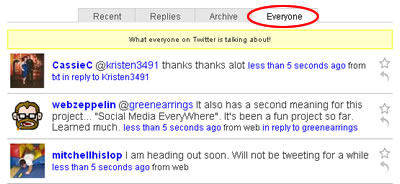 Twitter Step 3) I'll click on webzeppelin's photo and I'll see his profile.
Twitter Step 4) Notice the word Followers? That's a live link. Click on it to see his followers with links to their accounts.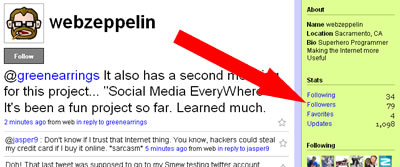 Twitter Step 5) Click the "follow" link for every account as shown below.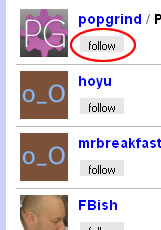 That means whenever the person makes an addition to Twitter, you will be notified within your Twitter account. You can be notified by email, but I chose to turn that off after I got my first round of a bazzilian emails! Twitter is popular!
How many times can YOU click in a minute? That's how many people you can follow and therefore attract people to follow you.
Those really are all the steps. As people see you've decided to "follow" them, they will reciprocate and follow you as well. That's the conversion rate I was mentioning earlier. Some people have only 5 or 10 followers. Others have well into the thousands.
In a future post, I'll go into some more detail about making an attractive Twitter post to get more people to take an interest in what you're writing.
Posted by Marty Dickinson on Aug 26, 2008
I finally came out of my cave Monday afternoon after finishing the required 70% complete deadline for my portion of the Web Marketing All-in-One Desk Reference for Dummies book due in bookstores everywhere March/April 2009 (Wiley Publishing, publishers of the "For Dummies" books). John Arnold of Constant Contact (E-mail), Ian Lurie & Elizabeth Marsten of Portent Interactive (SEO, AdWords, Social Networking, blogs), and just added, Michael Becker (Mobile Marketing) from Iloop Mobile (personally can hardly wait to see what he'll be adding about THAT very hot topic!).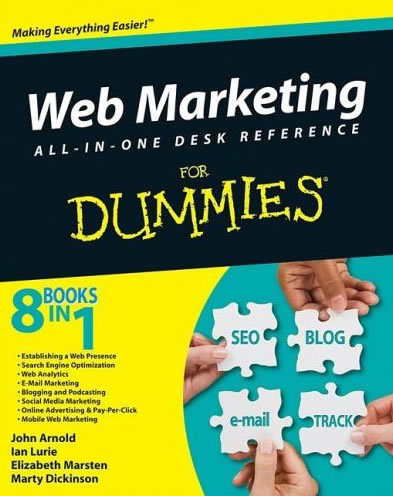 It is a true honor to be sharing pages with these industry experts as we make our contributions to what I believe will be the most talked about Internet strategy book in years.
When I was asked what I would like to write about, I immediately said, "the money part of course" So, I get the first section of the book which will be covering topics like:
Converting more visitors to paying customers
Writing promotional copy that sells
Shopping cart setup
Finding and promoting affiliate products
Starting and building your own affiliate program
Joint venturing
Which website type is the best for you
Design components that sell
Hiring helpers so you're not doing everything yourself
More coming on this topic coming soon but I have to mention that something else has happened in the process of writing this book, which is now listed on Amazon by the way. I think I've had more leads for business in the past two months than the first six months of this year combined. How could that be? I haven't been doing anything differently in my promotions than usual. Must be the book. Just by telling people about it, people are talking about it. The book isn't even out yet and people are talking about it. We're not even finished writing it yet and people are already talking about it. Strange but true.