Posted by Marty Dickinson on Aug 26, 2008
I finally came out of my cave Monday afternoon after finishing the required 70% complete deadline for my portion of the Web Marketing All-in-One Desk Reference for Dummies book due in bookstores everywhere March/April 2009 (Wiley Publishing, publishers of the "For Dummies" books). John Arnold of Constant Contact (E-mail), Ian Lurie & Elizabeth Marsten of Portent Interactive (SEO, AdWords, Social Networking, blogs), and just added, Michael Becker (Mobile Marketing) from Iloop Mobile (personally can hardly wait to see what he'll be adding about THAT very hot topic!).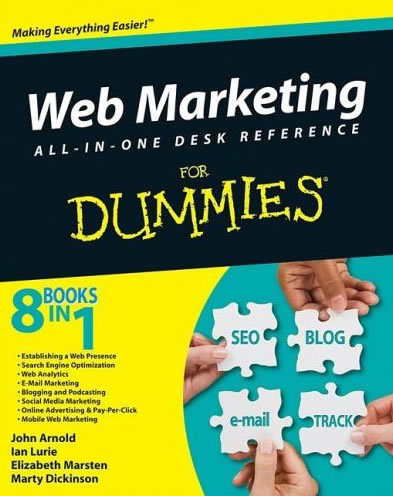 It is a true honor to be sharing pages with these industry experts as we make our contributions to what I believe will be the most talked about Internet strategy book in years.
When I was asked what I would like to write about, I immediately said, "the money part of course" So, I get the first section of the book which will be covering topics like:
Converting more visitors to paying customers
Writing promotional copy that sells
Shopping cart setup
Finding and promoting affiliate products
Starting and building your own affiliate program
Joint venturing
Which website type is the best for you
Design components that sell
Hiring helpers so you're not doing everything yourself
More coming on this topic coming soon but I have to mention that something else has happened in the process of writing this book, which is now listed on Amazon by the way. I think I've had more leads for business in the past two months than the first six months of this year combined. How could that be? I haven't been doing anything differently in my promotions than usual. Must be the book. Just by telling people about it, people are talking about it. The book isn't even out yet and people are talking about it. We're not even finished writing it yet and people are already talking about it. Strange but true.
Posted by Marty Dickinson on Aug 23, 2008
Promoting affiliate programs with squeeze pages is not only simple, it's also fast! This is part 2 of my discussion from SitePoint.com forum where the first post was about creating squeeze pages to promote affiliate programs. And, here's my answer to the question "how to promote affiliate programs" using squeeze pages:
- – -
Promoting an affiliate product is an evolution. In summary, it goes like this:
1. Promote affiliate link only using totally free means like including in emails or on your websites
2. Promote affiliate links by paying for visibility like Adwords
3. Build squeeze page to promote formal recommendation for affiliate product
4. Build website or content page to promote the affiliate product
5. Private label affiliate product so that it looks like your own
6. Create your own product to sell through affiliates
7. Establish more formal joint ventures with large affiliates to help sell your product on large scale
That's really what we're getting at here. Eventually you will play with enough affiliate products and "their"
programs that you will start having interest in creating your own product and recruiting affiliates to promote your products. It's not fair to suggest that making your own product will be more lucrative than affiliate products, but it is an additional revenue stream if you choose to go that route.
It's all about the process, y'know?
So, for squeeze pages specifically, you would promote an affiliate program by recommending the affiliate product or service on whatever you supply people once they opt-in through your squeeze page. In the case of LaughAtLayoffs.com, the reader gets access to a 14-page document about what I would do to begin using the web to make an additional income if I was to still be working for a company threatening layoffs.
Within the document there are suggestions that they should visit certain website domain names. When they visit them and buy, I get a cut from the sale price sent directly to my bank account. Why? Because the domain name is forwarded right to my affiliate link. You're welcome to sign-up for it just to see how it works…even if you choose to not buy anything. That's fine. It's not like it costs me any more for the sign-up.
I went one step further though (as I usually do), because people new to the web (my target audience with that squeeze page) are not going to be able to grasp everything from the 14-page document alone. They need more guidance. Within the system I used to make the squeeze page, there is a feature that allows me to build sequential auto-responders. So, I offer a 10-day free e-course that breaks down each step I suggest in the document into more detailed steps.
And, of course, I suggest the affiliate links in the right place at the right time so that it's not overbearing and is still a genuine recommendation instead of a slimy sales pitch.
So, it takes a little practice to be able to write in a way that doesn't overpower people with a hard sales pitch. But, that's another reason to have your sites not set on only finding a single affiliate product to promote but launching a new squeeze page featuring a new product at least once a month. I don't guarantee much, but I do guarantee you'll improve very fast at writing to sell if you commit to launching one new site a month!
Hope that helps and let me know if you have questions about promoting affiliate programs with squeeze pages. Glad to help.
Posted by Marty Dickinson on Aug 23, 2008
The combination of squeeze pages and affiliate programs are a match made in heaven. You can churn out a squeeze page in under an hour with no web design experience and begin promoting affiliate products within the same afternoon.
Creating squeeze pages and promoting affiliate programs came up as a topic on one of my favorite forums, SitePoint.com, where I replied as much as I could in the public area but there just comes a time where you have to show examples and give links to your examples. Forum moderators hate when you post links for fear that you're self-promoting.
So, I replied to the original poster and then offered if anyone else wanted to know what I sent to him, I'd be glad to forward a copy. Now I'm getting enough P.M.s from readers where it's just easier to put my response into a blog post so I don't have to dig up my notepad file and copy and paste the response.
Guess we're kind of taking the forum conversation to-the-blog as you are welcome to post your comments and questions here and I will respond personally.
But, first, here is the response I gave for the "how to create squeeze pages" part and I have made a separate post for how to promote affiliate programs.
Hello [poster] and thanks for writing. I'd like to start off mentioning that my goal for the rest of the year is
to add a new squeeze page to promote a new product every month. My most recent I did just in a single afternoon last friday (e.d. that was in mid-July by the way). That's how easy it is once you get the process down). And, 3/4 of that time was writing the 14-page free document as part of the incentive for people to
opt-in. You probably don't have to go that overboard to start selling.
By the end of this week, it looks like I'll be on track for $400 a month in affiliate revenue or so. Takes a few days to figure out the right google adwords to get the right kind of traffic. Here's the link to it so you can see an an example:
www.LaughAtLayoffs.com (Has averaged 15-25% opt-in rates)
To create everything that you see there, the page, the layout, the auto-responder series, the form, the thank you page, everything is in one simple online product tool. I purposely did not use any fancy graphic design because I wanted to show that even such a basic page can bring results as incentive to others who are on the non-technical side of the spectrum.
Here's my affiliate link for the online tool. Hopefully you won't mind if I get a few bucks from recommending it to you if you sign-up. (Incidentally, since this post was written, I've created a cheat sheet of sorts for using this product I'm recommending. So, you will definitely want to sign-up through my affiliate link and let me know when you do so that I can get the checklist to you.)
The same product does have a built-in feature that will let you send email to the list of people who have opted in as well. So, it's all there.
That's pretty much all you need to get started.
All the best,
Marty Dickinson
Denver CO
P.S. Check out my part 2 of this response related to how to promote an affiliate program.
Posted by Marty Dickinson on Aug 23, 2008
Need to speed up your bootup time on your PC with Windows XP installed without calling in your computer fixer? I found the perfect set of walk-through videos that speeded up my bootup process on my laptop from 22 minutes to 2 minutes! First, you're probably wondering 22 MINUTES! Marty!
Well, I let one of my helpers borrow one of my laptops for a few months and when it came back, I fired it up and, yep, 22 minutes to boot. Now, I might have a thing or two up my sleeve when it comes to Internet stuff, but that does NOT mean I'm a computer geek. In fact anyone who knows me (especially my highly competent techie helpers, knows how technically-SAD (as opposed to savvy) I really am. But, don't tell anyone, okay??
Anyway, I couldn't wait to get my computer guy scheduled to come look at my laptop, and I'm pretty good on the research front, so, I went to Google and started searching. I came across a series of videos that I'd like to share with you for a couple of reasons.
First, go ahead and try the recommendations to speed up your own boot time if you're on Windows XP. Actually, two of my computers with Vista I also used this process for and it worked just great.
But, also, even if you don't need to speed your boot-up time,
visit the site to see how they've laid out the videos along with the little commercial they have going on the front end and back-end of the short videos. Then, click on the button to take you to the next step.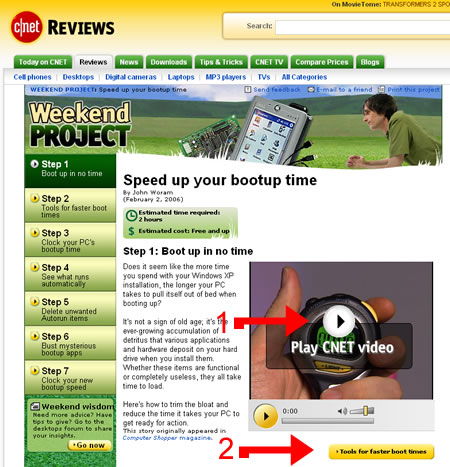 Notice how short these videos are. They take you through an ever-so-short series of steps and then you have to take the next move to go to the next page in the sequence and click the video button. It's really an ingenious layout and a play on peoples' need for speed. We just want the info and we want it quick. Good job guys and a great example to the rest of us for using instructional video to provide AMAZING and useful content for free to gain trust and brand loyalty. Definitely will go back to this site when I need something they offer. See how that works?
Posted by Marty Dickinson on Aug 22, 2008
Whenever the conversation turns to Internet Marketing one name comes up more often than any other name…Armand Morin. Armand is the Expert that the experts turn to and watch for direction.
I first met Armand in 2000 at a conference where he was NOT a speaker. Yes he too was once an "attendee" sitting in an audience learning form other speakers. And, that's my point. People are always asking me, "Marty, HOW do you learn this Internet marketing stuff?" And, I tell them how much I spend a year on attending conferences and buying educational materials.
In the BIGinning
The BIG Seminar is the place where it all starts. It's the only Internet marketing conference I attend EVERY time. Why? Because Armand only picks truly cutting edge presenters and gives them plenty of time to deliver tons of content I usually begin implementing throughout the weekend of the conference! Yes, I don't even wait until I get back to start. I'm too energized to wait! While others are partying at the bar, I'm up until 3am trying out what I learned on my laptop.
Who Attends Big Seminar
The audience is made up of about 40% that are brand stinkin' new to the web, but you could be sitting next to a multi-millionaire who has dozens or even hundreds of websites. And, that's one of my favorite things about Big Seminar. You just never know who you're going to meet.
Money Tight?
If you are strapped for cash, Big Seminar is the ONLY conference I would recommend you attend coming this October 3, 4, and 5 in Atlanta Georgia. And, if you can't afford a couple thousand dollars toward your own education, you NEED to attend more than others! It's the only conference I can honestly say pays for itself, for me, within the first week after the conference. It's that good.
Now, let's be real…
Big Seminar has an affiliate program. That means if I refer others to attend, I get some of the bucks. Basic sales and basic Internet stuff. And sure, when you register, of course I want you to Register Here through my affiliate link. But, there's something more…
I always offer to my clients that when they attend the Big Seminar, if they've registered through my link (which they always do), they will get to meet with me as a small focus group on Friday and Saturday night in a private meeting room where we can go over what was covered during the day. I answer any questions they have and it really helps to have someone to put everything together into a summary of steps and fill in the blanks. Then, when we get back (because I always fly home on late Sunday afternoon), we schedule a conference call to go over what was covered on Sunday.
See, going to something like Armand Morin's Big Seminar is not only overwhelming from a content and learning standpoint, but just the sheer experience of it all requires some savvy to navigate through. After all, you're in an audience with typically 500 or more people. Just meeting the one right person you needed to meet could change your whole life…and your income! But, how do you navigate through Big Seminar?
You need a guide. Someone who's been there. Someone who knows most of the presenters, staff, and a good chunk of who will be in the audience too. Let me be your guide.
Not Sure Yet?
One of Armand's trademarks is having phone interviews with the speakers leading up to the conference. Would you like to sit-in as Armand talks with other experts and they discuss their Internet Marketing Secrets?
You can…and it's free.
Every Tuesday and Thursday up until the BigSeminar Armand will host a FREE training call with one of the expert  Faculty from his upcoming Big Seminar.  They will discuss what they're doing on the Internet and how they do it.
The calls are FREE…click here now to register for the calls.
Calls times, phone number Passcode etc. will be immediately sent to you via email.
In Summary:
If you're wondering where all those Internet marketing folks go to learn what's new and what really works to build a business and increase sales, Armand's Big Seminar is the place to be. I hope you'll join me and take me up on my invitation to attend the after-hours meetings to go through things. After you register, be sure to let me know. You can contact me through the Ask Marty contact form.
And, I hope to see YOU at Big Seminar October 3, 4, and 5 2008 in Atlanta!
Posted by Marty Dickinson on Aug 22, 2008
Online chat is not only the communication mode of the future it's the sales conduit of "NOW!" Sure, it's great to be able to offer 24/7 support to your customers but the right online chat program can also allow you watch visitors as they arrive on your website. You can actually watch them migrate from page to page. Then when they get stuck, you can send them a little pop-up message that invites the to talk to you online.
At first thought, this is scary! But, once you get a feel for your audience and the questions they're asking, it's really not that hard to guess the right way to approach your website visitors. Do it right and it pays off!
The online chat software I use on multiple sites I own is not free, but is somewhere around $100 a year, which is a small price to pay for what they offer….
-24/7 online chat support (Ilene knows her stuff!!)
-customization of chat window
-private labeling (meaning your visitors will think it's YOUR program)
-customizable exit questionnaire (which is a great way to increase opt-ins to your list, if done properly)
-a system worth paying for!
Actually, when I signed up for this system, I bought two accounts.
1) for my paying clients so that they could reach me most times of the day or night (whenever I had my computer turned on) and
2) for visitors checking out my main websites. And, I can assign any of my helpers to monitor chat requests.
Online chat has reduced my email from clients by half and has increased my sales by at least 200% as I'm able to answer questions immediately as surfers have them.
Discover the Online Chat system I use daily and highly recommend.
Posted by Marty Dickinson on Aug 21, 2008
Every time I get on a plane to go to a conference or other business trip, I sit in the airport with my laptop connected to the Internet up to the minute we board. "When will they just offer Internet access on airplanes?" I wonder…..
The time has arrived! According to a post I saw on Information Week this morning, American Airlines is offering mobile broadband Internet on it's 747 planes flying non-stop from San Francisco, Los Angeles and Miami to New York. More 3-hour or more flights will soon follow suit I'm sure.
Now, that still doesn't help me much because I live in Denver. And, just about everywhere I fly is 2.5 hours or less. But at least a first step has been made. In a couple of years surely every plane will grant Internet access for at least those flights that feature movies.
The way it's been described to me by some of my techie friends is that there will be a series of mobile Internet signal silos on the ground and an Internet connection box on the bottom of the plane. A seamless connectivity between the silos will enable you to keep your Internet connection in tact while the plane moves from one silo's reach to another.
One of my personal worries is peering eyes from the seat behind me reading my email while it's up on my screen or watching over my shoulder to see what website I'm checking out.
Actually, maybe even worse could be the uncaring freedom of speech porn lover that surfs adult sites while other peoples' young children sitting by getting an eye full! Surely there will be some crazy stories to evolve as airlines….go online.
Still, the good with the bad, I'll take the good. Internet access on airplanes is a very good thing and a long time in waiting. What is your view?
Posted by Marty Dickinson on Aug 19, 2008
The question "How do I add a YouTube video to a blog post?" comes up a lot when talking about blogs. The answer is simple to begin with, but if you add the right plugin to your WordPress blog, it's even simpler than you might believe.
First, let's start off with an example video that I searched for on YouTube. No, this isn't my boy, just someone I came across from searching. Hope he appreciates the video views we'll be bringing his way!
[youtube]http://www.youtube.com/watch?v=cwhkG3LhZO8&feature=related[/youtube]I went to YouTube.com and searched for 7-year-old-guitarist, being a guitar player myself. When you use a YouTube video, you sure want to choose one that will be of interest to your viewers. If you've ever played an instrument, you'll surely be amazed at this little guy!
After I decided to use this video as my example, I started a blog post which looked like this: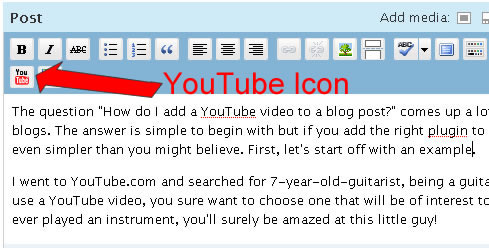 Then I clicked my mouse in the position I wanted the video to appear on my page and then clicked on the YouTube plugin icon that I installed when my blog was originally setup.
This video plugin can be found within your WordPress account by searching for Viper's Video Quicktags. Simply download the plugin and install it as the instructions describe. [Note: If you're not familiar with basic blog setup techniques, check out my Ultimate Blog Checklist.]
Notice when I clicked on the plugin icon, a little window pops up. That is where we'll add the video's location.

By returning to the video page on YouTube, I can now select ("copy") the visitation URL (Do NOT choose the embedded code) as shown in this next photo.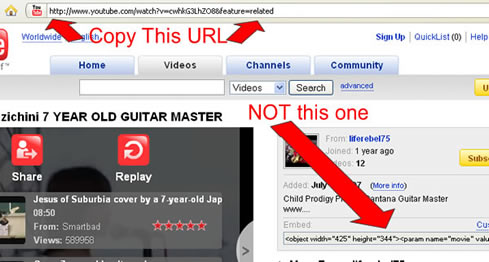 Next, with the url copied into my clipboard, I will return to my blog post where the popup window is showing from the plug-in I clicked and I'll "paste" the url into that window:

When I click on "OK" the video code will be added to the content of my post. Note that of course the video won't truly display live to the world until I "publish" the blog post to the blog. But, you can see where the code has been added to the blog post:

So that's how I added this YouTube video to my blog post. And, with the proper plugin, the entire process takes mabye 10 seconds or so. With that in mind, I encourage you to start adding YouTube videos to your blog posts. Why? Because using the right video will capture the attention and interest of your readers. And, that's probably 70% of what good blogging is all about.
Posted by Marty Dickinson on Aug 5, 2008
The question "What fonts can I use besides arial on my website?" came in from one of my "Small Doses" subscribers where I offer Internet marketing and business growth tips…well, in small doses. Thanks for the question and here's the answer. The font types you choose for the text areas of your website should be whatever font type you KNOW for certain your visitor's computers have the capability of displaying on their screen the same as you intended when you wrote the page on your screen. Unfortunately, you never know for sure.
Said another way, stick to fonts that are considered "safe." My favorites are Trebuchet and Verdana when I want to be "different" but stick with "arial" when I want to be professional because it's safe.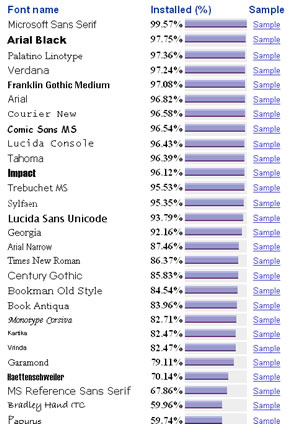 Here's a great resource to use when trying to identify which font is best for your site. The Installed (%) means what percentage of computers have that particular font installed on them.
Now, just because Microsoft Sans Serif is right on top of the list doesn't mean that would be the best fit for use for your website. But, it does show why Arial Black, Verdana and Arial are so widely used–because people have come to realize that most computers have those fonts loaded.
This display also shows that Garamond might not be such a predictable choice, even though many web designers choose it.
If you must use a font that is not high on the list, that's your opportunity to use the font in an image instead of the main text of the site. That way, any computer will still be able to see the wording the way you intended it to be seen.
Don't go too overboard with using images to display your text, however. You need a lot of text on your pages so that search engines will be able to evaluate your content for placement.
Interesting how we have lots of choices when it comes to using fonts besides the common Arial 10-point. Then again, maybe we don't have as many choices as we thought. Anyway, just thought you'd like to see this chart.  Have a great day!