Posted by Marty Dickinson on Sep 19, 2012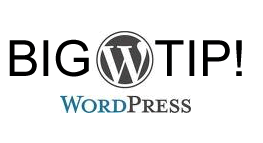 Whenever I bring up the idea of WordPress security in my workshops, I can just see the audience start to drift their thinking to whatever they have planned for after the workshop. People in general are just not worried about their websites being hacked…until it gets hacked of course; and then of course we get the frantic call.
The problem is that hackers are getting much more creative as to how they break in to WordPress websites and the numbers of websites they can break into…at the same time, thanks to their ever-growing sophisticated hacker scripts.
One thing's for sure. More and more website hosting companies are finally starting to take WordPress security more seriously.
Here's a very interesting article by a website hosting company that seems to focus on WordPress hosting like we do at HereNextYear.
What particularly stood out with me in that article were three things you might not know:
1. Your WordPress website has many more attempted unauthorized logins than you might realize. The author of the blog post I pointed you to above claims his hosting company gets 50,000-180,000 unauthorized login attempts every single day.
2. WordPress plugin updates are being released faster than ever before because there is so much competition between plugin developers. Keeping all of your versions current is even more pressing than before because with every outdated update lies an opportunity for security breaches.
3. Security itself is constantly changing. So, any website hosting company you use had better have constantly evolving security for their servers and, in particular, WordPress hosting clients.
I just had a long-time client move their hosting from our dedicated, WordPress-secured, constantly evolving security hosting platform….to GoDaddy. NOOO! Anything but GoDaddy! Why did he move? Because the client is looking for any and every way to cut costs right now.
Why shouldn't he have moved? Because big website hosting companies are failing to evolve their security standards.
This is a rising problem I see across the board how people are choosing to save as little as $50-$75 up front and run the risk of losing thousands of dollars down the road. Restrain the urge to downgrade. Question your website hosting company to see if they have all of the author's security measures in place.
For those of you reading this in the HereNextYear member's area, I will be posting our 30-step WordPress security process by the end of the month so stay tuned.
Posted by Marty Dickinson on Jul 26, 2011
Did you hear the speech by President Obama last night where he suggested we the people should contact our congressman? Well, people did what they were told to do. Phone calls packed the lines and websites crashed.
Posted by Marty Dickinson on Mar 4, 2011
With spam, spoofing, and "sporting" (where your opt-in list 'subscribers' re'port' you as a spammer by clicking a spam link either intentionally or non-intentionally), getting your IP address and/or your domain name blacklisted is easier than ever to achieve these days.
And, no, getting on email blacklists is definitely not something you want to have happen! But, if one day you find that your email system is in tact just fine and suddenly no one is receiving your emails, you have to start asking questions as to why you're having problems sending email. One of the first questions you can eliminate before contacting your email hosting company is to check your IP address and/or domain name with various blacklists.
Today, I discovered today a free online blacklist checker tool as shown in the picture. I've blackened out private data, but you can see where the verification happens once I type in a domain name or IP address.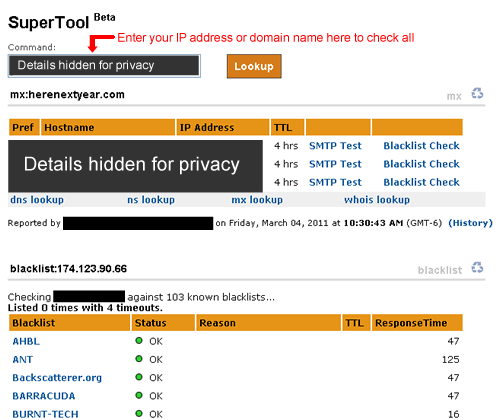 Until now, checking checking for blacklist status has always been kind of a pain. I suppose these kinds of tools have been out there for a while, but no one seems to be really promoting them in my circle.
Today, I discovered today a free online blacklist checker tool as shown in the picture. I've blackened out private data, but you can see where the verification happens once I type in a domain name or IP address.
Let me know how it works for ya.
Anyone willing to share their blacklist story here and tell us what you did about the problem?
Posted by Marty Dickinson on Feb 22, 2010
I just read this post on one of my favorite forums…
Poster's Comment:
"I have a problem with an SEO service I ordered and I'm not sure what to do. Last month, I hired a guy from XXXXXXXX for SEO on a site I have. He guaranteed he could bring my site to Google 1st page in 60 days, even for a fairly competitive keyword.
I know, it seemed too good to be true, but the guy had 36 reviews at XXXXXXXX and most were 10 out of 10. He seemed like a top notch pro.
So I hired him, but I made the mistake of paying him through his website and not through XXXXXXXX-per his direction. I trusted him, cause nothing indicated that he was scamming me.
This month, I asked him for an update, and his response was that this was not a standard link building campaign, and that his group knows how to manipulate Google's algorithms and that they are updated every 60 days, so I would just need to wait till March 10 or thereabouts and my site would be 1st page.
This really made me nervous, cause I thought this was a conventional SEO campaign. Now, I don't know what to do. This guy claims that his group has the ability to put sites in Google top 10 and/or get them banned. He's very confident and seems to know what he's talking about.
Now, I have only a few days before my ability to file a Paypal dispute expires, and I paid him $750, so it's not chump change. However, I don't want this guy messing up my site either. He doesn't have any of my login info so he can't do anything on page."
- – - – -
End Poster's Comment
There are several things wrong with what happened to this unfortunate chap. I've been performing SEO services and consulting (one of many services) to clients for somewhere around 13 years, so let's take a look so that you don't find yourself in a similar place.
1. Who He Hired – There are plenty of people in the SEO business. You should never have to hire someone that you were not referred to by someone else you know who has had that person do work directly for them.
2. What He Promised – There are no guarantees with Google. If someone guarantees you anything about SEO or SERP positions, run the other way as fast as you can.
3. How He Reinforced – Be careful of reviews and testimonials. Anyone who uses testimonials that are real will want to promote that person in thanks for offering a testimonial by at least giving a url for their website. Visit the websites and test for your own findings.
4. What He Charged – $750 to guarantee your ownership on organic search of a primary, competitive keyword, is just crazy. If I was to guarantee anyone a #1 position on Google for a single keyword or even a 2-word keyword phrase, I'd want $50,000 a month! And, it would probably take that amount of labor time to get you there.
5. What He Didn't Know – The site owner just simply didn't know that there's nothing that takes Google 2 full MONTHS to do. Well, maybe if you're on a severe Google black list, it might take you a while to get removed and then re-posted. But, when it comes to having your site display and for site links to start having an impact, no way, 2 months? Just no way will it take Google that long to show changes in positioning.
Just as I reported before that there seems to be some kind of wave of webmasters bringing pain to their clients, this proves true on the services end for SEO scams out there as well. Be extremely cautious and skeptical when someone approaches you with some kind of plan that they will "guarantee" your positions on Google. And, ask yourself why they're willing to perform all that magic for you for so little. Beware of the Google SEO scams. They are apparently everywhere.
Question: Have you been scammed by a Google SEO'er? Tell us about it and what to watch out for.
Posted by Marty Dickinson on Jan 19, 2010
Apparently 2010 is not off to a good start for webmasters. Not since 1998 have I heard of so many webmasters baling from their client projects mid-way leaving their clients stranded without a completed website, or even worse, a completely "down" website.
Over the past two weeks alone, my company at HereNextYear that has worked with over 300 client projects over the past 15 years has received 4 new client calls where their webmaster has simply left them in the lurch. One disgruntled webmaster even attempted to discredit his client by getting the client site banned on Google search after a dispute.
Two of the other cases were as a result of fed-up business owners who had been waiting for six months…that's right "6″ months…for their basic websites to be designed and launched by their webmasters. There was no giant back-end database here folks, we're talking like 7-page content sites with a PayPal link!
Finally, with no hope of a refund in site, they both bit the bullet and came to us at HereNextYear.com to get the jobs done…in two weeks (our standard turnaround time).
The final example was a volunteer webmaster who did a superb job maintaining a site for a small church and just decided it was time to do something different.
On one side of the fence, this is a big shameless plug for my website implementation team at HereNextYear. We are still in the business of, like, actually completing websites for clients and helping them maintain them for years to come. We just had a record breaking sales month for December 2009 and are completely focused on doubling our client base by the end of 2010.
But, more importantly, I think everyone who has a webmaster should check in with them if it's been a while. See if you can get a feel for the following so that you don't get caught broadsided with a down site or a half-baked project:
1. How has the economy impacted his or her business?
2. Is your webmaster getting more clients or less?
3. Will their prices be the same for 2010?
4. How are things at home? Many solo webmasters become friends with their clients and are open to discussing this topic.
5. Does your webmaster still enjoy the work of web design, web development or webmastering?
6. Are you in good standing as a client?
7. Are there plans for the webmaster to grow his/her business, reduce to part-time or leave the industry entirely over the next few months or year?
Some of these are tough questions to get answered. But, I can tell you for sure that your business is on the line if you are aligned with a webmaster that is unsteady, changing their priorities, or can suddenly snap and move to Siberia!
Friends are friends, but business is business. Contact your webmaster immediately (if you have one) and establish a level of comfort that your website is in good hands for 2010. And, if something should happen, know that you have a place to call to get things back on track. Check out HereNextYear.com for all website and Internet marketing services you would ever need.
Posted by Marty Dickinson on Jan 31, 2009
Twitter as a tool in itself is fascinating but the number of tools people are making to work with Twitter is completely staggering! Almost every day I hear of a new Twitter tool to help you conglomerate your tweets or link to some other social networking site. Here I will list all the Twitter tools as I discover them and provide a little explanation of them. Pick and choose what Twitter tools will help you the most.
Twtpwr.com Twitpwr.com (corrected) is Joel Comm's program for rating your Twitter influence by monitoring the Twitter traffic you generate + users you refer + how much traffic THEY generate. Submit your url for tracking.
TwitterFall.com
Whirl.org is a desktop application to let you know if someone is Tweeting you without your having to visit Twitter.
Tweetdeck.com [My Favorite So Far] This tool is much more my style. It opens up to a full screen and shows your current Tweets, replies and direct messages in 3 separate columns. I can have Tweetdeck up all day on a separate screen and just occasionally scan through tweets–kind of like IM.

Twollow.com follows tweets for you by keyword sort of like how Google Alerts works.
TweetLater.com schedules tweets to hit peak times that your followers are online.
Twitterific is a widget for MAC's that allows you to view and post tweets without the use of a web browser.
Digsby.com helps to manage all your social networks from one software.
Twinkle offers a way to manage tweets from your cell phone – tapulous.com/twinkle
Tweetie.com
Twitbacks.com helps you make a nice Twitter background for your profile free.
More coming for sure!
Posted by Marty Dickinson on Nov 6, 2008
Got this email in today threatening my Internet access was going to be suspended. It's a hoax! And it's confirmed to have a virus attached to the zip file.
If you get an email like this, do NOT open it! Just delete it. It's very tempting to click the link they provide because, who wants to get suspended from Internet access after all?
But, if you do, be forewarned.
Here is the letter I got with the subject as follows…
(Ha, I just noticed they couldn't even spell consortium right!
Geez, if you're going to start a virus to drive Americans crazy, at least learn how to spell!):
- – - – - -
Subject: Your internet access is going to get suspended
The Internet Service Provider Consorcium was made to protect the rights of software authors, artists.
We conduct regular wiretapping on our networks, to monitor criminal acts.
We are aware of your illegal activities on the internet wich were originating from
You can check the report of your activities in the past 6 month that we have attached. We strongly advise you to stop your activities regarding the illegal downloading of copyrighted material of your internet access will be suspended.
Sincerely
ICS Monitoring Team
Attachment
Attachment: user-EA49945X-activities.zip (33Kbytes)
Posted by Marty Dickinson on Oct 31, 2008
If you've had a barrage of emails lately appearing as though they're from Network Solutions (where you may have registered a domain name in the past), you probably have received a notice telling you your Who-Is information has been reported as being incorrect. And, that you must take "immediate" action by clicking on the provided link.
I have confirmed this with Network Solutions….it is a Phishing scam! Some nutcase is trying to harvest your email address and get you to login with your username and password so that they can steal your domain names, and potentially your identity. Just delete those emails from your system.
In case you're not sure of whether you've received one of these letters, here is one that I got in my email.
- – - – -
Dear Network Solutions® Customer,
On Fri, 31 Oct 2008 16:21:35 +0300 we received a third party complaint of invalid domain contact information in the Whois database for this domain Whenever we receive a complaint, we are required by ICANN regulations to initiate an investigation as to whether the contact data displaying in the Whois database is valid data or not. If we find that there is invalid or missing data, we contact both the registrant and the account holder and inform them to update the information.
Please note: ICANN (the Internet Corporation for Assigned Names and Numbers) regulations state that the WHOIS Administrative Contact may initiate and approve domain name registration transfers from your Network Solutions account to other Registrars. If you are not listed as the WHOIS Administrative Contact a transfer can occur without your knowledge if Domain Protect is not enabled for the domain name registrations listed above.
To change the WHOIS Administrative Contact Information for any of your domains, please login to Account Manager:
1. Log in to Account Manager at: http://www.networksolutions.com.
2. Click on the "Profile & Accounts" tab in the left navigation menu to be taken to a page listing your account details.
3. Click on "Accounts" and select the account you wish to edit.
4. Click "View/Edit WHOIS Contacts" to make your updates.
If you believe someone requested this change without your consent, please contact Customer Service.
If you would like to order additional services or to update your account, please visit us online.
Thank you for choosing Network Solutions. We are committed to providing you with the solutions, services, and support to help you succeed online.
Sincerely,
Network Solutions® Customer Support
- – - – -
So, to sum it all up, when you click on the link (that appears harmless enough), it triggers some code that will report your email address, network solutions username and password and send to the idiot that so smartly created this program. Please save yourself from the aggravation and ignore and delete all of these notes that come into your email!
Posted by Marty Dickinson on Aug 26, 2008
I finally came out of my cave Monday afternoon after finishing the required 70% complete deadline for my portion of the Web Marketing All-in-One Desk Reference for Dummies book due in bookstores everywhere March/April 2009 (Wiley Publishing, publishers of the "For Dummies" books). John Arnold of Constant Contact (E-mail), Ian Lurie & Elizabeth Marsten of Portent Interactive (SEO, AdWords, Social Networking, blogs), and just added, Michael Becker (Mobile Marketing) from Iloop Mobile (personally can hardly wait to see what he'll be adding about THAT very hot topic!).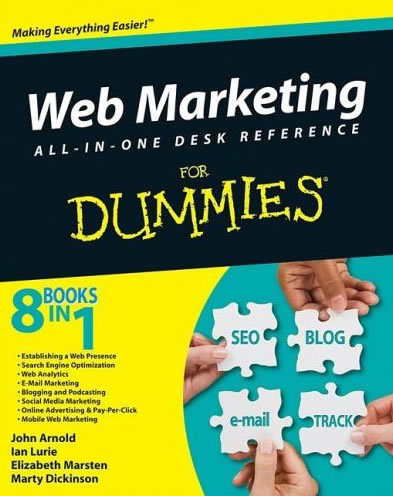 It is a true honor to be sharing pages with these industry experts as we make our contributions to what I believe will be the most talked about Internet strategy book in years.
When I was asked what I would like to write about, I immediately said, "the money part of course" So, I get the first section of the book which will be covering topics like:
Converting more visitors to paying customers
Writing promotional copy that sells
Shopping cart setup
Finding and promoting affiliate products
Starting and building your own affiliate program
Joint venturing
Which website type is the best for you
Design components that sell
Hiring helpers so you're not doing everything yourself
More coming on this topic coming soon but I have to mention that something else has happened in the process of writing this book, which is now listed on Amazon by the way. I think I've had more leads for business in the past two months than the first six months of this year combined. How could that be? I haven't been doing anything differently in my promotions than usual. Must be the book. Just by telling people about it, people are talking about it. The book isn't even out yet and people are talking about it. We're not even finished writing it yet and people are already talking about it. Strange but true.
Posted by Marty Dickinson on Aug 22, 2008
Whenever the conversation turns to Internet Marketing one name comes up more often than any other name…Armand Morin. Armand is the Expert that the experts turn to and watch for direction.
I first met Armand in 2000 at a conference where he was NOT a speaker. Yes he too was once an "attendee" sitting in an audience learning form other speakers. And, that's my point. People are always asking me, "Marty, HOW do you learn this Internet marketing stuff?" And, I tell them how much I spend a year on attending conferences and buying educational materials.
In the BIGinning
The BIG Seminar is the place where it all starts. It's the only Internet marketing conference I attend EVERY time. Why? Because Armand only picks truly cutting edge presenters and gives them plenty of time to deliver tons of content I usually begin implementing throughout the weekend of the conference! Yes, I don't even wait until I get back to start. I'm too energized to wait! While others are partying at the bar, I'm up until 3am trying out what I learned on my laptop.
Who Attends Big Seminar
The audience is made up of about 40% that are brand stinkin' new to the web, but you could be sitting next to a multi-millionaire who has dozens or even hundreds of websites. And, that's one of my favorite things about Big Seminar. You just never know who you're going to meet.
Money Tight?
If you are strapped for cash, Big Seminar is the ONLY conference I would recommend you attend coming this October 3, 4, and 5 in Atlanta Georgia. And, if you can't afford a couple thousand dollars toward your own education, you NEED to attend more than others! It's the only conference I can honestly say pays for itself, for me, within the first week after the conference. It's that good.
Now, let's be real…
Big Seminar has an affiliate program. That means if I refer others to attend, I get some of the bucks. Basic sales and basic Internet stuff. And sure, when you register, of course I want you to Register Here through my affiliate link. But, there's something more…
I always offer to my clients that when they attend the Big Seminar, if they've registered through my link (which they always do), they will get to meet with me as a small focus group on Friday and Saturday night in a private meeting room where we can go over what was covered during the day. I answer any questions they have and it really helps to have someone to put everything together into a summary of steps and fill in the blanks. Then, when we get back (because I always fly home on late Sunday afternoon), we schedule a conference call to go over what was covered on Sunday.
See, going to something like Armand Morin's Big Seminar is not only overwhelming from a content and learning standpoint, but just the sheer experience of it all requires some savvy to navigate through. After all, you're in an audience with typically 500 or more people. Just meeting the one right person you needed to meet could change your whole life…and your income! But, how do you navigate through Big Seminar?
You need a guide. Someone who's been there. Someone who knows most of the presenters, staff, and a good chunk of who will be in the audience too. Let me be your guide.
Not Sure Yet?
One of Armand's trademarks is having phone interviews with the speakers leading up to the conference. Would you like to sit-in as Armand talks with other experts and they discuss their Internet Marketing Secrets?
You can…and it's free.
Every Tuesday and Thursday up until the BigSeminar Armand will host a FREE training call with one of the expert  Faculty from his upcoming Big Seminar.  They will discuss what they're doing on the Internet and how they do it.
The calls are FREE…click here now to register for the calls.
Calls times, phone number Passcode etc. will be immediately sent to you via email.
In Summary:
If you're wondering where all those Internet marketing folks go to learn what's new and what really works to build a business and increase sales, Armand's Big Seminar is the place to be. I hope you'll join me and take me up on my invitation to attend the after-hours meetings to go through things. After you register, be sure to let me know. You can contact me through the Ask Marty contact form.
And, I hope to see YOU at Big Seminar October 3, 4, and 5 2008 in Atlanta!