Posted by Marty Dickinson on Oct 31, 2008
If you've had a barrage of emails lately appearing as though they're from Network Solutions (where you may have registered a domain name in the past), you probably have received a notice telling you your Who-Is information has been reported as being incorrect. And, that you must take "immediate" action by clicking on the provided link.
I have confirmed this with Network Solutions….it is a Phishing scam! Some nutcase is trying to harvest your email address and get you to login with your username and password so that they can steal your domain names, and potentially your identity. Just delete those emails from your system.
In case you're not sure of whether you've received one of these letters, here is one that I got in my email.
- – - – -
Dear Network Solutions® Customer,
On Fri, 31 Oct 2008 16:21:35 +0300 we received a third party complaint of invalid domain contact information in the Whois database for this domain Whenever we receive a complaint, we are required by ICANN regulations to initiate an investigation as to whether the contact data displaying in the Whois database is valid data or not. If we find that there is invalid or missing data, we contact both the registrant and the account holder and inform them to update the information.
Please note: ICANN (the Internet Corporation for Assigned Names and Numbers) regulations state that the WHOIS Administrative Contact may initiate and approve domain name registration transfers from your Network Solutions account to other Registrars. If you are not listed as the WHOIS Administrative Contact a transfer can occur without your knowledge if Domain Protect is not enabled for the domain name registrations listed above.
To change the WHOIS Administrative Contact Information for any of your domains, please login to Account Manager:
1. Log in to Account Manager at: http://www.networksolutions.com.
2. Click on the "Profile & Accounts" tab in the left navigation menu to be taken to a page listing your account details.
3. Click on "Accounts" and select the account you wish to edit.
4. Click "View/Edit WHOIS Contacts" to make your updates.
If you believe someone requested this change without your consent, please contact Customer Service.
If you would like to order additional services or to update your account, please visit us online.
Thank you for choosing Network Solutions. We are committed to providing you with the solutions, services, and support to help you succeed online.
Sincerely,
Network Solutions® Customer Support
- – - – -
So, to sum it all up, when you click on the link (that appears harmless enough), it triggers some code that will report your email address, network solutions username and password and send to the idiot that so smartly created this program. Please save yourself from the aggravation and ignore and delete all of these notes that come into your email!
Posted by Marty Dickinson on Oct 29, 2008
I have some real estate investors and agents for clients and friends. As you can imagine, most are having a rough go with the current real estate market. But, there are a few who are doing just fine…and are in fact making money in real estate! Do you want to know what their secret is? They have home staging experts to help them sell.
Home staging involves bringing in a bunch of furniture and decor to dress up a few rooms for show in a house.
What is the secret shared by the best staging experts in America? They've learned from the best! And, apparently, Sandy Dixon is the best.
I had the privilege of sitting-in for a few hours on one of Sandy's live workshops in Evergreen Colorado a couple of months ago and she is in more demand then EVER right now with this economy.
So, why do I bring this up?
Do I want you to go out and start a home staging business? Ha, only if that's what you want to do…and Sandy's home study home staging business course would be the one to buy for sure…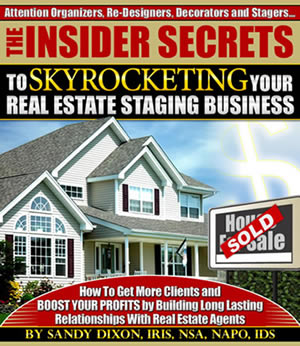 But, I have another reason.
It's to demonstrate how in even the WORST of markets and economies, opportunities present themselves. There are plenty of people out there who are doing just fine in this economy. It's just a matter of looking at your own business and doing things a little differently.
Okay, maybe a lot differently.
So, I have a question for you…
What kinds of businesses have YOU seen become popular in this down economy? Maybe your own? Tell other readers about it here!
Posted by Marty Dickinson on Oct 20, 2008
This past Saturday, between sicknesses, I managed to make my way to the Wolf Law building at CU in Boulder and stayed on my feet long enough to lead a workshop on copywriting hosted by DaVinci Institute. DaVinci calls their 3-hour workshops "bootcamps" but I know that bootcamps are usualy 2-3 day long events, but that's beside the point.
The challenge (for speakers reading this post) was trying to condense a topic (copywriting for the web) that is usually taught over a full weekend…into 3 hours…with two 20-minute breaks!
Well, somehow we pulled it off and I have to say it was one of the most enjoyable workshops I've given in a long time.
Of particular interest was the fact that we sold out the room at 51. Tom Frey of DaVinci Institute kicked off the workshop by saying they've never had a turnout on a Saturday morning like that for one of their boot camps. How flattering that was! How did we do that you might ask?
With 3 emails to the DaVinci opt-in list and member list.
1. The first email was to introduce the topic and its importance. I also wanted to hopefully inspire people to turn their back on the news of the economy and take charge of their own destiny by enhancing their copywriting skills. The class was half-full a couple of days later.
2. The next email went out just Monday before the Saturday workshop. It's main purpose was to establish the potential value of the workshop. So, we stared with a question, which was "I have a question for you Ruth, Would you pay $10,000 or more for someone to write sales copy for just a single page of your website?"
3. The last email we sent out just the Friday before. We knew there were only a few spots left, so we used that news to create urgency. "If you were are on the fence about attending tomorrow's workshop, NOW is the time…"
So, I know the economy sucks and all and a whole slew of people I know in the speaking business are being impacted by the poor economy. But, this does prove that people are willing to spend money to attend workshops still. You just have to prove to them that your topic is important enough, carries a huge monetary value, and add a big slice of "urgency." That's how to fill a room these days.
Posted by Marty Dickinson on Oct 4, 2008
Last time I came to Big Seminar, I was excited to hear a certain few speakers would be presenting. Stephen Pierce was one of them. Stephen had a last minute cancellation at that time and one of my favorites stepped in, Eric Graham (the conversion doctor), who did an amazing and current presentation. I must say I would rather have seen Eric this time around too, but he wasn't on the speaker's ticket.
It's not that Stephen's info is bad, it just doesn't start to offer what I believe the audience needs. He really gears his presentation to beginners, which is fine, but a great speaker considers ALL of his audience, even if he caters to a specific portion of that audience. And, I'm all for making back-of-the-room sales, and he had the table full of people forking over their credit cards, but it's only fair to the audience of Big Seminar to report at least a few things that are happening new online. And, none of that was offered.
Do you think I'm off base here? Would you be happy sitting through a 90-minute presentation learning things like 5 Fundamentals of Making Real Money on the Internet? The answer was that you must:
1. have a rabit market of buyers
2. have a sizzling hot product
3. know how to generate the right traffic
4. have website that converts visitors to customers
5. have persuasive follow-up process
I mean it just seems almost too basic and something I'll bet my 10-year-old could come up with. What do you think? If you got to present to 500+, would you spend 40 minutes talking about these five points?