Posted by Marty Dickinson on Nov 25, 2008
Why is it that AIM showcases the Jonas Brothers band every other day? I use AOL's Instant Messenger program (AIM) to communicate online with up to 9 helpers, often many of them at the same time. AIM takes up one of my five computer screens every day, all day, and often a few hours at night too. With that kind of drive-time, you can imagine I see just about every marketing attempt AIM makes. But, one thing has me puzzled. Why does AIM feature a photo of the Jonas Brothers 3-4 days per week?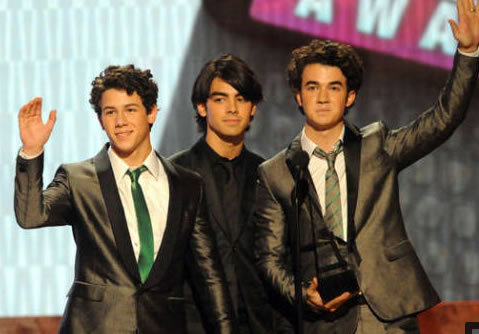 When one fires up AIM a home page comes up on screen. This is where they have a bunch of photos of celebrities and what dirt of the day is being dished. Obviously, the target here is adults. And, that's why I am so confused with the Jonas Brothers photos all the time. What do 25′s and 30 somethings care about the Jonas Brothers? Isn't that a band that targets junior high school girls?
What is your feeling?
Posted by Marty Dickinson on Nov 24, 2008
Last week I made a Camtasia video and sent it to a client. No problem. Camtasia worked just fine. Today, I started working on the instructional videos for our new HereNextYear member site (in soft launch…more about that later) and about every 5 seconds was this annoying little squeak that sounded like a really bad turntablist in a rap band pushing the record backwards to make the annoying squeak!
After a couple of hours of researching this, I finally come to find these squeaks are as a result of the new Flash player version 9. Apparently Camtasia videos do not play well with the version 9 of Flash Player. I must've just randomly clicked on a Windows update or something.
Anyway, if YOU use Camtasia for recording screenshots or live demos (still the greatest recorded presentation I know of), go watch this video and then you will find the free download link that will fix the problem.
Essentially, here's how it works….
1. Download and install the SWFMP3Fixer program
2. Unzip it (I like the free CAMUNZIP) if you don't have an unzip program
3. Open the .exe file that is displayed once you unzip the file from a folder
4. Drag one of your video files or folders into the box as I've done below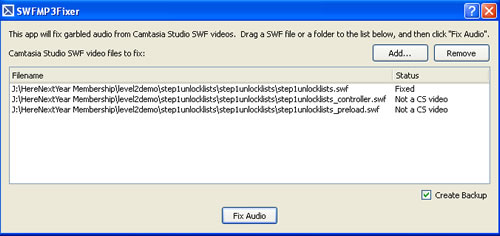 5. Click the Fix Audio button
From there, your video will be fixed and you'll need to re-upload it to your website if that's where you are hosting it.
Pretty simple…just took me a while to find the solution online. For all you Camtasia users, hope that helps a bit.
Or, you could of course just upgrade to version 6 of Camtasia where the fix is included.
Posted by Marty Dickinson on Nov 19, 2008
Okay, so I've been in this Internet marketing world for like 13 years now right? For years I have been among the many anti-spam people. If anyone even started talking to me about sending promotional emails to people who didn't first choose (opt-in) to be on my list to receive something from me, I would run the other direction as fast as I could as if being chased by a wild rabid grizzly bear!
But, my friend, times do change. And, sometimes they change quickly, abruptly, and profitably too! I'm still a big anti-spammer. Don't get me wrong. I have no intention of buying lists from a mail house and sending emails without welcome. But, if someone has bought a product online and somewhere and they have opted to receive similar promotions, or email from similar parties, then why would I NOT take advantage of that?
One of the projects I've been working on for the past few months is a business credit card affiliate program promotion which you are welcome to check out at www.SBCAlliance.com. Kicking an screaming to the partners "against" sending out thousands or even potentially MILLIONS of emails to people I don't even know, they finally did it anyway. 5 MILLION plus e-mails sent over a period of 3 weeks or so.
Know how many death threats we got? Zero.
Curious how many weeks the FTC shut down our website for? Zero.
Want to know how many sales we got after emails went out to 4,900,000 people? Ha, well, let's just say enough to cover the $120 mailing fee!
So, I'm a believer now and I'm ramping up 3 email campaigns for next week alone. Want to know how it works?
1. Here's the company that provides email advertising without spamming.
2. What you'll see when you get there is this screen shot where you'll see steps 1 and 2. First you just fill in your email address. But, this is NOT the email address that is used in the email campaign. So, don't worry about having your email address going out to 5 million people! I did!
But, the more important thing to check out is how many of each category this company has in their opt-in email lists. You could just pick one category or have a mixture of others.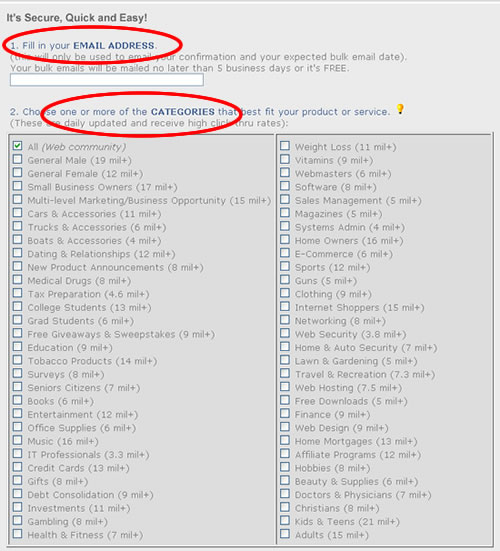 3. Scroll a little more and you'll see steps 3 and 4. Step three is a really cool feature to rotate the subject lines of your ad. It's like automated split testing to see how many people will open your emails depending on what subject lines you choose. Genius!
And, then I just wanted to show how easy it is to create an ad using this system. Using familiar MS Word functionality, you can easily create a simple text post. Or, what we did with  SBC is add a small text message alone with a graphic ad. That way the system would determine which one to display based on the type of email system the recipient is using. Another ingenius idea!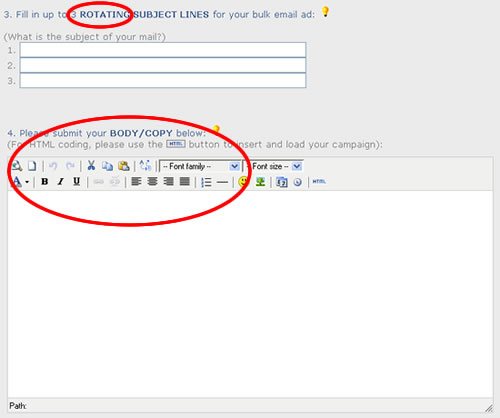 4. Finally, you're in step 5 and 6 where you're able to choose a country. So far I haven't done any out-of-country promotions using this system or any other. Have you? What have your results been?
And, then if "LOCAL" promotion is what you're after, promote to just your state or surrounding states. I love this tool!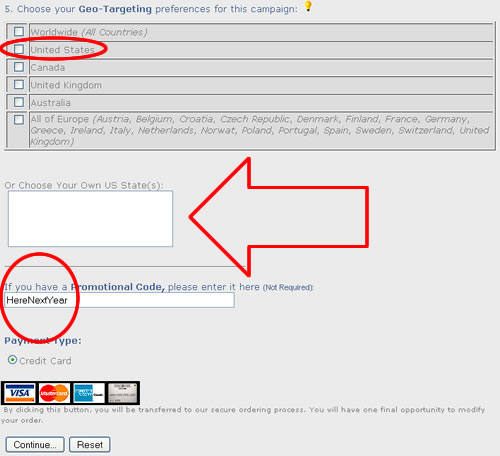 So, you're pretty much done at this point other than paying and waiting. It took us about 3 to 4 days to get our email in the queue and we were still visibly seeing visitation in our stats report 3 weeks after our initial email send.
Now, I gave you the link to this email advertising without spamming company right? Of course, that's an affiliate link and I'm going to get a couple of bucks if you sign-up and give their promotion system a whirl. But, if you DO use that link, please let me know and I will send to you the steps we used to assure our email campaign was a success.
And, we're just going to learn more every time. We'll probably start using this system twice a month for various projects. I'll keep you posted here hour our email campaigns go and what secret strategies we unveil. But, the good stuff will be reserved for those actually USING this system. And, you must do so through our affiliate link.
Rest assured this is a real company we're talking about. I've talked to their support staff myself and some really good people are behind this email system. Check it out in confidence.
Posted by Marty Dickinson on Nov 6, 2008
Got this email in today threatening my Internet access was going to be suspended. It's a hoax! And it's confirmed to have a virus attached to the zip file.
If you get an email like this, do NOT open it! Just delete it. It's very tempting to click the link they provide because, who wants to get suspended from Internet access after all?
But, if you do, be forewarned.
Here is the letter I got with the subject as follows…
(Ha, I just noticed they couldn't even spell consortium right!
Geez, if you're going to start a virus to drive Americans crazy, at least learn how to spell!):
- – - – - -
Subject: Your internet access is going to get suspended
The Internet Service Provider Consorcium was made to protect the rights of software authors, artists.
We conduct regular wiretapping on our networks, to monitor criminal acts.
We are aware of your illegal activities on the internet wich were originating from
You can check the report of your activities in the past 6 month that we have attached. We strongly advise you to stop your activities regarding the illegal downloading of copyrighted material of your internet access will be suspended.
Sincerely
ICS Monitoring Team
Attachment
Attachment: user-EA49945X-activities.zip (33Kbytes)