Posted by Marty Dickinson on Nov 24, 2008
Last week I made a Camtasia video and sent it to a client. No problem. Camtasia worked just fine. Today, I started working on the instructional videos for our new HereNextYear member site (in soft launch…more about that later) and about every 5 seconds was this annoying little squeak that sounded like a really bad turntablist in a rap band pushing the record backwards to make the annoying squeak!
After a couple of hours of researching this, I finally come to find these squeaks are as a result of the new Flash player version 9. Apparently Camtasia videos do not play well with the version 9 of Flash Player. I must've just randomly clicked on a Windows update or something.
Anyway, if YOU use Camtasia for recording screenshots or live demos (still the greatest recorded presentation I know of), go watch this video and then you will find the free download link that will fix the problem.
Essentially, here's how it works….
1. Download and install the SWFMP3Fixer program
2. Unzip it (I like the free CAMUNZIP) if you don't have an unzip program
3. Open the .exe file that is displayed once you unzip the file from a folder
4. Drag one of your video files or folders into the box as I've done below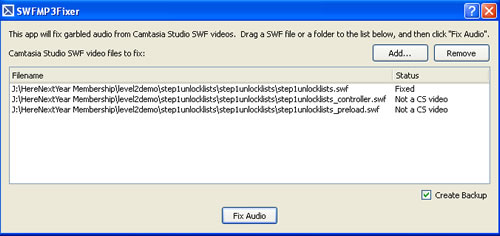 5. Click the Fix Audio button
From there, your video will be fixed and you'll need to re-upload it to your website if that's where you are hosting it.
Pretty simple…just took me a while to find the solution online. For all you Camtasia users, hope that helps a bit.
Or, you could of course just upgrade to version 6 of Camtasia where the fix is included.
Click a Star to Rate This Post:
Tell Others About This Post:

Email This Post to a Friend