Posted by Marty Dickinson on Dec 21, 2008
Great 16 Twitter tools article. Great job by Kalena Jordan and SitePro News! A perfect mesh of business building strategies and managing making posts. I never knew there was that much to it?  Here's the link to the 16 Twitter tools.

Posted by Marty Dickinson on Dec 16, 2008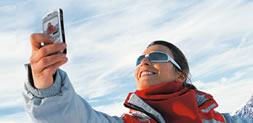 Can it be right that almost 80 percent of mobile users use Smartphones? I just saw this statistic in DM News November 17, 2008 issue that suggests 79.5% use Smartphones and 18.9% use a basic cell phone. These numbers were discovered by The Kelsey Group in October 2008 sampling 512 US mobile phone users.
Now, I'm not nearly as interested in the exact number as I am the reason why so many more people use smartphones than a regular cell phone. My brother has a "regular" cell phone and I asked him yesterday if he has Internet access. He said, "I think so, but I have to pay extra."
But, I think one discovers why the increase after one actually begins using a Blackberry, Motorola Q or iPhone. The answer is because smartphones are really more like little computers than anything else.
I was on the phone with a client last week talking about mobile web and the fact that only 10% of my audiences at workshops have even viewed their websites through a mobile device. I predict that in 3 or 4 years, the majority of users will access the Internet first through their Smartphone and a distant second through their computer.
And, it makes total sense. There's a lot you can do with one of these Smartphones without ever having to turn on a computer. You can chat with employees even when you're out of the office, send text messages that are often read before e-mail, find directions within minutes to a meeting you're supposed to be at on-time, and of course find a great pizza place around the corner.
But, my favorite use for a Smartphone is when I'm in a place where I can't lug around a computer. That could be an airport, restaurant, or anyplace where I might have to stand in line for more than 3 minutes (yeah, kind of impatient).
I just pull out my Blackberry Smartphone and go to one of my favorite blog sites and start reading. If I see something interesting, I can even get myself involved in the conversation.
Smartphones are a great way to have a computer in your hands when you are in a place where the computer probably wouldn't be a good fit. How have they helped you and changed the way you get things accomplished throughout the day?
Posted by Marty Dickinson on Dec 11, 2008
DM News reported in its 11/24/2008 issue that a survey conducted of 1000 adults in October by Guidance/Synovate (wanted to make sure I gave full credit to everyone there) revealed that 45% consider E-mail to be the BEST way to learn about online bargains. What does that tell us? That almost half of us "spam haters" (and that would be you and me) actually prefer to learn about bargains by E-mail. In short…we "say" we hate spam, but we actually PREFER it too!
Now, let's think about this for a minute. We're willing to tie-up a commercial spammer by his fingertips for sending even one junk email that causes us to spend the energy to click a mouse to delete it from our email servers. But, we welcome emails telling us of sales and special deals?
Another statistic in the same issue from Retailermenot.com/Harris suggested 33% at lest occasionally visit coupon websites. 9% don't buy hardly anything without checking for online coupons.
A couple of weeks ago I was watching a news program and some company that makes coupons was about to hire 50 new employees because their coupon business was booming. Can't remember who it was, but put thtat statisic together with that news program and it appears coupons are taking off.
And, one last statisic by Allen & Gerritsen showing 52% of women reported cutting back on their spending.
Put all of these buying statistics together and it means:
1. People are startving for good deals
2. Many will ONLY buy if there is a special deal
3. They want coupons
4. Email is the best way to deliver special deals
5. Therefore, make a coupon and send it to your list by email
So, the next thing I thought of is…I wonder how someone goes about creating a coupon? And, can one be created online…for free? Without a designer?
So, naturally I went on the prowl to find a free web-based coupon creator and found this one at http://marluckmarketing.com/couponmaker/.
I tried their process and in about 5 minutes of thinking about it created this coupon using the screen they've provided: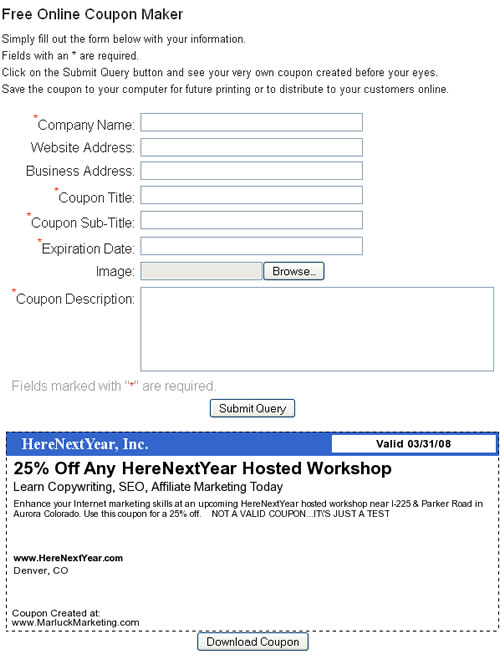 No graphic design skills needed! Didn't even have to give my email address to this website.
Does this seem like something you can do? I'll bet it is. So, what kind of coupon can YOU create to offer to your customers and prospects this week?
When you come up with the right offer, send it by email. Apparently it's the most preferred way to learn about a bargain.
Posted by Marty Dickinson on Dec 4, 2008
This is really more of a list for me than anything. I always find myself getting hung up on finding verbs to use in my writing copy on the web.
Writing features and benefits of a product is always the toughest part for me about copywriting for the web; just that first word in the sentence. There's no better word to begin a with than a verb when it comes to bullet points.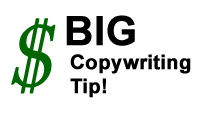 Verbs are "action words" which goes to show why they're so important in copywriting. Without verbs, we would never get anyone take action with anything.
There would be no "Click Here" or "Sign-up Now!" Verbs are not only just "important" to have in your sales writing, they are the very heartbeat of any sales process, online or off-line.
So, with that in mind, here is a list of verbs that sell. Let me know if they help you in your copywriting efforts and make sure to add a comment if you can think of a verb that I haven't listed here.
Verbs that Start with A:
Accelerate
Accomplish
Achieve
Acquire
Act
Activate
Adapt
Adopt
Address
Administer
Advise
Alter
Amaze (added)
Analyze
Anticipate
Apply
Appoint
Appraise
Approve
Arrange
Astound (added)
Assemble
Assess
Assist
Assure
Attain
Audit
Verbs that Start with B:
Believe (added)
Boast (added)
Brief
Budget
Build
Buy
Verbs that Start with C:
Calculate
Chart
Check
Claim
Clarify
Classify
Cleanse
Click
Close
Coach
Collect
Command
Communicate
Compare
Compile
Complete
Compose
Compress (added)
Compute
Conceive
Conceptualize
Conclude
Conduct
Confront
Conserve
Consolidate
Construct
Consult
Continue
Contract
Control
Convert
Coordinate
Correct
Correlate
Counsel
Create
Critique
Verbs that Start with D:
Deal
Decide
Define
Delegate
Deliver
Demonstrate
Depend
Designe
Detail
Detect
Determine
Develop
Devise
Diagnose
Direct
Discover
Dispense
Display
Disprove
Dissect
Distribute
Divert
Double
Draft
Dramatize
Draw
Drive
Verbs that Start with E:
Earn
Edit
Educate
Effect
Eliminate
Enact
Encourage
Endure
Enforce
Engineer
Enhance
Enlist
Ensure
Entertain
Establish
Estimate
Evaluate
Examine
Exceed
Execute
Exhibit
Expand
Expedite
Explain
Experiment
Express
Extract
Verbs that Start with F:
Facilitate
File
Finalize
Finance
Fix
Follow
Formalize
Form
Formulate
Find
Found
Verbs that Start with G:
Gather
Generate
Govern
Graduate
Guide
Verbs that Start with H:
Handle
Head
Help
Hire
Hypothesize
Verbs that Start with I:
Identify
Illustrate
Imagine
Implement
Improve
Improvise
Increase
Induce
Influence
Inform
Initiate
Innovate
Inspect
Inspire
Install
Institute
Instruct
Insure
Integrate
Intensify
Interpret
Interview
Introduce
Invent
Inventory
Investigate
Verbs that Start with J:
Judge
Justify
Verbs that Start with K:
Keep
Verbs that Start with L:
Launch
Lecture
Lead
Learn
License
Lift
Listen
Locate
Log
Verbs that Start with M:
Maintain
Magnify (Recent Addition)
Manage
Manipulate
Manufacture
Map
Market
Measure
Mediate
Memorize
Mentore
Model
Modify
Monitor
Motivate
Verbs that Start with N:
Name
Navigate
Negotiate
Nominate
Normalize
Note
Verbs that Start with O:
Observe
Obtain
Offer
Officiate
Operate
Order
Organize
Oriente
Originate
Overcome
Oversee
Verbs that Start with P:
Paint
Participate
Perceive
Perfect
Perform
Persuade
Photograph
Pilot
Pinpoint
Pioneer
Place
Plan
Play
Praise
Predict
Prepare
Prescribe
Present
Preside
Print
Process
Procure
Produce
Profess
Programm
Progress
Project
Promote
Proofread
Propose
Protect
Prove
Provide
Publicize
Purchase

Verbs that Start with Q:
Qualify
Question
Verbs that Start with R:
Raise
Rank
Rate
Realign
Realize
Reason
Receive
Recognize
Recommend
Reconcile
Record
Recruit
Reduce
Refer
Regulate
Rehabilitate
Reinforce
Relate
Relax (added)
Remodel (added)
Render
Renovate (added)
Reorganize
Repair
Report
Represent
Research
Resolve
Respond
Restore
Retrieve
Restructure
Review
Revise
Risk

Verbs that Start with S:
Satisfy
Schedule
Secure
Select
Sense
Separate
Serve
Service
Shape
Share
Show
Sketch
Simplify
Sell
Solve
Sort
Specify
Speak
Stimulate
Streamline
Structure
Study
Succeed
Suggest
Summarize
Supervise
Supply
Support
Symbolize
Synthesize
Systematize
Verbs that Start with T:
Tabulate
Tackle
Tackling
Talk
Target
Teach
Test
Train
Transcribe
Transfer
Transform
Translate
Treat
Travel
Troubleshoot
Tutor
Type
Verbs that Start with U:
Unify
Unite
Update
Upgrade
Use
Utilize
Verbs that Start with V:
Verbalize
Verify
Verbs that Start with W:
Weigh
Win
Write
Wrote
Are there any verbs I left out from this list? Please let me know by adding a comment.