Posted by Marty Dickinson on Oct 8, 2014
All the strategies your brain can absorb related to email subject lines and samples of them can be found on
this website >>
Posted by Marty Dickinson on Mar 8, 2011
I'm pretty sure the most complex function on the Internet is the process of sending email. It seems like such a simple thing. But, if you're experiencing problems sending email, you know first-hand how all of a sudden this seemingly easy function can become extremely difficult to handle. I'm no email expert, but I've certainly had my share of problems sending email. And, that's where the problem always seems to be…in the "sending" of the email rather than the receiving side of things.
If you've proven emails you send are not getting to their recipient, try these 3 steps to make sure your bases are covered.
1. Setup reverse DNS on the IP your domain name runs off of. Don't worry, I don't have much of a clue what this means either. Just call your hosting company and have them check on if this has been done.
2. Set the SPF record. On my server, I would login to my WHM account to change the setting.
3. Make sure you're not on any blacklists by performing a quick (and free) blacklist search.
Posted by Marty Dickinson on May 5, 2010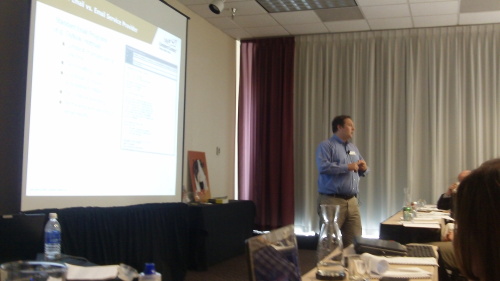 Zakary Barron is doing a great job presenting best practices of email marketing. Focus on email marketing is a great follow-up to what I was presenting to the group, which was social networking on Twitter, Facebook and Linkedin.
Highlights include:
1. Email is not dead: Proof: Didn't you check your email this morning?
2. What are your goals?
3. Your welcome email is gold! Include your logo, salutation, welcome sentence, privacy reinforcement
4. Keep your list current
5. Provide link so people can change their profile
6. Ask for feedback
7. Survey customers to understand interests then target messages & offerings
8. Expect 15-30 open rates for emails sent out
Zakary told me our workshop was closed off to registration at 120. We had a couple of walk-ins that we managed to squeeze in, but we're definitely going to do this again. Zak says there were 40 on a waiting list. So if you missed it, look for another workshop day to be scheduled soon! Great job Zak!
Posted by Marty Dickinson on Oct 29, 2009
Either have your own business or work for a company if you are reading this post. You're beside yourself why your Internet marketing efforts have produced stagnated results. You've spent hours building followers on Twitter but no one seems to care about what you tweet. Your lead generation has come to a screeching halt and product sales through your shopping cart are even worse. Is this what you can expect for the remainder of the year?
No! Stop the bleeding right now.
Here are 7 tips to give some much needed chest compressions to your dying Internet presence:
1. Look at Your Website for the First Time – If you could suddenly step out of your body and become 1,000 visitors to your website, what would you "expect" to see? Does your website offer what your visitors expect? Be honest and then add the missing pieces that come into mind. Does a strong "upper right quadrant" (URQ) exist on your website? Do you top navigation buttons inspire people to take action by clicking on them? Do you provide content of value on your website that doesn't always throw the hard sales pitch? Are you absolutely positively sure that a visitor knows exactly what they are supposed to do next after they have found what they're looking for on your website? I'll ask it again: Are you really sure?
Why try for 100,000 visitors a month to your website if you're not able to convert the visitors you do get to leads or customers?
2. You Get One Click – In Steve Krug's book, Don't Make Me Think, he gives a great walk through of website usability and how websites should be constructed. Read his book, but at the same time, think to yourself "I lose 50% of my visitors every time I make them click on anything." So, if you want to only make one change to your website, add a quote form or contact form to your most important product or services pages…and especially to any landing pages where you are running pay-per-click ads to. If you only get a single click, you want that to be a prospective customer completing a quote form and "clicking" the submit button.
[SWF]http://www.websitewaves.com/pics/123-banner_com_866382.swf, 500, 100[/SWF]
3. Purpose Your Content - Don't just add a page to your blog or website for the heck of it. Have a direct purpose for everything you add. If you're going for getting more pages indexed on Google, for example, find what people are searching for related to your industry or topic first, and then write your article or page to speak to those visitors. Use free tools like Google's free keyword search tool or Word Tracker's free search tool to find search volume for any given phrase. These tools will also act as a thesaurus to give you ideas of other related phrases people are searching for.
After all, it's a lot easier to be hit by a car if you go out into the street! Create your content for what your visitors are searching for.
Now, you don't always have to produce content only for Google search. This post, in fact, doesn't have a chance in hell of getting in the top 10 search results with a giant keyword phrase "improve internet marketing" as my leader phrase. And, it's not worth my time to go through the heroics of what it would take to make that happen. But, that's okay, because my intention is to promote this particular post on Twitter, Linkedin, Facebook and a variety of other social networks where the headline itself will hopefully be intriguing enough for people to want to pay a visit. After all, Google is only 1 of more than 100 ways to get traffic to a website.
4. Expand Your Traffic Options – Once you have tested and tweaked your website to increase your conversions, evaluate all the ways to increase traffic to your website. My most downloaded white paper on my company site is called 101 Realistic Ways to Get Traffic to a Website. It's a 30-page free download that walks you through all the traffic generators I know of. What's better is that they're all sorted by cost, ease of implementation, time to implement, and ROI. You can make your entire Internet marketing plan for the next two years using that single document.
5. Get More Involved – When a struggling business owner, author or speaker comes to me saying their website is not performing to their expectation, my first question is 1, how many leads or sales did you get last month. That one is easy. They usually say zero. Next I'll ask, how much visitation did you get last month? Almost always, "I don't know" is the answer. Knowing the answer coming next, I still ask it…"Can you make changes to your own website?" A long pause usually occurs and then I hear, "no" as the answer.
If you still have to send even minor text changes to your designer to be added to a page, right now is the time for you to take steps to change that! Joomla is a free content management system that designers like because of its design flexibility and visual editing features. Programmers prefer Drupal for its power and clean code…but you'd better have a programmer in tow if you go with that system. My personal favorite is WordPress. At the Thrive Internet Marketing Super Conference in Chicago, I'm going to show you some uses for WordPress that you might not even imagine are possible! Even if you've heard of WordPress before, you haven't seen anything like this! It's the new evolution of websites.
6. Perform Mind Magic – It seems easier to introduce this topic using those words than it is to tell it like it really is. People get all bent out of shape when I say "Spy on your competition." So, think of it as performing mind magic instead. Truth is, in this day and age, you really need to keep up with what your competition is doing. One great tool for doing this is Keyword Spy. There you can plugin your competitors domain name and see all (well, most anyway) of the organic search phrases that come up on Google pointing to their website. You can also see if they are running Google AdWords campaigns as well as the wording they're using in those AdWords and how much they're spending per month.
This is by far illegal. It is simply market research. But when you use that information correctly to apply to your own website and promotions, people will think you're performing some kind of "mind magic." So, that's what you want to tell them…or, risk being accused of spying!
7. Create Something Memorable – On my HereNextYear site, you'll see my mascot. It's a picture of a dog. It's not my dog. It's just a picture. The picture has a name. His name is "Action." The idea behind Action is that I can teach you everything I've learned about increasing leads and sales on the Internet, but unless you're willing to "take Action," it's a waste of time for both you and me.
When I present that at seminars and workshops, people simply go CRAZY! It's a great opener and it is very sticky, meaning, it sticks in peoples' minds for a very long time. I get calls from people months after they see me speak. They'll say, "Marty, I don't remember what you do, but you're the guy with the dog, right?"
It's memorable. It's sticky. It sells. Action sells! Action even has his own Fan club on Facebook (which you are welcome to join here)! And, I take "Action" in everything I do and everywhere I go.
What character can you create that is related to your business that can be sticky and memorable like Action is to my business?
So, these are just a few of the things I'll be covering in much more detail at the
Thrive Internet Super Conference in Chicago. Why not join me there on the 19th and 20th? I'm sure it will be worth your while.
If you're just not into going to seminars anymore for fear of getting those dreeeeeaded sales pitches, well, checkout my recent blog post where I give you 101 reasons to attend a seminar. They each far outweigh any fear you may have of getting pitched.
Hope to see you there in Chicago!
Posted by Marty Dickinson on Sep 30, 2009
It's been rather quiet on the click fraud front for the past few months. Either less people are worried about saving money and factoring it into their conversion rates, or they're just so worried about the economy that they just figured less people are buying per click. ClickForensics thinks otherwise as they have discovered a sophisticated botnet they're calling "Bahama."
Essentially this is an automated bug that latches on to the web server and sends automated clicks to paid search like Google AdWords. The problem with this beyond just an automated click fraud device is that this one carries quality score with it. So, that further masks Google's ability to see that it's not a human making the search and the click.
Watch your pay-per-click campaigns closely folks. If you see a sudden surge in clickthrough's, it could be you've fallen prey to the great "Bahama"
Posted by Marty Dickinson on Apr 21, 2009
If you don't already have 2000 people following you on Twitter, that should be your primary focus until you have exceeded the 2000 mark. Get there as fast as possible now so that you don't have to worry about it later. Why is this so important?
Size does matter – Many experienced Tweeters will automatically follow you once you follow them. They will checkout your profile later and likely unfollow you if you look like you're just starting out with 100 or less followers.
Twitter limitations – You can only follow more than 2000 people after you have more than 2000 people following you. Twitter does this to prevent people from abusing the system as it's easy to just click the "follow" button over and over again in hopes people will follow you in return. Hey, we've all done it sometime in our Tweetlives.
Proof of higher stature – One of the great uses of Twitter is to follow people you admire. But, if you follow someone with 50,000 followers, you probably won't get much notice or attention when you have only 100 or 200 followers. Sure they'll follow you, but that's likely just an automatic setting and you will probably get unfollowed within a few weeks.
Better results – If you Twitter for business, you can expect on average to get one or two people clicking on a link you might feature in any given Tweet. With 2000 followers, you will start to see higher clickthroughs ranging between 15 and 50 of your followers clicking on links per Tweet.
Inspiration – When you get more results from your Tweets and find yourself meeting and conversing with high profile people in your industry as a result of Twitter, you will be inspired to participate more in Twitter. And, that's what your 2000 or more followers will be expecting of you.
For almost everyone I've met or talked to about Twitter that has less than 500 followers, the entire process seems like such a waste of time for them. But, something changes when you get to 1000 followers. You begin to see Twitter in a different light; one that offers the true potential everyone is always talking about.
If you have less than 2000 Twitter followers, take the challenge right now to develop a plan for getting 2000 and more followers on Twitter.
Posted by Marty Dickinson on Apr 20, 2009
Really this is just a placeholder for myself so that I remember to sign-up for this but it would be great to see you there too! Come find me and say HI on June 4, 2009 in Denver at the Online Marketing Summit, touring 13 cities over the coming few months.
Posted by Marty Dickinson on Mar 12, 2009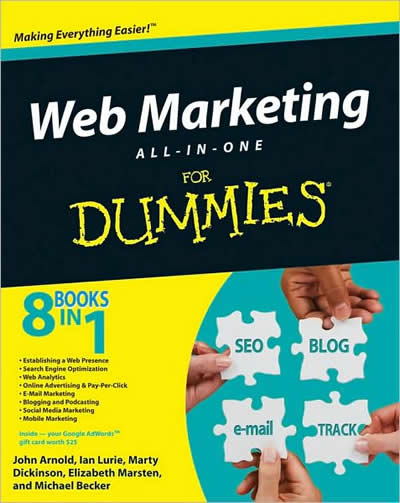 My co-authored Web Marketing All-in-One Reference Guide for Dummies book is officially in-stock at Amazon. And, even though I haven't seen the live version come in quite yet, it sure is exciting to know that it's close to being in stores everywhere! Next week I will be interviewing my fellow co-authors about their book chapters and hope to get a few nuggets showcasing the most secret Internet strategy techniques.
Here's a link to the book on Amazon for you to order right now!
As a SPECIAL LAUNCH BONUS, I'm offering 1 month access to my Level 2 membership program featuring the Internet Marketing Organizer tool. All you have to do is send a receipt to me by email at Marty@HereNextYear.com so that I have proof you've actually purchased the book and I will hook you up with a username and password to access Level 2. That's a value of $141.00 and is my special gift to you for supporting our book project. [UPDATE: We now have more than $700 in bonuses available during our week-long book launch March 23-28, 2009!! Visit WebMarketingBook2009.com for details.]
Posted by Marty Dickinson on Feb 11, 2009
SEO and Social Networking training class in Denver Feb 25 will be led by "me" Marty Dickinson. This is a special one because the entire class is entirely "hands-on."  No need to bring your laptop because every attendee will have a computer to use anyway. Limit to class size is just 20. The Google SEO class will be in the morning from 9 to noon and then Social Networking setup will be the afternoon. Register for one or both. Check out the press release we ran a couple of days ago that goes into some detail about why we chose New Horizons as your learning center for this event.
If you know of someone who really needs to learn about SEO (Search Engine Optimization) for getting pages of their website on Google, suggest they attend this class. Perfect for web designers who have not yet learned about SEO. Also great for the non-technical business owner who would love to learn to optimize their own pages but just doesn't think they have the technical skills to pull it off. You will be using LIVE data on pages of a website and shown how to optimize them. Then you will actually upload those to a real live web server so that you can go back to your business that night and work on your own pages without worry of breaking anything!
Class #2 is a set-up class where we will target 5 of the most prominent social networking sites: FaceBook, Twitter, Linked-in, Squidoo, and MySpace. Bring a photo of yourself if you have one.
With the other 27 class sessions we have planned for 2009, I can't promise I'll be doing these two classes again soon. So, if either or both of these classes would save you some money from paying someone else to do it, or you want to learn the inside secrets to making all of these things work together, this is your day to attend.
It's time to learn how to do these Internet tasks on your own. That's why we're creating DoItMySelfInstitute.com. Be one of the first to attend. Hope to see you there.
Posted by Marty Dickinson on Jan 29, 2009
Last week I walked you through the ins and outs of the top Social Media site, Squidoo. Since it's one of the top 500 most visited sites in the world, I thought you (and your company) would benefit from such a great marketing tool. We had a little contest on who could come up with the best Squdioo lens promoting their business, product or service. Sandy Dixon, owner of Interior Arrangements is our winner!

Sandy's company opened it's doors in 2002 and is a nationally known success center for training people on the ABCs of starting and maintaining a professional real estate home staging career. Sandy is a former Realtor® and sales, marketing and training executive. Interior Arrangements also offers redesign/staging workshops for both existing business owners and those looking to start a new career.
Sandy designed a Squidoo Lens is titles "Sell My House Quickly and For a Good Price!" It's a grabbing title with a few good keywords in there which will help her with getting ranked in the Search Engines like Google, MSN, and Yahoo! In the introductory module she grabs visitors again by pulling in the state of the economy "Home Staging Sweeps the Nation as the Foreclosure Rate Soars to an All-Time High!" The economy is a very hot topic, and she used that to her advantage. This is a great way to trigger emotions in your visitors…
One of the challenges in writing copy is that it is very difficult to get inside of your customer's head and view the problem or solution from THEIR side of the table. This is where market research comes in handy. How about a quick copywriting tip?
One of the biggest obstacles to overcome is to stop looking at your product or service as a means to make you money (that will just naturally happen if you market it the right way). Instead, start looking at your product as a solution to a problem. What problem does your target customer face every day that would make them want to buy YOUR product versus any other product of its kind? Switching the way you approach writing will boost sales and give you repeat business.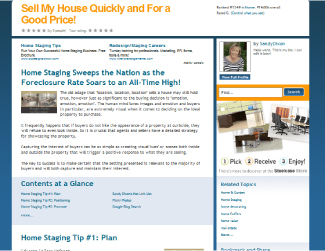 In Sandy's Squidoo Lens, she continues her post by providing 3 great tips to selling your house quickly – something that a lot of people will be interested to read. "Lists" are such a great way to approach writing. You could do a lens on "The 7 Reasons Why x Is Better Than y", or "3 Reasons You Have to Switch Mobile Providers Today" – etc. Lists make for an easy read, and with the world in such a "rush" people appreciate you catering to their busy schedules – WHILE giving them valuable information.
And last, it's always a good idea to add pictures or video into your posts – even for your blog. For example, if you visit Sandy's blog at www.StagingTutor.com – you will see she usually tries to add examples of what she talks about, in picture form. I usually always have an image or video in each of my blog posts. Don't you think it makes what you're reading more interesting and helpful?
Shoot me a comment and tell me about your blog (give me the URL too). I'd love to see how you guys are using information like this to build your business.