Posted by Marty Dickinson on Mar 15, 2010
My most challenging part of copywriting has always been writing features and benefits of a product. I could come up with stories, headlines, price offers in minutes and all the fancy Buy Now! buttons you'd need to fill a sales page. But, it was the benefits list that always drove me crazy; until I discovered an important point about benefits lists. People don't care about the features nearly as much as they want to know the benefits.
Then I started to take a closer look at what benefits really are. They're action items, right? You "save" money or "stop" wasting time, for example. So, why not start out all benefit statements with verbs?
A few days ago, I had to come up with a benefits list for a coordinated Amazon book launch we're involved with. I knew I needed at least 10 benefits for the sales page where we hope to inspire the authors of the book to pay my team a package deal special to help plan their bonus giveaways. So, when someone buys a book during the booklaunch period, the purchaser will get access to bonuses.
Within only 20 minutes, I came up with 20 benefits of having a bonus during an Amazon campaign. Here are five of them just so you get an idea:
Clarify what exactly a "bonus" is and what people expect from it
Discover what your market or audience really needs and why YOU are the best person to provide the solution
Conceive a bonus idea that will be of essential value to your audience
Define the objective and purpose of your bonus
Regulate the information you can give away versus up-selling for more
Notice how each benefit statement starts out with an action verb. This is the secret to writing benefits lists in under 20 minutes. Now all you need is a good list of verbs to use in your writing. That list, I use several times per week. Bookmark it so that you can refer to it often and enjoy your newly found method for writing action verb benefits lists.
Posted by Marty Dickinson on May 25, 2009
Here are 5 ways I've found so far for adding line breaks into WordPress posts and pages. WordPress is widely known for handling some of the most complex HTML issues and making them easy for even the most novice and non-technical. But, there are a few quirky things about WordPress that should be simple and are still tough to accomplish. One of those is how to add line breaks to WordPress posts and pages.
If you're in Visual view while adding a new post, for example, you could start typing away and just hit enter. Many times that will work. However, when you add an image in your post, and the image isn't wide enough to force your words to the next line, you might want to add a blank line. Often, the enter key will not help in this situation.
Or, if you use a headline, such as an <h> tag, how can you get a space between the H tag and your text?
So, this post is going to be an ongoing listing as I hear more options about how to add line spacing between one section and the next.
1. style="margin-bottom: 1em" – This tag can be used inside any tag or such as <p> or <h>.
1em stands for 1 line spacing. So, if you want 5 lines of blank space, just make your code <h3 style="margin-bottom: 5em">
2. style="clear: left;" – When you need to get text below an image, you can always use the image settings to manage how text surrounds images. But, HTML can have a mind of its own. So, if you try the settings in your image manager and still text is wrapping to the right or left of the image, use the text or paragraph here <p style="clear: left;">
3. css file – For either of these, you could make the line spacing automatic every time you add an tag or text at the bottom of an image. These statements would need to be included into your css file.
4. Disable WPAUTOP – Using this feature would completely disable any automatic formatting of paragraph breaks or line breaks. Programmers love this idea because it gives them full control over HTML code appearance. The drawback is that you have to manually insert any paragraph or line breaks or your paragraphs will just run together into a big mess or words. Here's a link for how to disable WPAUTOP
5. Add TinyMCE Advanced plugin – This plugin works for some and not for others. So, it's just one of those things you have to try if you have WordPress version 2.7 or higher. Once installed, go into the "settings" area for that plugin and check a box that stops WordPress from stripping your <p> and <br/> commands. Search your WordPress plugin directory for a free download of TinyMCE Advanced.
6. Add Blank Image – A rather old-school way of adding your own spacing would be having a transparent image the width of your post page and the height being the desired space you want between your two lines. Use this method if the others don't work.
Have other methods for adding line breaks to WordPress posts? Enter your solution in comments.
I will be adding more options as I find more.
Posted by Marty Dickinson on Apr 29, 2009
If you're on my Tuesday Triplet e-mail distribution list, you're just one week away from receiving a startling new report about how Article Marketing is back with a vengeance! In fact, article marketing done-the-right-way is so hot and so impactful that any business owner, author or speaker would be crazy to not at least look into the new results people are getting and the evolving strategies for how to actually conduct an article marketing campaign.
With any new or re-emerging strategy comes the desire for a lot of people to get the job done on the cheap. That means hiring people you don't know and have never met through e-lance or craigslist or some other recruiter connector to lands such as India, Philappines, or Russia to write a series of articles for pennies on the dollar for you to promote online.
If you believe outsourcing is the way to go for you, then have at it. Just remember that if your discount ghost writer happens to steal someone's article content already published online or off-line, YOU are the one that will suffer the legalities that follow.
Here's an example. I just got this email today from a guy that offers one of the many article marketing tools we use at my main Internet marketing company HereNextYear, Inc. A portion of that e-mail reads as follows:
—
"Over the last month we have had not one, but two cases of blatant
plagiarism affect our authors and of course, our publishers. Unfortunately
plagiarism is something that has been plaguing writers and publishers for a
long time and neither the Wizard, nor newspapers and magazines, are
immune.
So, as writers or commissioners of articles, it is your responsibility to
make sure the writers you hire are not just stealing articles and selling
them to you. Both cases of plagiarism in these cases were delivered by
Elance writers to the unsuspecting clients. Now that is not to say that it
is Elance's fault, as it is not. There are unscrupulous people in every
walk of life that are just out for the money. Just have a look at the
current state of the world's financial affairs at the moment.
In any case, if you are outsourcing your articles to be written - please,
please, please, check your articles for originality before posting them.
Ultimately the negative responses will land on you if you don't, as the
resource boxes have your name and are pointing to your URL.
There is duplicate content checking software available that can check your
article for plagiarism before you send it out. Or you can take one of the
more unique sentences in the article; enclose it in quotes (") and run a
search to see if there are any exact matches in Google. And if there are
you can check to see if the article is identical."
- – -
Now, let me share another example to illustrate the difference. A new client is into stock trading training and has developed a system to teach others to day trade. He came to us needing a 5-page white paper expanded into something that would promote his training program. My "in-house" English speaking, American copywriter altered his document into something that would appeal to the audience intended.
We are just starting to launch this site, so I can't give you any real numbers yet as to its effectiveness. But, the point is that our client doesn't even have to think for a minute of getting a visit by the FBI or some phone call threatening a fine for plagiarism. Why? Because he knows exactly who will be re-writing that article.
Yes, article marketing is huge right now. But, just like it was a big deal 5 years ago, so was plagiarism back then. And, now it's back with the new advent of article marketing.
Take your chances with the low-budget companies. Or, find someone you know personally that you might have to pay a bit more, but it will be well worth it to have your peace of mind.
Posted by Marty Dickinson on Apr 20, 2009
The EMDASH is one of the most mis-used, neglected, mysterious marks in the written language. Toss the Internet in there requiring HTML to make the emdash and a whole can of worms opens up for the novice coder. Using a CMS or blog software like WordPress can empower even the most tech UNsavvy administrator to create their own words on an html page, but what happens when they want to emphasize something in a sentence?
Instead of using a proper emdash, which looks like — the writer comes up with convenient alternatives like italic text (hard to read), improperly used quote marks (just wrong gramatically), underlining (making people think there is a link to click), over use of bolding (a real turn off), improper use of two hyphens — (my favorite!), or just plain USING CAPITAL LETTERS, which we all know and love :).
So, what do we do about this emdash for the web? It's simple. The code to use for wherever you want to place emdash html code is — (or — but I usually use the — so I'm assured it will work right in older browser versions too).
Here's how it works.
1) Open your editor so that you are in HTML view
2) Write your sentence for where you want emdash html code to go
3) Add html code between the two words for where you want your emdash to appear
Here's a correct example:
[Showing HTML] Then I fell in the water—really cold water!
[Result] Then I fell in the water—really cold water!
Not this:
[Showing HTML] Then I fell in the water — really cold water!
[Result] Then I fell in the water — really cold water!
See how I have a space on either side of the html code? That's not right. A proper emdash needs to butt up to each word.
Posted by Marty Dickinson on Mar 12, 2009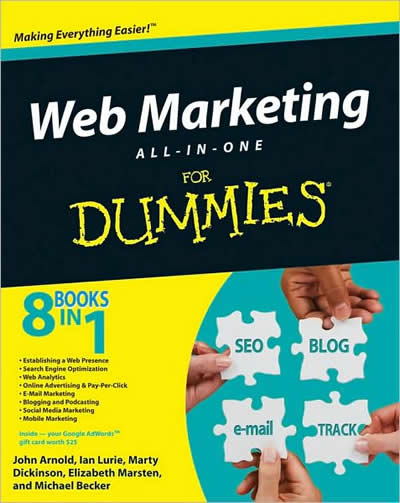 My co-authored Web Marketing All-in-One Reference Guide for Dummies book is officially in-stock at Amazon. And, even though I haven't seen the live version come in quite yet, it sure is exciting to know that it's close to being in stores everywhere! Next week I will be interviewing my fellow co-authors about their book chapters and hope to get a few nuggets showcasing the most secret Internet strategy techniques.
Here's a link to the book on Amazon for you to order right now!
As a SPECIAL LAUNCH BONUS, I'm offering 1 month access to my Level 2 membership program featuring the Internet Marketing Organizer tool. All you have to do is send a receipt to me by email at Marty@HereNextYear.com so that I have proof you've actually purchased the book and I will hook you up with a username and password to access Level 2. That's a value of $141.00 and is my special gift to you for supporting our book project. [UPDATE: We now have more than $700 in bonuses available during our week-long book launch March 23-28, 2009!! Visit WebMarketingBook2009.com for details.]
Posted by Marty Dickinson on Jan 29, 2009
Last week I walked you through the ins and outs of the top Social Media site, Squidoo. Since it's one of the top 500 most visited sites in the world, I thought you (and your company) would benefit from such a great marketing tool. We had a little contest on who could come up with the best Squdioo lens promoting their business, product or service. Sandy Dixon, owner of Interior Arrangements is our winner!

Sandy's company opened it's doors in 2002 and is a nationally known success center for training people on the ABCs of starting and maintaining a professional real estate home staging career. Sandy is a former Realtor® and sales, marketing and training executive. Interior Arrangements also offers redesign/staging workshops for both existing business owners and those looking to start a new career.
Sandy designed a Squidoo Lens is titles "Sell My House Quickly and For a Good Price!" It's a grabbing title with a few good keywords in there which will help her with getting ranked in the Search Engines like Google, MSN, and Yahoo! In the introductory module she grabs visitors again by pulling in the state of the economy "Home Staging Sweeps the Nation as the Foreclosure Rate Soars to an All-Time High!" The economy is a very hot topic, and she used that to her advantage. This is a great way to trigger emotions in your visitors…
One of the challenges in writing copy is that it is very difficult to get inside of your customer's head and view the problem or solution from THEIR side of the table. This is where market research comes in handy. How about a quick copywriting tip?
One of the biggest obstacles to overcome is to stop looking at your product or service as a means to make you money (that will just naturally happen if you market it the right way). Instead, start looking at your product as a solution to a problem. What problem does your target customer face every day that would make them want to buy YOUR product versus any other product of its kind? Switching the way you approach writing will boost sales and give you repeat business.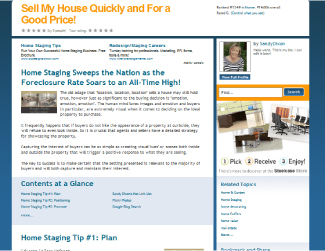 In Sandy's Squidoo Lens, she continues her post by providing 3 great tips to selling your house quickly – something that a lot of people will be interested to read. "Lists" are such a great way to approach writing. You could do a lens on "The 7 Reasons Why x Is Better Than y", or "3 Reasons You Have to Switch Mobile Providers Today" – etc. Lists make for an easy read, and with the world in such a "rush" people appreciate you catering to their busy schedules – WHILE giving them valuable information.
And last, it's always a good idea to add pictures or video into your posts – even for your blog. For example, if you visit Sandy's blog at www.StagingTutor.com – you will see she usually tries to add examples of what she talks about, in picture form. I usually always have an image or video in each of my blog posts. Don't you think it makes what you're reading more interesting and helpful?
Shoot me a comment and tell me about your blog (give me the URL too). I'd love to see how you guys are using information like this to build your business.