Posted by Marty Dickinson on May 12, 2015
Here's a Step List for Local Search
1. Use free http://moz.com/local/details and check NAP (Name, Address, and Phone) to make sure they are consistent and that your site is on all the main local directories shown there.
2. Make changes to those that show inconsistent or needs work results.
3. Add new profiles on the local search tools displayed in moz.com that your site is not part of yet.
4. Run citation search in whitespark.ca/local-citation-finder
5. Setup a campaign in BrightLocal.com to monitor current, pending and potential citations.
6. Add /reviews page to website so you can add links and direct your clients there to add reviews for you.
7. Add ?hl=en&review=1 to string of Google Plus Local link to bring people to the reviews page on Google+ Local
8. Create post card to give out to clients as you do services for them and have the link URL on the post card like YourSite.com/reviews
9. Find "Best Of" business contests in your city and apply to enter.
Posted by Marty Dickinson on Sep 18, 2013
Good free tool for checking your Google search position for a single keyword phrase without all the search history, cookies, and junk.
Posted by Marty Dickinson on Nov 1, 2012
HereNextYear will announce to its Level 1 members tomorrow, Friday, 11/2/2012, what changes Google has made this time. Yes, it's that time of the year again where Google is changing their search engine results positions (SERPs) ingredients for organic search.decides to throw us all off kilter by  I call them ingredients because getting any and every page of your website is like making a cake. You have to have chocolate in a chocolate cake or you can't call it a chocolate cake, right?
Well, Google changes their recipe every month it seems so that no one can ever seem to make the same chocolate cake as the next guy. Get signed-up if yo're not already a member. It's free and it's free for life.
Posted by Marty Dickinson on Apr 27, 2010
Sometimes I wish I had the time to just sit in a chair and make blog posts all day long just to get them on top of Google. Last Friday night I had the incentive to make a blog posts for a new client. I wanted to get him blogging about his topic so I wanted to provide an example for him of how to produce a blog post.
To summarize it all, I found a keyword phrase that was the #2 top searched phrase of the day that people were searching for, made a blog post, and by Sunday morning I saw my post was number 2 on Google for that search phrase. The post was probably on Google sooner than that, I just refused to turn my computer on Saturday for a change.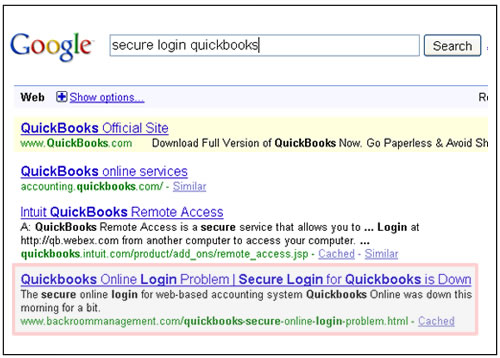 Here is the screen shot to prove the result and you'll see the search phrase I was going after. In a bit, I'll give you the steps I took, but here's a little background first.
Last week I sent out an email to my list asking for comments about whether we should just kill our websites and just have Facebook for our main website. A nice discussion resulted and the overlying reason people voted to keep websites in addition to their Facebook efforts was the ability to have control. This is a good example of having such control. Would I make a Facebook page just for this topic? Of course not. I would make a blog post on a blog affiliated with my own website (in this case, my client's main site). Now within that blog post, I could suggest people go hook up with me on Facebook once they get there. But, that would be an added bonus.
Now let's look at the other side of things. People make such a big deal about how to get their websites on top of Google. So many are so skeptical that it's even possible to get a page or post on top of Google without spending months to make it happen. With the right tools, timing and process, you can pretty much do anything on the web.
Here are the steps I took:
1. Find out what's hot – You might have heard of "Google Trends" which looks at what people are searching for over time, but most people have not heard of "Google HOT Trends," which gives you a glimpse of the top 20 phrases being searched "today."
2. Choose a topic that's related to your industry – I look at Google Hot Trends every day. On Friday, Quickbooks had a little systems problem and everyone under the sun was searching for "secure login Quickbooks" thinking there might be an alternate way of finding their login screen during the problem (guessing there). Backroom Management, a competitor of Quickbooks and also my client, came to mind.
3. Write a blog post targeting that exact search phrase – Within WordPress, one is able to very easily assign a page title, meta description, headline, url and of course content itself. These are five of the core SEO functions that must be created if you have any hopes of getting search positioning for any page of your site. You are welcome to analyze the page itself to see what I did in those areas to optimize for secure login quickbooks and that topic has been beaten to death on the web anyway.
The point is that timing, the right website tools, and technique are very important in this process. It's not hard, you don't have to be a techie geeky dude. It's just a matter of process…and one I'll be going into more detail about at my upcoming workshop in association with Constant Contact here in Denver on Wednesday May 5 at 9am. We're coming down to the final week and I know there are only about 14 spots left. Get 'em while they're hot and RSVP now.
Y'know, that has an interesting ring to it…to sit around and make blog posts all day just to get them on top of Google. Maybe in my spare time.
Posted by Marty Dickinson on Feb 23, 2010
It's all over the news. Yahoo! has finalized a partnership with Twitter to incorporate Twitter's tweets into Yahoo!'s search database. When someone adds a tweet about a topic and it immediately displays in a search on Yahoo! based on the keywords used in the tweet, that is called real-time search.
Some people believe real-time search will overpower regular search on main search engines, thereby forcing people to be active on Twitter and other social networks if they ever hope to generate traffic from search engines.
But, that doesn't make sense for two main reasons:
1) It will be too easy for hackers to game the real-time search system so that only their massive quantities of tweets will drive the content generated for search engines to post.
2) Standard search content will always be a necessary component of search engines because tweets can still only be 140 characters in length. And, people expect that when they do a search, that a page will display with enough content for them to be informed.
So, yes, real-time content will be an important factor of search going forward, but that doesn't mean stop making blog posts, adding pages to your site and optimizing both of those for search engines. Search engines including Yahoo! will still need your content beyond 140 characters.
Posted by Marty Dickinson on Feb 22, 2010
I just read this post on one of my favorite forums…
Poster's Comment:
"I have a problem with an SEO service I ordered and I'm not sure what to do. Last month, I hired a guy from XXXXXXXX for SEO on a site I have. He guaranteed he could bring my site to Google 1st page in 60 days, even for a fairly competitive keyword.
I know, it seemed too good to be true, but the guy had 36 reviews at XXXXXXXX and most were 10 out of 10. He seemed like a top notch pro.
So I hired him, but I made the mistake of paying him through his website and not through XXXXXXXX-per his direction. I trusted him, cause nothing indicated that he was scamming me.
This month, I asked him for an update, and his response was that this was not a standard link building campaign, and that his group knows how to manipulate Google's algorithms and that they are updated every 60 days, so I would just need to wait till March 10 or thereabouts and my site would be 1st page.
This really made me nervous, cause I thought this was a conventional SEO campaign. Now, I don't know what to do. This guy claims that his group has the ability to put sites in Google top 10 and/or get them banned. He's very confident and seems to know what he's talking about.
Now, I have only a few days before my ability to file a Paypal dispute expires, and I paid him $750, so it's not chump change. However, I don't want this guy messing up my site either. He doesn't have any of my login info so he can't do anything on page."
- – - – -
End Poster's Comment
There are several things wrong with what happened to this unfortunate chap. I've been performing SEO services and consulting (one of many services) to clients for somewhere around 13 years, so let's take a look so that you don't find yourself in a similar place.
1. Who He Hired – There are plenty of people in the SEO business. You should never have to hire someone that you were not referred to by someone else you know who has had that person do work directly for them.
2. What He Promised – There are no guarantees with Google. If someone guarantees you anything about SEO or SERP positions, run the other way as fast as you can.
3. How He Reinforced – Be careful of reviews and testimonials. Anyone who uses testimonials that are real will want to promote that person in thanks for offering a testimonial by at least giving a url for their website. Visit the websites and test for your own findings.
4. What He Charged – $750 to guarantee your ownership on organic search of a primary, competitive keyword, is just crazy. If I was to guarantee anyone a #1 position on Google for a single keyword or even a 2-word keyword phrase, I'd want $50,000 a month! And, it would probably take that amount of labor time to get you there.
5. What He Didn't Know – The site owner just simply didn't know that there's nothing that takes Google 2 full MONTHS to do. Well, maybe if you're on a severe Google black list, it might take you a while to get removed and then re-posted. But, when it comes to having your site display and for site links to start having an impact, no way, 2 months? Just no way will it take Google that long to show changes in positioning.
Just as I reported before that there seems to be some kind of wave of webmasters bringing pain to their clients, this proves true on the services end for SEO scams out there as well. Be extremely cautious and skeptical when someone approaches you with some kind of plan that they will "guarantee" your positions on Google. And, ask yourself why they're willing to perform all that magic for you for so little. Beware of the Google SEO scams. They are apparently everywhere.
Question: Have you been scammed by a Google SEO'er? Tell us about it and what to watch out for.
Posted by Marty Dickinson on Jan 7, 2010
Using the Internet to grow your business has dramatically changed since the beginning of 2009. If you've been misled into thinking all it takes to be successful online today is getting a few hundred followers on Twitter, spending hours a day "Facebooking" or gaining top placement on Google for your book title or business name, we'd like to offer you a reality check…and a path for hope…for the new year!
Throughout 2010 I will be offering a new workshop called, fittingly, "Profit Again in 2010.
If you're not familiar with me, I'm a 15-year Internet marketing "lifer," co-authored of "Web Marketing All-in-One for Dummies" (Wiley 2009), and I'll be using this workshop to update you on the radical progression of WordPress websites, blogs, traffic building, social networking, rss, podcasting, Federal Trade Commission restrictions and Google banning since just a year ago.
I don't just "write and speak" about Internet marketing. I create and promotes my own products, manuals, and membership sites, with more than 100 of my own websites. Myself, along with a team of 7 at HereNextYear, Inc. have serviced more than 300+ clients nationwide.
For just one of those clients this past August, we launched just one website that enjoyed 99 product pages indexed on top of Google within 3 days. By the end of the first week, the site brought in more than $3,826 in sales. By Thanksgiving, the site delivered its first $100,000 in revenue.
Coincidence? No way. It's the same process for any business, author or speaker…every time. All you have to do is find where you are in the process and plug in.
True success of any financial measure for your book, product or business will be no accident or stroke of luck. And, in today's economy, you can't afford to shoot darts at a wall in the dark!
You won't find overnight riches or make that elusive "money while you sleep" with a casual, ho-hum approach.
And it won't happen by changing a few meta tags on your home page.
What's the answer? P.T.A.
1. Plug-in
2. Team-up
3. Accelerate
That's right, just three simple steps.
First, you must identify where you are in the Internet marketing process and "plug-in" to that process. The success plan online is almost exactly the same for every business, author or speaker and hasn't changed in almost 15 years! All you have to do is discover the process, find out where you are in that process and plug-in.
Second, team-up with those that can help you implement the process. Hiring a random website designer from Craigslist or someone from a foreign country just because you can get services for 20 cents on the dollar might have helped five years ago, but outsourcing today only helps you if you are an experienced Internet marketing project manager. You need to start now to form a devoted team that will be at your side for years to come to help you with technical challenges and smart and calculated marketing planning.
Third, only after you know the process and have a team to rely on can you expect to accelerate implementation and see the rewards.
Specifically, here's what I will cover during any Profit Again in 2010 workshop, seminar, full-day training, or 20-minute speech:
-My 3-step process to predict whether your product or book can even be sold online or whether you should just throw it in the trash and move on
-Why Google has banned more than 150,000 websites for life in just the past month…and how to avoid being next!
-The FTC's crackdown on misuse of testimonials and affiliate marketing and what you need to do to protect yourself from being accused of false claims…The CAN SPAM Act was only the beginning to this!
-Why every business owner, author and speaker should have "5″ websites or more…even if your competition already does!
-What keyword phrases the human population is searching online for and how you can stand in the way and benefit from that traffic
-The "new" evolution of websites and why it doesn't even make sense to have anything else
-The secrets of social networking automation that only those with 2,000 Twitter followers or more even know about.
-How to get 300 minutes of social networking benefit for every 30 minutes you spend
-The Article Marketing Underground Triangle: How to write an article once and use what you've written for explosive reach to more than 30,000 websites, video directories and bookmarking sites for obscene traffic flooding whenever you want it.
-Plus, I will reveal my most closely held secret to managing what should be 10 hours a day of promotion productivity that gets accomplished in less than 60 minutes…every day.
As we roll out this essential program, look for specific dates and locations to be accessible through our main website at HereNextYear.com on our Workshops page.
Posted by Marty Dickinson on Oct 5, 2009
Every couple of months I start to feel these sort of "hunches" about what's happening on the Internet these days. So I do a little research and sure enough, trend tools verify my hunches. Here are three of those hunches:
1. More people are producing 1-way posts on social networks than actual discussions. "5 Ways to stop xyz…" and then a link to some blog post, is the commonality now. But, they're also using post distributors now more than ever too like Ping.FM. I do the same, so I'm not going to claim good or bad, but I just think it's interesting how the scope is changing.
2. More people are into DIY now. Everyone wants to do everything themselves from SEO to make your own solar panels. People are diversifying their skills at an alarming rate. Personally, I think this is a good thing as the economy tightens and wallets get lighter.
3. Putting two and two together, I'm also seeing more people interested in attending workshops and seminars again in hopes of learning how to do more themselves. This is great news to me personally, as I believe these get-togethers are just so essential to our growth as humans. And, for a while, no one was going anywhere it seemed.
So, just thought I'd point out those three trends I'm seeing and let me know if you're spotting any new trends too.
Posted by Marty Dickinson on Apr 20, 2009
Really this is just a placeholder for myself so that I remember to sign-up for this but it would be great to see you there too! Come find me and say HI on June 4, 2009 in Denver at the Online Marketing Summit, touring 13 cities over the coming few months.
Posted by Marty Dickinson on Mar 12, 2009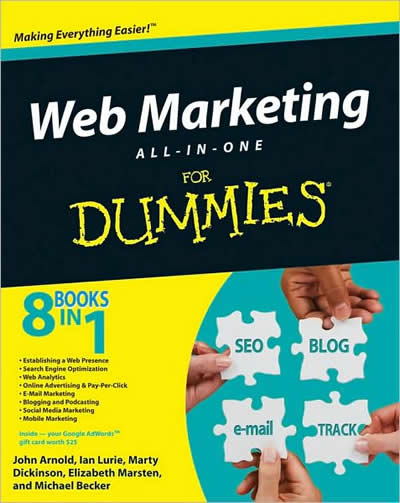 My co-authored Web Marketing All-in-One Reference Guide for Dummies book is officially in-stock at Amazon. And, even though I haven't seen the live version come in quite yet, it sure is exciting to know that it's close to being in stores everywhere! Next week I will be interviewing my fellow co-authors about their book chapters and hope to get a few nuggets showcasing the most secret Internet strategy techniques.
Here's a link to the book on Amazon for you to order right now!
As a SPECIAL LAUNCH BONUS, I'm offering 1 month access to my Level 2 membership program featuring the Internet Marketing Organizer tool. All you have to do is send a receipt to me by email at Marty@HereNextYear.com so that I have proof you've actually purchased the book and I will hook you up with a username and password to access Level 2. That's a value of $141.00 and is my special gift to you for supporting our book project. [UPDATE: We now have more than $700 in bonuses available during our week-long book launch March 23-28, 2009!! Visit WebMarketingBook2009.com for details.]