Posted by Marty Dickinson on Apr 11, 2010
Using the Internet to grow your business has dramatically changed over the past few years. If you've been misled into thinking all it takes to be successful online today is getting a few hundred followers on Twitter, spending hours a day "Facebooking" or gaining top placement on Google for only your business name, we'd like to offer you a reality check…and a path for hope.
On Wednesday, May 5th, from 9am-noon, Zakary Barron of Constant Contact and I, Marty Dickinson of HereNextYear, Inc., and co-author of Web Marketing All-in-One for Dummies (Wiley, 2009), will team-up to offer a very unique 3-hour Internet marketing training live workshop called "Profit Again in 2010."
First, I will cover:
• The new evolution of websites and why it doesn't make sense to use anything else for your business
• Hot strategies that are working this month for converting more of your website visitors to leads and paying customers, including less text and more video
• Updates on Google's organic search mix and how real-time search and video is impacting your traffic today
• How the Internet marketing "heavy hitters" get more traffic to their websites using my "Traffic Triangle" process (You won't hear about this at a Meet-up group!)
• How to get 300 minutes of benefit from every 30 minutes you spend on Twitter, Facebook and Linkedin
Then, we'll switch gears and have Zakary present the enormous power and process of more effective email marketing, including how to:
• Use best practices and winning strategies in your email marketing
• Get and keep quality subscribers
• Increase your deliverability and open rates
• Create more compelling content
• Integrate video into your email campaigns
This is your opportunity to learn the true cutting edge online strategies for today in simple step-by-step sequences you will be able to apply immediately to your own business promotion efforts.
Learn from valuable case studies of how other businesses have effectively used these important Internet marketing and email marketing techniques to boost their business.
Join us on May 5th at the Grand Hyatt Denver (Downtown at 17th & Welton). You must RSVP to this free event and we are sure to fill the room before the date arrives. So, do not hesitate.
Don't wait. Click Here NOW to Sign-up today and get ready to Profit Again in 2010!
Posted by Marty Dickinson on Feb 27, 2010
I'm sitting here on a Saturday morning on February 27, 2010, and just heard Heather Lutze for the first time speaking about SEO to a group of 90 or so at AuthorU's first all-day Saturday seminar event, led by Judith Briles. Heather did a great job explaining the "sweet spot" so to speak for which we should be targeting keywords.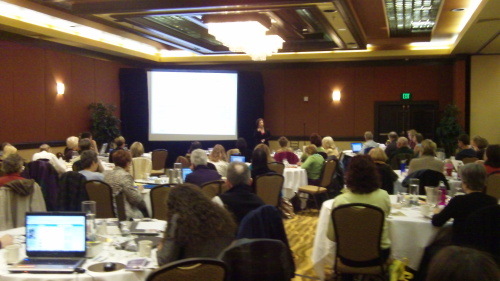 It always seems like people I talk to want the "big" keywords. But, she showed how the best keyword phrases to go after are in the 3, 4, 5, 6 keyword phrases. In fact, she reported that 52.9% of all people searching on search engines search for more than 3 keywords in their search phrase.
I also liked her examples of mistakes that most authors make with their websites, like having a page with the title "About the Author." What exactly does "about the author" have to offer Google as a search term? Nothing. And, so many authors have a page expecting to get search presence for "about the author."
Heather is a frequent speaker around the country and is located in Denver. Her SEO company, the Findability Group has 11 employees and has been around for 10 years. I recommend Heather for any speaking gig with an audience that would appreciate education on current SEO techniques.
Posted by Marty Dickinson on Oct 6, 2009
Up until about a month ago, the seminar business was in a severe hole. Economy-struck attendees put their wallets away in fear of spending a red cent for travel or education.
Webinars attempted to fill the learning gap but we all soon realized there is just no substitute for joining as a group in person.
That's all changed now as you and I have inundated e-mail boxes full of seminar sales pitches, more webinars, and local workshops.
Last week I suggested you consider checking out my former client Byron Walker's Affiliate marketing event in Golden Colorado (which is already 70% full I might add) and I look forward to seeing many of you there.
So how do you pick?
After all, the worst thing you could do is shut yourself off from all the great learning events coming up.
The most important thing is to attempt to exclude cost from the process. Meaning, I don't care if an event is $10 or $10,000. If it pays for itself because of something you learned and applied or someone you met continued business worth….it was worth it!
So, beyond the money, what are the 3 most important criteria to evaluating whether or not to attend?
1. Who's Presenting - If you've seen someone present before at one event, chances are their presentation won't stray too far when they present at another. But if you like a particular presenter, you know that person would probably not waste his or her time presenting at a worthless event.
2. The Topic Being Presented – If you know for a fact that you will never ever EVER attempt to sell anything on Ebay, then why go out of your way to go to an Ebay seminar? Conversely, if you hear about a really hot topic, and you're curious, those are the events you really should consider attending.
3. Who is Referring You - Until you're on a list, you won't even know 99% of the events that go on. They're often not promoted on t.v. or radio. You wouldn't think to search for them on Google. What I look for is frequency. Does the referrer suggest I attend everything under the sun? Or do they help qualify the event for me by telling me "I highly recommend this event if…"
When you put all three of these pieces together, a hot topic you really should know more about, a speaker you know is high quality, plus you've had an honest referral, those are the events to attend.
So, ahemmm, again I'd like to recommend Byron's event coming up if you haven't checked it out yet.
It has all the components of an event you really should attend.
And make sure to use Discount Code Number "DISC154″ when you claim your seat.
All the best,
Marty Dickinson
President
HereNextYear, Inc.
HereNextYear.com
P.S. I'll be there too, so make sure to stop by my booth.
Here's the order link again.
(Use Discount Code Number "DISC154″)
Posted by Marty Dickinson on Oct 5, 2009
I'm slated to speak at the Thrive Super Conference on November 19, 2009 in Chicago. The organizer just sent an email to me to login to his promotional page at Ning.com. Now, I've used Ning to create a few of my own social network sites, but never to promote a seminar. It's a great idea if you think about it. Here's why:
1. You get to see the seminar is real – How many times have you just seen a sales page and wonder if it's really going to happen? Wouldn't it be nice to interact with the organizers and speakers to get a better comfort feeling that the seminar will actually occur before committing with your credit card? Of course.
2. You get to interact with the speakers – I know I said this in the previous paragraph. But, if the speakers are willing to dedicate some time of their day to answer questions and prove their willingness to be involved, I would figure there would be a much higher conversion rate of visitors to paying attendees. Doesn't it just make sense that way?
3. Shows a hint of what you will see more of - People want to attend a seminar where they get to see what's new. Using a "new" and current medium of interaction and promotion just encourages people that they will see and hear about more new things…and they will! It's just not always so easy to convince them.
So, sure, I hope you will come say hi to me at the conference and you can claim your seat right here. But, go checkout Ning site that the organizers have setup for this conference and imagine how YOU might be able to use the site for one of your upcoming events.
Posted by Marty Dickinson on Apr 20, 2009
Really this is just a placeholder for myself so that I remember to sign-up for this but it would be great to see you there too! Come find me and say HI on June 4, 2009 in Denver at the Online Marketing Summit, touring 13 cities over the coming few months.
Posted by Marty Dickinson on Oct 4, 2008
Last time I came to Big Seminar, I was excited to hear a certain few speakers would be presenting. Stephen Pierce was one of them. Stephen had a last minute cancellation at that time and one of my favorites stepped in, Eric Graham (the conversion doctor), who did an amazing and current presentation. I must say I would rather have seen Eric this time around too, but he wasn't on the speaker's ticket.
It's not that Stephen's info is bad, it just doesn't start to offer what I believe the audience needs. He really gears his presentation to beginners, which is fine, but a great speaker considers ALL of his audience, even if he caters to a specific portion of that audience. And, I'm all for making back-of-the-room sales, and he had the table full of people forking over their credit cards, but it's only fair to the audience of Big Seminar to report at least a few things that are happening new online. And, none of that was offered.
Do you think I'm off base here? Would you be happy sitting through a 90-minute presentation learning things like 5 Fundamentals of Making Real Money on the Internet? The answer was that you must:
1. have a rabit market of buyers
2. have a sizzling hot product
3. know how to generate the right traffic
4. have website that converts visitors to customers
5. have persuasive follow-up process
I mean it just seems almost too basic and something I'll bet my 10-year-old could come up with. What do you think? If you got to present to 500+, would you spend 40 minutes talking about these five points?