Posted by Marty Dickinson on Jul 23, 2010
I've been a shameless Internet affiliate marketer for about 12 years now. About 1/3 of my income is directly related to about 10 or so of those affiliate programs. I use the word shameless because I know a lot of people out there are against any "sales" of any kind. And, if someone is to get a "commission" for their sales efforts, then woohaa! Look out! As if sales is such a bad thing.
I LOVE finding things of great value that make our lives better and then "recommending" them to others. To me that's not really selling. It's more of a sharing than anything.
Here's how it works. Typically, a client will ask me a question and if I don't offer the service or have an affiliate product to offer them, I'll go find one, evaluate it and recommend it to them. Of course, when I recommend an affiliate product, I get a commission for the sale.
One of the first questions I was asked by a client that got me to seek affiliate products, to use as an example, was "Where do you recommend I register a domain name?" Gosh, that was back in…like…1999 or something. So, I went out researching every domain registrar I could find and found one that had everything I expected as well as an affiliate program. You can read more about that on this post about what you should look for in a domain name registration system. And, you can also read a post about the same system I use which I believe is still the best domain name affiliate program around.
I use that example because affiliate marketing is nothing new. I sure don't want to be a domain name registrar company and have to buy whatever servers they do and manage all those legal aspects of the business, so I found a company that offers that service and recommend it to others. I have literally hundreds of referrers with domain names registered in that system. And, every time they renew year after year, I get a little commission added to the bank. Simple concept.
Today I promote 32 affiliate products on more than 50 of my own websites. I used to say "over 100″ but since Amazon doesn't pay commissions for referred products to Colorado associates anymore, I've completely dumped Amazon products from both a buying and promoting perspective and am replacing those products with other vendors.
But, something else has crept back into my life. And, I'm not quite sure what to call it yet. It's sort of network marketing, but not exactly. It's got lots of pieces of affiliate marketing, but it's more than that. So, less than true network marketing but more than affiliate marketing. Just brainstorming this as I write, but it has a viral element to it, but without the pressure of in-home meetings commonly found when people are selling soap or vitamin drinks. Maybe, there's a new word to emerge for it, like ViralTeaming or something.
Mann, I just can't put my finger on it.
Can you help?
Here's the situation….See if you can help me define this new phrase.>
Traditional network marketing to me has only a few positives and a whole string of perceived negatives. Here's what we think as a society about network marketing:
Negatives of Network Marketing:
No one is thinking "Oh I need one of those" before you approach them with the sales pitch, so there is immediately a defensive opposition to the sales process
The products are usually not that good anyway (my experience anyway)
High initiation prices to get started promoting
Inflated prices for inferior products
Locked into auto-ship monthly payments
Hard to stop billing once it's started
Huge amounts of time spent in-person with prospects convincing them to buy
Expected to go to family and friends first so family and friends avoid you
We all just hate that whole industry!
From what people who are successful in traditional network marketing have told me, I really only see a few positives to "traditional" network marketing as follows:
A proven pool of buyers when you take on another network marketing product
Lots of recognition on stage at seminars once you've become successful
Don't need a lot of education to start selling
Tell me if there are more benefits to traditional network marketing, 'cause I just don't see it….
Affiliate marketing has lots of positives, though, usually including:
Products that are in direct need by your audience because you are targeting an audience that either already uses related products you offer or are at least involved in a related industry
Your family and friends probably would have no use for your affiliate products because most of your family and friends have nothing to do with your business or industry you're involved with, so you don't even approach them with what you're offering to others
Don't have to buy anything to start promoting something
Commissions are paid monthly direct into my bank account
Easy to track how many visitors you've referred and how many sales were as a result
Easy to stop promoting if the product just turns out to be a dog
Requires no pre-existing "network" to start making money
But, affiliate marketing has its negatives too, like:
Most affiliate offers are Tier 1, which means you only get paid commission on sales that start from your referral. If that referral refers to someone else, you don't get commission.
Affiliate programs by law cannot exceed 2-Tier, which prevents you from getting any further money than those two levels.
Little or no support from the product owner. "Most" affiliate programs I've worked with give you little to no support. You might get some banners to display on your website, but that's about it.
The sales and lead tracking systems in affiliate marketing are produced by Internet marketers instead of what programmers would want to create. Lots of testing goes into the sales process and checkout process so that by the time you are promoting the site as an affiliate marketer, the content converts the most possible prospects.
So, what's my point? What's so NEW about today's affiliate/network marketing offers? I've come across two over the past couple of weeks. Today, I'll use the example of one of them to see if I can show you how the industry is changing.
My example is a company in the food industry that has a sort of club membership where you get $200 worth of groceries plus $300 commission for every six people you bring into the club. There is a one-time, up-front cost of $200 for you to join (plus a once per year payment of $10 to get the company website in your name so you can be tracked for your referrals), but you can spend that entire $200 shopping for groceries! So, you don't lose anything out of pocket (more like an affiliate program). NO RISK!
At the same time, you don't personally have to convince all 6 people to join. You just focus on "2″ new members. When those two members get two others enrolled, YOU get a commission check for $300 and a voucher for $200 more in groceries.
And, you can use that voucher at any WalMart or Sams club.
You're already going to spend money on groceries this month right? Well, unless maybe you're a naturist living off your own garden! So, why not buy your groceries at WalMart? At least the ones you prefer to get at WalMart and then use your commission check to go to King Soopers or Safeway or whatever other place you want to get the other stuff.
The company calls this a "cycle" where you have enrolled your team of six. Once that happens, you start another cycle and go find two more people to enroll.
I was told yesterday (July 22) of a member who had "cycled" 12 times. That means he's received a total of $2400 in gift cards toward groceries at WalMart and a check for $3600 in commissions to use anywhere. Oh, and by the way, he just entered as a new member in June!
Oh, and remember the two people you brought in originally? As their two new members find two new members, THEY will get their $300 commission and $200 grocery voucher too!
It's entirely possible that you could pay $200 once and NEVER have to pay out of pocket again for your groceries! This is the network marketing part of it, but not really…and yet all at the same time. Why? Because the program goes beyond 2-tier but yet does NOT carry with it monthly fees like the typical auto-ship program. You just go find more people to "share what you've discovered!" So it's really more like an affiliate program like I described earlier. Confusing!
But, do you see the "viral" component here and why I'm confused what to call it? I mean, once you find something that has no risk because you get to CHOOSE what you want to buy with what you've already spent on the initiation fee, and you get to spend the money at a place that practically everyone shops at anyway (WalMart), and there's the potential of never having to spend another dime on groceries, and you get such huge payouts of money (paid daily and weekly into your bank account), doesn't that sound like something you would just want to blog about and write articles about and tell everyone you know–clients, prospects, family friends alike?
Indeed!
By now, you're probably wanting to know what this product is, right? Exactly! And, I want to tell you! Not because I'll get rich off you (even though I might, ha), but because it's a really good program that has come along in a crappy economy. And, just as I've heard about it, I'm doing my part to take it viral. But, yet, I'm recommending it to you to check out like I would any affiliate program.
See my struggle? I just don't know what to call something that includes all the positive components of affiliate marketing AND network marketing while avoiding the negatives of both at the same time, PLUS the no-risk element and throw in the desire to take it viral to the point where I want to tell everyone about it!
Maybe VirWork or WorldNet Referring or something like that. I don't know. I'll think of a term for it eventually that combines the two. But, whatever you want to call it, there is definitely a new evolution happening where affiliate programs are using network marketing aspects and network marketing offers coming out are doing away with old-school network marketing practices and adapting their systems to what DOES work with affiliate marketing. Whew! What a mouthful!
Go watch the video to see how this program works and if you do sign-up through my website, you will be added to my Go Cash Flow group where I will personally help you get started by phone and email to get your first cycle within one week. That's like me personally handing you $500 on a silver platter! And, it doesn't matter where you are in the country.
While you're watching, think of how YOU can apply this program to your own life and business. Maybe your church or charity is floundering with lower contributions and has run out of ideas for generating funding.
Maybe you know of a child with a disabling disease and the family could use some community charity to help them through a tough time. Maybe you've been out of work for the past year and the creditors are calling you daily and you don't know where your next bottle of milk is going to come from. I think we all know the answer to that, right?!
Maybe you can help your clients fund their own use of your professional services by giving them a discount or credits based on the number of cycles they complete per month or quarter.
Who knows? The possibilities are endless. The vehicle has just now arrived. Be creative! And, if you happen to come up with a word or phrase to call this new evolution of commissions-based selling, let me know in comments.
If nothing else, realize that traditions are changing. People are changing. Offers are changing. How does your business need to change? That's another topic for Website Waves coming soon!
Posted by Marty Dickinson on Jun 10, 2010
The BlogWorld and New Media Expo and Conference 2010 is going to be the most important and opportunity-generating show it's ever had. If you think my 3-hour workshops are "educational," or you enjoyed watching Joel Comm speaking at AffCon 2010 in Denver, well, multiply that by about 100. The networking, the learning, the ability to talk with Internet pioneers is enough to keep you full of cutting edge tactics to try for the next six months!
Register Now through my affiliate link and use the discount coupon EBIRD. The reason you want to use the discount coupon (good only through July 15) is to get the best deal of course. The reason you want to sign-up through my affiliate link is because you will have the best experience at the conference! Here's what will happen.
The show is on for 3 days, October 14, 15, 16. After each day worth of sessions, I will hold a one-hour group meeting with those who have signed-up through my affiliate link. Together, we will go over highlights from the sessions we attended and share contacts of interesting people we met.
It's impossible for one person to absorb everything at a multi-day conference. And, I'm lucky if I meet more than about 20 people at an event like this because I get in such lengthy deep conversations with people that I forget to move onto the next contact! By sharing networking connections together, we will multiply our connections and network exponentially!
So, checkout the details, and
just sign-up. You'll thank me later. Take advantage of the earlybird special discount and make sure to sign-up through my affiliate link. Then send an email to me that you have done so and I'll add you to my list.
[Note: Yep, as an affiliate I'll be getting some commission for this sale, but I'll be putting that money to use...for you! More details later.]
See you in October at the BlogWorld Conference 2010.
Posted by Marty Dickinson on Nov 8, 2009
I can't say it better myself than this article about how the
new FTC regulation will impact affiliate marketers everywhere. If you've heard about the changes but they just didn't make sense to you, check it out.
Personally, I believe the FTC will go after the heavyweights making false claims. But, then, the other part of me figures they will go after some small time affiliate marketer and fine them like $50K just to make an example out of them.
Although it sucks, hey, this is America. And, the FTC staff are not marketers. They're made up of salaried employees who HATE the fact that entrepreneurs make money by referring valuable products to others. Next, they'll have door-to-door vacuum cleaner sales people giving their prospects a written disclosure of how much commission they will make on the sale before the sale is made.
I don't know about you, but my dad taught me to never ask someone how much money they made for a living. And, therefore, I don't talk about it myself. I mean, who cares? Why would it be important for people to know that you're getting a commission payment for a referral?
And, why would anyone be against that? I mean, I have gone through days and sometimes months of evaluation and use of a product before recommending it to clients for use in their own business. Isn't that time worth something? Don't I deserve some sort of compensation if I'm going to save someone a thousand dollars next month?
The FTC doesn't think so apparently.
My answer to this thing that so many are talking about that "will take down affiliate marketing as we know it" is simple.
1. Go ahead and post your earnings or whatever makes you comfortable that you are meeting FTC requirements.
2. Offer something in addition when someone buys the product through your affiliate link. I've been doing this for years. When someone subscribes to 1ShoppingCartFree.com where I get a commission every month or to BestEmailSystem.com for managing your newsletters and eblasts, I give a free document featuring a page full of tactics and strategies to use that not even those companies will tell you about.
3. Use the products yourself so that your referrals are genuine.
I find it interesting too that the FTC is targeting "bloggers." Anyone that's anyone online these days know that blogs are websites and websites can certainly be blogs. My main company at HereNextYear.com has produced dozens of new or re-designed websites for clients that look like "websites" but use blog software.
So, are the "blogs" or "websites?"
Will the FTC come after them just because they have blogs attached? According to the regulations, it appears they don't care about main websites…just blogs. So, fine, disguise your blog as a website and enjoy the CMS benefit of your blog software and you're safe.
I dunno, I just think the FTC has gone too far with this one. But, fine, I will conform but will beat them at their own game by making MORE affiliate recommendations and offering more bonus tips and getting even more affiliate sales as a result.
That oughta really get 'em going!
Posted by Marty Dickinson on Oct 7, 2009
Coupons for any business and any product are getting hotter and hotter. Not only should every business owner be looking for a coupon before buying anything, we should also be offering coupons for practically anything we sell. This importance of coupons is evident in Ask.com's launch today of Ask Deals, which apparently scours the web for you to find all available coupons and posts them for you.
Posted by Marty Dickinson on Oct 5, 2009
I'm slated to speak at the Thrive Super Conference on November 19, 2009 in Chicago. The organizer just sent an email to me to login to his promotional page at Ning.com. Now, I've used Ning to create a few of my own social network sites, but never to promote a seminar. It's a great idea if you think about it. Here's why:
1. You get to see the seminar is real – How many times have you just seen a sales page and wonder if it's really going to happen? Wouldn't it be nice to interact with the organizers and speakers to get a better comfort feeling that the seminar will actually occur before committing with your credit card? Of course.
2. You get to interact with the speakers – I know I said this in the previous paragraph. But, if the speakers are willing to dedicate some time of their day to answer questions and prove their willingness to be involved, I would figure there would be a much higher conversion rate of visitors to paying attendees. Doesn't it just make sense that way?
3. Shows a hint of what you will see more of - People want to attend a seminar where they get to see what's new. Using a "new" and current medium of interaction and promotion just encourages people that they will see and hear about more new things…and they will! It's just not always so easy to convince them.
So, sure, I hope you will come say hi to me at the conference and you can claim your seat right here. But, go checkout Ning site that the organizers have setup for this conference and imagine how YOU might be able to use the site for one of your upcoming events.
Posted by Marty Dickinson on Oct 5, 2009
Every couple of months I start to feel these sort of "hunches" about what's happening on the Internet these days. So I do a little research and sure enough, trend tools verify my hunches. Here are three of those hunches:
1. More people are producing 1-way posts on social networks than actual discussions. "5 Ways to stop xyz…" and then a link to some blog post, is the commonality now. But, they're also using post distributors now more than ever too like Ping.FM. I do the same, so I'm not going to claim good or bad, but I just think it's interesting how the scope is changing.
2. More people are into DIY now. Everyone wants to do everything themselves from SEO to make your own solar panels. People are diversifying their skills at an alarming rate. Personally, I think this is a good thing as the economy tightens and wallets get lighter.
3. Putting two and two together, I'm also seeing more people interested in attending workshops and seminars again in hopes of learning how to do more themselves. This is great news to me personally, as I believe these get-togethers are just so essential to our growth as humans. And, for a while, no one was going anywhere it seemed.
So, just thought I'd point out those three trends I'm seeing and let me know if you're spotting any new trends too.
Posted by Marty Dickinson on Jan 21, 2009
This list of the most important social bookmarking sites will be added to throughout the year. So, let this serve as your official location for discovering social bookmarks and social bookmarking web sites. As we hear of new social bookmarking sites being added, we will post them here and when a more accurate description of each social networking site gets edited, you will have the most up-to-date description available.
Digg.com
Yahoo Buzz (Buzz.yahoo.com)
Technorati.com
Del.icio.us
Propeller.com
StumbleUpon.com
Reddit.com
Mixx.com
Fark.com
MyBlogLog.com
Slashdot.com
Kaboodle.com
Bloglines.com
Newsvine.com
Blinklist.com
Netvouz.com
Clipmarks.com
Furl.net
Mister-Wong.com
Dzone.com
Ma.gnolia.com
TailRank.com
ShoutWire.com
Simpy.com
BlogMarket.net
BlueDot.us
Spurl.net
Linkswarm.com
Spotback.com
MyBookMarks.com
Unlike social networking which are groups of people who share interests and interact through social networking web sites, social bookmarks are collections of websites that have been flagged by users. You might have found a Web site you wanted to come back to later and "bookmarked" it in your browser. That's what social bookmarks provide…a way for you to keep track of Web sites you want to visit later while also showcasing those preferences to other Web site surfers.
Posted by Marty Dickinson on Dec 11, 2008
DM News reported in its 11/24/2008 issue that a survey conducted of 1000 adults in October by Guidance/Synovate (wanted to make sure I gave full credit to everyone there) revealed that 45% consider E-mail to be the BEST way to learn about online bargains. What does that tell us? That almost half of us "spam haters" (and that would be you and me) actually prefer to learn about bargains by E-mail. In short…we "say" we hate spam, but we actually PREFER it too!
Now, let's think about this for a minute. We're willing to tie-up a commercial spammer by his fingertips for sending even one junk email that causes us to spend the energy to click a mouse to delete it from our email servers. But, we welcome emails telling us of sales and special deals?
Another statistic in the same issue from Retailermenot.com/Harris suggested 33% at lest occasionally visit coupon websites. 9% don't buy hardly anything without checking for online coupons.
A couple of weeks ago I was watching a news program and some company that makes coupons was about to hire 50 new employees because their coupon business was booming. Can't remember who it was, but put thtat statisic together with that news program and it appears coupons are taking off.
And, one last statisic by Allen & Gerritsen showing 52% of women reported cutting back on their spending.
Put all of these buying statistics together and it means:
1. People are startving for good deals
2. Many will ONLY buy if there is a special deal
3. They want coupons
4. Email is the best way to deliver special deals
5. Therefore, make a coupon and send it to your list by email
So, the next thing I thought of is…I wonder how someone goes about creating a coupon? And, can one be created online…for free? Without a designer?
So, naturally I went on the prowl to find a free web-based coupon creator and found this one at http://marluckmarketing.com/couponmaker/.
I tried their process and in about 5 minutes of thinking about it created this coupon using the screen they've provided: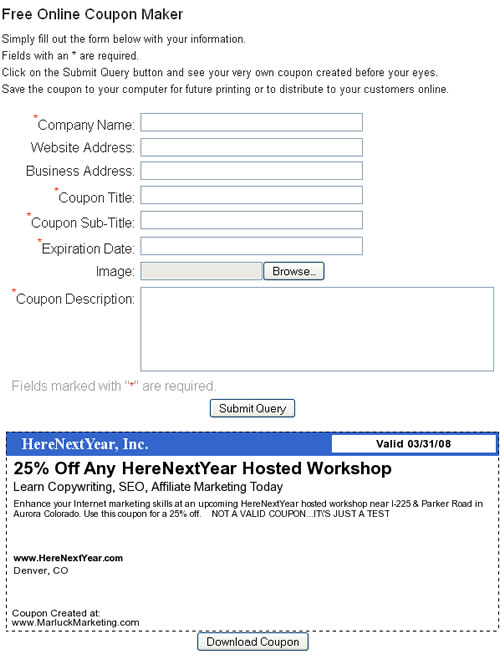 No graphic design skills needed! Didn't even have to give my email address to this website.
Does this seem like something you can do? I'll bet it is. So, what kind of coupon can YOU create to offer to your customers and prospects this week?
When you come up with the right offer, send it by email. Apparently it's the most preferred way to learn about a bargain.
Posted by Marty Dickinson on Dec 4, 2008
This is really more of a list for me than anything. I always find myself getting hung up on finding verbs to use in my writing copy on the web.
Writing features and benefits of a product is always the toughest part for me about copywriting for the web; just that first word in the sentence. There's no better word to begin a with than a verb when it comes to bullet points.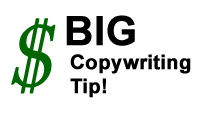 Verbs are "action words" which goes to show why they're so important in copywriting. Without verbs, we would never get anyone take action with anything.
There would be no "Click Here" or "Sign-up Now!" Verbs are not only just "important" to have in your sales writing, they are the very heartbeat of any sales process, online or off-line.
So, with that in mind, here is a list of verbs that sell. Let me know if they help you in your copywriting efforts and make sure to add a comment if you can think of a verb that I haven't listed here.
Verbs that Start with A:
Accelerate
Accomplish
Achieve
Acquire
Act
Activate
Adapt
Adopt
Address
Administer
Advise
Alter
Amaze (added)
Analyze
Anticipate
Apply
Appoint
Appraise
Approve
Arrange
Astound (added)
Assemble
Assess
Assist
Assure
Attain
Audit
Verbs that Start with B:
Believe (added)
Boast (added)
Brief
Budget
Build
Buy
Verbs that Start with C:
Calculate
Chart
Check
Claim
Clarify
Classify
Cleanse
Click
Close
Coach
Collect
Command
Communicate
Compare
Compile
Complete
Compose
Compress (added)
Compute
Conceive
Conceptualize
Conclude
Conduct
Confront
Conserve
Consolidate
Construct
Consult
Continue
Contract
Control
Convert
Coordinate
Correct
Correlate
Counsel
Create
Critique
Verbs that Start with D:
Deal
Decide
Define
Delegate
Deliver
Demonstrate
Depend
Designe
Detail
Detect
Determine
Develop
Devise
Diagnose
Direct
Discover
Dispense
Display
Disprove
Dissect
Distribute
Divert
Double
Draft
Dramatize
Draw
Drive
Verbs that Start with E:
Earn
Edit
Educate
Effect
Eliminate
Enact
Encourage
Endure
Enforce
Engineer
Enhance
Enlist
Ensure
Entertain
Establish
Estimate
Evaluate
Examine
Exceed
Execute
Exhibit
Expand
Expedite
Explain
Experiment
Express
Extract
Verbs that Start with F:
Facilitate
File
Finalize
Finance
Fix
Follow
Formalize
Form
Formulate
Find
Found
Verbs that Start with G:
Gather
Generate
Govern
Graduate
Guide
Verbs that Start with H:
Handle
Head
Help
Hire
Hypothesize
Verbs that Start with I:
Identify
Illustrate
Imagine
Implement
Improve
Improvise
Increase
Induce
Influence
Inform
Initiate
Innovate
Inspect
Inspire
Install
Institute
Instruct
Insure
Integrate
Intensify
Interpret
Interview
Introduce
Invent
Inventory
Investigate
Verbs that Start with J:
Judge
Justify
Verbs that Start with K:
Keep
Verbs that Start with L:
Launch
Lecture
Lead
Learn
License
Lift
Listen
Locate
Log
Verbs that Start with M:
Maintain
Magnify (Recent Addition)
Manage
Manipulate
Manufacture
Map
Market
Measure
Mediate
Memorize
Mentore
Model
Modify
Monitor
Motivate
Verbs that Start with N:
Name
Navigate
Negotiate
Nominate
Normalize
Note
Verbs that Start with O:
Observe
Obtain
Offer
Officiate
Operate
Order
Organize
Oriente
Originate
Overcome
Oversee
Verbs that Start with P:
Paint
Participate
Perceive
Perfect
Perform
Persuade
Photograph
Pilot
Pinpoint
Pioneer
Place
Plan
Play
Praise
Predict
Prepare
Prescribe
Present
Preside
Print
Process
Procure
Produce
Profess
Programm
Progress
Project
Promote
Proofread
Propose
Protect
Prove
Provide
Publicize
Purchase

Verbs that Start with Q:
Qualify
Question
Verbs that Start with R:
Raise
Rank
Rate
Realign
Realize
Reason
Receive
Recognize
Recommend
Reconcile
Record
Recruit
Reduce
Refer
Regulate
Rehabilitate
Reinforce
Relate
Relax (added)
Remodel (added)
Render
Renovate (added)
Reorganize
Repair
Report
Represent
Research
Resolve
Respond
Restore
Retrieve
Restructure
Review
Revise
Risk

Verbs that Start with S:
Satisfy
Schedule
Secure
Select
Sense
Separate
Serve
Service
Shape
Share
Show
Sketch
Simplify
Sell
Solve
Sort
Specify
Speak
Stimulate
Streamline
Structure
Study
Succeed
Suggest
Summarize
Supervise
Supply
Support
Symbolize
Synthesize
Systematize
Verbs that Start with T:
Tabulate
Tackle
Tackling
Talk
Target
Teach
Test
Train
Transcribe
Transfer
Transform
Translate
Treat
Travel
Troubleshoot
Tutor
Type
Verbs that Start with U:
Unify
Unite
Update
Upgrade
Use
Utilize
Verbs that Start with V:
Verbalize
Verify
Verbs that Start with W:
Weigh
Win
Write
Wrote
Are there any verbs I left out from this list? Please let me know by adding a comment.
Posted by Marty Dickinson on Nov 19, 2008
Okay, so I've been in this Internet marketing world for like 13 years now right? For years I have been among the many anti-spam people. If anyone even started talking to me about sending promotional emails to people who didn't first choose (opt-in) to be on my list to receive something from me, I would run the other direction as fast as I could as if being chased by a wild rabid grizzly bear!
But, my friend, times do change. And, sometimes they change quickly, abruptly, and profitably too! I'm still a big anti-spammer. Don't get me wrong. I have no intention of buying lists from a mail house and sending emails without welcome. But, if someone has bought a product online and somewhere and they have opted to receive similar promotions, or email from similar parties, then why would I NOT take advantage of that?
One of the projects I've been working on for the past few months is a business credit card affiliate program promotion which you are welcome to check out at www.SBCAlliance.com. Kicking an screaming to the partners "against" sending out thousands or even potentially MILLIONS of emails to people I don't even know, they finally did it anyway. 5 MILLION plus e-mails sent over a period of 3 weeks or so.
Know how many death threats we got? Zero.
Curious how many weeks the FTC shut down our website for? Zero.
Want to know how many sales we got after emails went out to 4,900,000 people? Ha, well, let's just say enough to cover the $120 mailing fee!
So, I'm a believer now and I'm ramping up 3 email campaigns for next week alone. Want to know how it works?
1. Here's the company that provides email advertising without spamming.
2. What you'll see when you get there is this screen shot where you'll see steps 1 and 2. First you just fill in your email address. But, this is NOT the email address that is used in the email campaign. So, don't worry about having your email address going out to 5 million people! I did!
But, the more important thing to check out is how many of each category this company has in their opt-in email lists. You could just pick one category or have a mixture of others.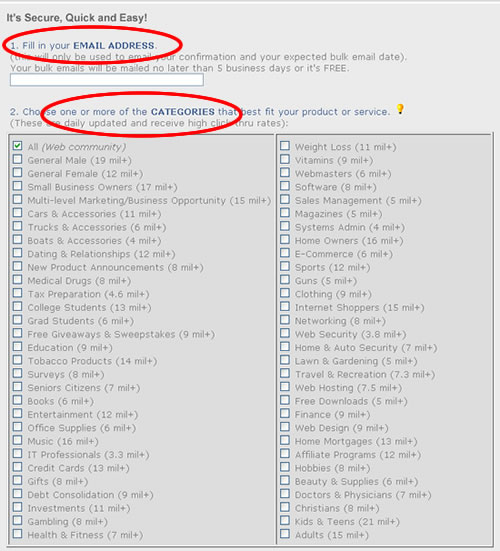 3. Scroll a little more and you'll see steps 3 and 4. Step three is a really cool feature to rotate the subject lines of your ad. It's like automated split testing to see how many people will open your emails depending on what subject lines you choose. Genius!
And, then I just wanted to show how easy it is to create an ad using this system. Using familiar MS Word functionality, you can easily create a simple text post. Or, what we did with  SBC is add a small text message alone with a graphic ad. That way the system would determine which one to display based on the type of email system the recipient is using. Another ingenius idea!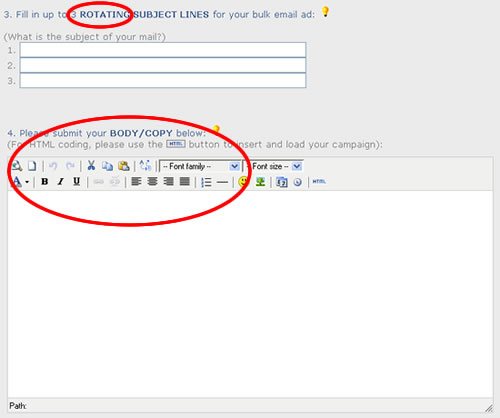 4. Finally, you're in step 5 and 6 where you're able to choose a country. So far I haven't done any out-of-country promotions using this system or any other. Have you? What have your results been?
And, then if "LOCAL" promotion is what you're after, promote to just your state or surrounding states. I love this tool!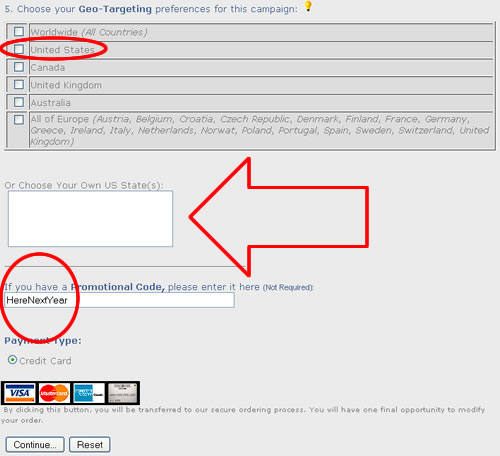 So, you're pretty much done at this point other than paying and waiting. It took us about 3 to 4 days to get our email in the queue and we were still visibly seeing visitation in our stats report 3 weeks after our initial email send.
Now, I gave you the link to this email advertising without spamming company right? Of course, that's an affiliate link and I'm going to get a couple of bucks if you sign-up and give their promotion system a whirl. But, if you DO use that link, please let me know and I will send to you the steps we used to assure our email campaign was a success.
And, we're just going to learn more every time. We'll probably start using this system twice a month for various projects. I'll keep you posted here hour our email campaigns go and what secret strategies we unveil. But, the good stuff will be reserved for those actually USING this system. And, you must do so through our affiliate link.
Rest assured this is a real company we're talking about. I've talked to their support staff myself and some really good people are behind this email system. Check it out in confidence.