Posted by Marty Dickinson on Feb 11, 2009
SEO and Social Networking training class in Denver Feb 25 will be led by "me" Marty Dickinson. This is a special one because the entire class is entirely "hands-on."  No need to bring your laptop because every attendee will have a computer to use anyway. Limit to class size is just 20. The Google SEO class will be in the morning from 9 to noon and then Social Networking setup will be the afternoon. Register for one or both. Check out the press release we ran a couple of days ago that goes into some detail about why we chose New Horizons as your learning center for this event.
If you know of someone who really needs to learn about SEO (Search Engine Optimization) for getting pages of their website on Google, suggest they attend this class. Perfect for web designers who have not yet learned about SEO. Also great for the non-technical business owner who would love to learn to optimize their own pages but just doesn't think they have the technical skills to pull it off. You will be using LIVE data on pages of a website and shown how to optimize them. Then you will actually upload those to a real live web server so that you can go back to your business that night and work on your own pages without worry of breaking anything!
Class #2 is a set-up class where we will target 5 of the most prominent social networking sites: FaceBook, Twitter, Linked-in, Squidoo, and MySpace. Bring a photo of yourself if you have one.
With the other 27 class sessions we have planned for 2009, I can't promise I'll be doing these two classes again soon. So, if either or both of these classes would save you some money from paying someone else to do it, or you want to learn the inside secrets to making all of these things work together, this is your day to attend.
It's time to learn how to do these Internet tasks on your own. That's why we're creating DoItMySelfInstitute.com. Be one of the first to attend. Hope to see you there.
Posted by Marty Dickinson on Jan 23, 2009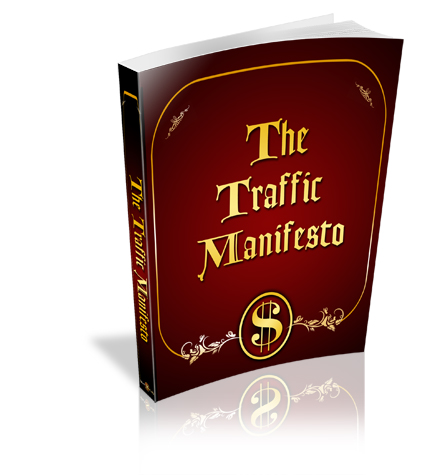 Being in the Internet Marketing business for 13 years, I have come across quite a few clients who are weary of the Internet because of their "lack of technical skills" when it comes to computers. Well, I am here to tell you that you don't have to be a know-it-all to make money online! And that is what Website Waves is all about. I want to hand you the tips and techniques I have learned in my career so you can make a splash in this giant pool of the World Wide Web.
That said, I have a little secret weapon for all of you Internet Marketing newbies. The Traffic Manifesto written by Ross Goldberg is a must read if you are just getting started online and don't know how to juggle all of the different social networks, or which article submission sites are the best to be featured on, or if you don't know what a Squidoo lens is. This eBook is also a must read if your business is on a slippery slope due to the economic downfall of 2008. Going back to the basics and learning the simple and FREE ways to get traffic to your site, could just be the answer to your income worries.
In Ross' sales letter for the Traffic Manifesto, he says, "I spent 3,547 hours learning how to generate massive traffic so you won't have to". In my experience, you have to be careful who you trust in the sea of top Internet Marketers. I like to make sure the people I follow are genuine people that really WANT me to get results. Ten days after waking up from a coma, Ross was told he would never be able to walk again. He spent his time learning the ins and outs of driving traffic on the Internet while working ruthlessly at physical therapy to hit his goal of walking again – which he achieved. (Great job Ross!)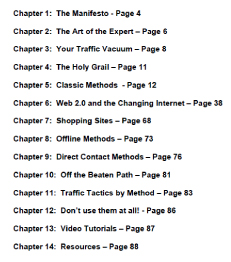 So, what is in this Manifesto? How about URLs to hundreds of article syndication sites, and dozens of press release syndication sites, podcasting directories, top social networking sitesm blog and RSS feed sites, affiliate program directories sites, video sharing and social bookmarking sites – 131 pages of how tos and links. Ross outlines 79 different ways to drive traffic to your blog or website – and most of them are free methods.
You might have seen the Manifesto selling for $97 which offers a range of bonuses, but I tracked down the same Manifesto selling for only $37 to save you a few bucks if you decide to get yourself a copy.
If you consider yourself technically challenged, or need to boost sales for 2009, check out the Traffic Manifesto here. If you already own a copy, or have seen other Ross Goldberg products and have an opinion, leave me a comment and tell me what you think. I'm thinking it's here to stay!
Posted by Marty Dickinson on Jan 21, 2009
This list of the most important social bookmarking sites will be added to throughout the year. So, let this serve as your official location for discovering social bookmarks and social bookmarking web sites. As we hear of new social bookmarking sites being added, we will post them here and when a more accurate description of each social networking site gets edited, you will have the most up-to-date description available.
Digg.com
Yahoo Buzz (Buzz.yahoo.com)
Technorati.com
Del.icio.us
Propeller.com
StumbleUpon.com
Reddit.com
Mixx.com
Fark.com
MyBlogLog.com
Slashdot.com
Kaboodle.com
Bloglines.com
Newsvine.com
Blinklist.com
Netvouz.com
Clipmarks.com
Furl.net
Mister-Wong.com
Dzone.com
Ma.gnolia.com
TailRank.com
ShoutWire.com
Simpy.com
BlogMarket.net
BlueDot.us
Spurl.net
Linkswarm.com
Spotback.com
MyBookMarks.com
Unlike social networking which are groups of people who share interests and interact through social networking web sites, social bookmarks are collections of websites that have been flagged by users. You might have found a Web site you wanted to come back to later and "bookmarked" it in your browser. That's what social bookmarks provide…a way for you to keep track of Web sites you want to visit later while also showcasing those preferences to other Web site surfers.
Posted by Marty Dickinson on Jan 21, 2009
This list of the most important social networking sites will be added to throughout the year. So, let this serve as your official location for discovering social networks and social networking web sites. As we hear of new social networking sites being added, we will post them here and when a more accurate description of each social networking site gets edited, you will have the most up-to-date description available.
Myspace.com – Certainly the most visited
Facebook.com – Winning my vote as the most interactive
Linkedin.com – Best for building business connections
Squidoo.com – A great add-on to your primary social network
Friendster.com -
Bebo.com – Good for those who like to share thoughts about movies, entertainment
Bahu.com – Only if your 25 or under
hi5.com
Orkut.com
PerfSpot.com
Yahoo360.com
Zorpia – Focus is on meeting people Internationally
Netlog – Focus is Europe
Twitter.com – The wonder of 2008
Classmates.com – Not the best for business building but it IS social networking afterall
Xanga.com – Networking community for bloggers
Xing.com (Europe, Germany, China)
Ryze.com (for business)
Yelp.com
Meetup.com – Growing by leaps and bounds, a must-watch
Gather.com
Ziggs.com
NetworkingForProfessionals.com
And, let's not forget forums of course. Participating in forums is one of the greatest places to spend your marketing time because people read your posts and want to know more about you. So, they visit your Web site through a link provided on every forum posting you make.
Do you have a favorite social networking Web site that's not listed here? Let us know and we'll post it. Simply post a comment and a description.