Posted by Marty Dickinson on Apr 27, 2010
Sometimes I wish I had the time to just sit in a chair and make blog posts all day long just to get them on top of Google. Last Friday night I had the incentive to make a blog posts for a new client. I wanted to get him blogging about his topic so I wanted to provide an example for him of how to produce a blog post.
To summarize it all, I found a keyword phrase that was the #2 top searched phrase of the day that people were searching for, made a blog post, and by Sunday morning I saw my post was number 2 on Google for that search phrase. The post was probably on Google sooner than that, I just refused to turn my computer on Saturday for a change.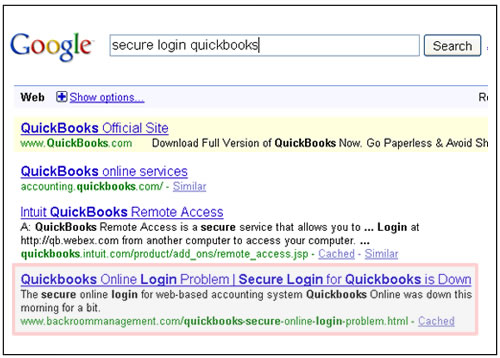 Here is the screen shot to prove the result and you'll see the search phrase I was going after. In a bit, I'll give you the steps I took, but here's a little background first.
Last week I sent out an email to my list asking for comments about whether we should just kill our websites and just have Facebook for our main website. A nice discussion resulted and the overlying reason people voted to keep websites in addition to their Facebook efforts was the ability to have control. This is a good example of having such control. Would I make a Facebook page just for this topic? Of course not. I would make a blog post on a blog affiliated with my own website (in this case, my client's main site). Now within that blog post, I could suggest people go hook up with me on Facebook once they get there. But, that would be an added bonus.
Now let's look at the other side of things. People make such a big deal about how to get their websites on top of Google. So many are so skeptical that it's even possible to get a page or post on top of Google without spending months to make it happen. With the right tools, timing and process, you can pretty much do anything on the web.
Here are the steps I took:
1. Find out what's hot – You might have heard of "Google Trends" which looks at what people are searching for over time, but most people have not heard of "Google HOT Trends," which gives you a glimpse of the top 20 phrases being searched "today."
2. Choose a topic that's related to your industry – I look at Google Hot Trends every day. On Friday, Quickbooks had a little systems problem and everyone under the sun was searching for "secure login Quickbooks" thinking there might be an alternate way of finding their login screen during the problem (guessing there). Backroom Management, a competitor of Quickbooks and also my client, came to mind.
3. Write a blog post targeting that exact search phrase – Within WordPress, one is able to very easily assign a page title, meta description, headline, url and of course content itself. These are five of the core SEO functions that must be created if you have any hopes of getting search positioning for any page of your site. You are welcome to analyze the page itself to see what I did in those areas to optimize for secure login quickbooks and that topic has been beaten to death on the web anyway.
The point is that timing, the right website tools, and technique are very important in this process. It's not hard, you don't have to be a techie geeky dude. It's just a matter of process…and one I'll be going into more detail about at my upcoming workshop in association with Constant Contact here in Denver on Wednesday May 5 at 9am. We're coming down to the final week and I know there are only about 14 spots left. Get 'em while they're hot and RSVP now.
Y'know, that has an interesting ring to it…to sit around and make blog posts all day just to get them on top of Google. Maybe in my spare time.
Posted by Marty Dickinson on Apr 11, 2010
Here I sit working on my first major promo for a workshop I have scheduled in partnership with Constant Contact downtown Denver on Wednesday May 5th at the Grand Hyatt and I have some promos saying it's May 6th and some saying it's May 5th. Geez! Get it right Marty. Just goes to show that you hae to be extra careful when trying to work online while watching t.v.
This free Internet marketing workshop is officially on Wednesday, May 5th from 9am to noon. Checkout the details on the correct page.
Posted by Marty Dickinson on Apr 11, 2010
Using the Internet to grow your business has dramatically changed over the past few years. If you've been misled into thinking all it takes to be successful online today is getting a few hundred followers on Twitter, spending hours a day "Facebooking" or gaining top placement on Google for only your business name, we'd like to offer you a reality check…and a path for hope.
On Wednesday, May 5th, from 9am-noon, Zakary Barron of Constant Contact and I, Marty Dickinson of HereNextYear, Inc., and co-author of Web Marketing All-in-One for Dummies (Wiley, 2009), will team-up to offer a very unique 3-hour Internet marketing training live workshop called "Profit Again in 2010."
First, I will cover:
• The new evolution of websites and why it doesn't make sense to use anything else for your business
• Hot strategies that are working this month for converting more of your website visitors to leads and paying customers, including less text and more video
• Updates on Google's organic search mix and how real-time search and video is impacting your traffic today
• How the Internet marketing "heavy hitters" get more traffic to their websites using my "Traffic Triangle" process (You won't hear about this at a Meet-up group!)
• How to get 300 minutes of benefit from every 30 minutes you spend on Twitter, Facebook and Linkedin
Then, we'll switch gears and have Zakary present the enormous power and process of more effective email marketing, including how to:
• Use best practices and winning strategies in your email marketing
• Get and keep quality subscribers
• Increase your deliverability and open rates
• Create more compelling content
• Integrate video into your email campaigns
This is your opportunity to learn the true cutting edge online strategies for today in simple step-by-step sequences you will be able to apply immediately to your own business promotion efforts.
Learn from valuable case studies of how other businesses have effectively used these important Internet marketing and email marketing techniques to boost their business.
Join us on May 5th at the Grand Hyatt Denver (Downtown at 17th & Welton). You must RSVP to this free event and we are sure to fill the room before the date arrives. So, do not hesitate.
Don't wait. Click Here NOW to Sign-up today and get ready to Profit Again in 2010!