Posted by Marty Dickinson on Jun 10, 2010
The BlogWorld and New Media Expo and Conference 2010 is going to be the most important and opportunity-generating show it's ever had. If you think my 3-hour workshops are "educational," or you enjoyed watching Joel Comm speaking at AffCon 2010 in Denver, well, multiply that by about 100. The networking, the learning, the ability to talk with Internet pioneers is enough to keep you full of cutting edge tactics to try for the next six months!
Register Now through my affiliate link and use the discount coupon EBIRD. The reason you want to use the discount coupon (good only through July 15) is to get the best deal of course. The reason you want to sign-up through my affiliate link is because you will have the best experience at the conference! Here's what will happen.
The show is on for 3 days, October 14, 15, 16. After each day worth of sessions, I will hold a one-hour group meeting with those who have signed-up through my affiliate link. Together, we will go over highlights from the sessions we attended and share contacts of interesting people we met.
It's impossible for one person to absorb everything at a multi-day conference. And, I'm lucky if I meet more than about 20 people at an event like this because I get in such lengthy deep conversations with people that I forget to move onto the next contact! By sharing networking connections together, we will multiply our connections and network exponentially!
So, checkout the details, and
just sign-up. You'll thank me later. Take advantage of the earlybird special discount and make sure to sign-up through my affiliate link. Then send an email to me that you have done so and I'll add you to my list.
[Note: Yep, as an affiliate I'll be getting some commission for this sale, but I'll be putting that money to use...for you! More details later.]
See you in October at the BlogWorld Conference 2010.
Posted by Marty Dickinson on Jan 7, 2010
Using the Internet to grow your business has dramatically changed since the beginning of 2009. If you've been misled into thinking all it takes to be successful online today is getting a few hundred followers on Twitter, spending hours a day "Facebooking" or gaining top placement on Google for your book title or business name, we'd like to offer you a reality check…and a path for hope…for the new year!
Throughout 2010 I will be offering a new workshop called, fittingly, "Profit Again in 2010.
If you're not familiar with me, I'm a 15-year Internet marketing "lifer," co-authored of "Web Marketing All-in-One for Dummies" (Wiley 2009), and I'll be using this workshop to update you on the radical progression of WordPress websites, blogs, traffic building, social networking, rss, podcasting, Federal Trade Commission restrictions and Google banning since just a year ago.
I don't just "write and speak" about Internet marketing. I create and promotes my own products, manuals, and membership sites, with more than 100 of my own websites. Myself, along with a team of 7 at HereNextYear, Inc. have serviced more than 300+ clients nationwide.
For just one of those clients this past August, we launched just one website that enjoyed 99 product pages indexed on top of Google within 3 days. By the end of the first week, the site brought in more than $3,826 in sales. By Thanksgiving, the site delivered its first $100,000 in revenue.
Coincidence? No way. It's the same process for any business, author or speaker…every time. All you have to do is find where you are in the process and plug in.
True success of any financial measure for your book, product or business will be no accident or stroke of luck. And, in today's economy, you can't afford to shoot darts at a wall in the dark!
You won't find overnight riches or make that elusive "money while you sleep" with a casual, ho-hum approach.
And it won't happen by changing a few meta tags on your home page.
What's the answer? P.T.A.
1. Plug-in
2. Team-up
3. Accelerate
That's right, just three simple steps.
First, you must identify where you are in the Internet marketing process and "plug-in" to that process. The success plan online is almost exactly the same for every business, author or speaker and hasn't changed in almost 15 years! All you have to do is discover the process, find out where you are in that process and plug-in.
Second, team-up with those that can help you implement the process. Hiring a random website designer from Craigslist or someone from a foreign country just because you can get services for 20 cents on the dollar might have helped five years ago, but outsourcing today only helps you if you are an experienced Internet marketing project manager. You need to start now to form a devoted team that will be at your side for years to come to help you with technical challenges and smart and calculated marketing planning.
Third, only after you know the process and have a team to rely on can you expect to accelerate implementation and see the rewards.
Specifically, here's what I will cover during any Profit Again in 2010 workshop, seminar, full-day training, or 20-minute speech:
-My 3-step process to predict whether your product or book can even be sold online or whether you should just throw it in the trash and move on
-Why Google has banned more than 150,000 websites for life in just the past month…and how to avoid being next!
-The FTC's crackdown on misuse of testimonials and affiliate marketing and what you need to do to protect yourself from being accused of false claims…The CAN SPAM Act was only the beginning to this!
-Why every business owner, author and speaker should have "5″ websites or more…even if your competition already does!
-What keyword phrases the human population is searching online for and how you can stand in the way and benefit from that traffic
-The "new" evolution of websites and why it doesn't even make sense to have anything else
-The secrets of social networking automation that only those with 2,000 Twitter followers or more even know about.
-How to get 300 minutes of social networking benefit for every 30 minutes you spend
-The Article Marketing Underground Triangle: How to write an article once and use what you've written for explosive reach to more than 30,000 websites, video directories and bookmarking sites for obscene traffic flooding whenever you want it.
-Plus, I will reveal my most closely held secret to managing what should be 10 hours a day of promotion productivity that gets accomplished in less than 60 minutes…every day.
As we roll out this essential program, look for specific dates and locations to be accessible through our main website at HereNextYear.com on our Workshops page.
Posted by Marty Dickinson on Dec 30, 2009
It's finally here! My new website at VideoCameraUser.com for those just getting started with web video launched last night. For the entire year of 2010 I've challenged myself to conceptalize, create, edit, produce and promote a web video every single day.
Quite a commitment there and I could only even expect myself (as unorganized and crazy busy as I am) to pull this off if I followed a simple, step-by-step process.
That process I will be following is available for free as a free whitepaper I've been working on over the past couple of weeks called 51 Essential Essential Getting Started, Do-it-Yourself, Web Video tips for Business Owners, Speakers, and Authors.
Go check it out at VideoCameraUser.com and have a great New Year!
Posted by Marty Dickinson on Aug 10, 2009
[youtube]http://www.youtube.com/watch?v=ACRXiEN5oNA[/youtube]
If you're too busy to watch t.v. like I am but still want to know what you should about the pending health care reform plan, take a quick listen to health care expert Stephen Hyde on this to-the-point radio interview that offers solutions too.
Posted by Marty Dickinson on Jun 9, 2009
Have you ever tried the free CamStudio instead of Camtasia? So far I really like it but I'm curious if people have found any limitations. Actually, a little tiny thing I discovered, is that CamStudio offers boatloads of choices as to what your cursor can look like. Camtasia is limited in this area and I've always wanted more options.
The other thing I found is that CamStudio requires less processing speed bandwidth. My cpu was just maxed out all the time while making videos with Camtasia.
So, anyway, just thought I'd throw that out to anyone having trouble with Camtasia that there is a free alternative. It's called CamStudio!
Posted by Marty Dickinson on Mar 12, 2009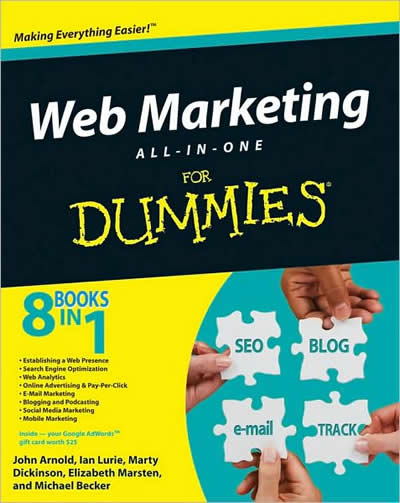 My co-authored Web Marketing All-in-One Reference Guide for Dummies book is officially in-stock at Amazon. And, even though I haven't seen the live version come in quite yet, it sure is exciting to know that it's close to being in stores everywhere! Next week I will be interviewing my fellow co-authors about their book chapters and hope to get a few nuggets showcasing the most secret Internet strategy techniques.
Here's a link to the book on Amazon for you to order right now!
As a SPECIAL LAUNCH BONUS, I'm offering 1 month access to my Level 2 membership program featuring the Internet Marketing Organizer tool. All you have to do is send a receipt to me by email at Marty@HereNextYear.com so that I have proof you've actually purchased the book and I will hook you up with a username and password to access Level 2. That's a value of $141.00 and is my special gift to you for supporting our book project. [UPDATE: We now have more than $700 in bonuses available during our week-long book launch March 23-28, 2009!! Visit WebMarketingBook2009.com for details.]
Posted by Marty Dickinson on Feb 11, 2009
SEO and Social Networking training class in Denver Feb 25 will be led by "me" Marty Dickinson. This is a special one because the entire class is entirely "hands-on."  No need to bring your laptop because every attendee will have a computer to use anyway. Limit to class size is just 20. The Google SEO class will be in the morning from 9 to noon and then Social Networking setup will be the afternoon. Register for one or both. Check out the press release we ran a couple of days ago that goes into some detail about why we chose New Horizons as your learning center for this event.
If you know of someone who really needs to learn about SEO (Search Engine Optimization) for getting pages of their website on Google, suggest they attend this class. Perfect for web designers who have not yet learned about SEO. Also great for the non-technical business owner who would love to learn to optimize their own pages but just doesn't think they have the technical skills to pull it off. You will be using LIVE data on pages of a website and shown how to optimize them. Then you will actually upload those to a real live web server so that you can go back to your business that night and work on your own pages without worry of breaking anything!
Class #2 is a set-up class where we will target 5 of the most prominent social networking sites: FaceBook, Twitter, Linked-in, Squidoo, and MySpace. Bring a photo of yourself if you have one.
With the other 27 class sessions we have planned for 2009, I can't promise I'll be doing these two classes again soon. So, if either or both of these classes would save you some money from paying someone else to do it, or you want to learn the inside secrets to making all of these things work together, this is your day to attend.
It's time to learn how to do these Internet tasks on your own. That's why we're creating DoItMySelfInstitute.com. Be one of the first to attend. Hope to see you there.
Posted by Marty Dickinson on Jan 8, 2009
Did you see the announcement about Yahoo partnering with Samsung to offer Internet TV? This is one of the most important posts I've seen in a year and not one person added a comment to the post that DM News made two days ago. Unbelievable.
The crux of it is that you will be able to buy a flat panel t.v., turn it on with your remote, and then use widgets to interact with web-based apps like stock update, news, and my favorite…the sharing of videos and pictures.
It's beginning folks. My prediction is coming true. In three years, I believe we will access the web #1 with our mobile devices, #2 with our televisions, and then somewhere down a distant 3, 4, or 5, with our computers.
So, my big quest for 2009 as it was in 2008 is video. Can you see how important video is becoming? What will people want to see most of all when they access the web from their t.v.? Video. Video. Video.
Internet TV is coming. Will you be ready?
Posted by Marty Dickinson on Nov 24, 2008
Last week I made a Camtasia video and sent it to a client. No problem. Camtasia worked just fine. Today, I started working on the instructional videos for our new HereNextYear member site (in soft launch…more about that later) and about every 5 seconds was this annoying little squeak that sounded like a really bad turntablist in a rap band pushing the record backwards to make the annoying squeak!
After a couple of hours of researching this, I finally come to find these squeaks are as a result of the new Flash player version 9. Apparently Camtasia videos do not play well with the version 9 of Flash Player. I must've just randomly clicked on a Windows update or something.
Anyway, if YOU use Camtasia for recording screenshots or live demos (still the greatest recorded presentation I know of), go watch this video and then you will find the free download link that will fix the problem.
Essentially, here's how it works….
1. Download and install the SWFMP3Fixer program
2. Unzip it (I like the free CAMUNZIP) if you don't have an unzip program
3. Open the .exe file that is displayed once you unzip the file from a folder
4. Drag one of your video files or folders into the box as I've done below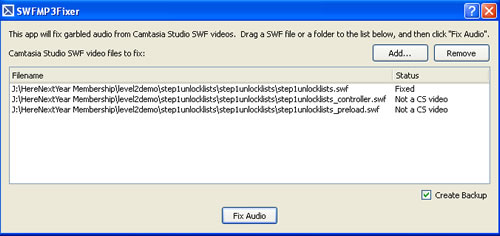 5. Click the Fix Audio button
From there, your video will be fixed and you'll need to re-upload it to your website if that's where you are hosting it.
Pretty simple…just took me a while to find the solution online. For all you Camtasia users, hope that helps a bit.
Or, you could of course just upgrade to version 6 of Camtasia where the fix is included.
Posted by Marty Dickinson on Aug 26, 2008
I finally came out of my cave Monday afternoon after finishing the required 70% complete deadline for my portion of the Web Marketing All-in-One Desk Reference for Dummies book due in bookstores everywhere March/April 2009 (Wiley Publishing, publishers of the "For Dummies" books). John Arnold of Constant Contact (E-mail), Ian Lurie & Elizabeth Marsten of Portent Interactive (SEO, AdWords, Social Networking, blogs), and just added, Michael Becker (Mobile Marketing) from Iloop Mobile (personally can hardly wait to see what he'll be adding about THAT very hot topic!).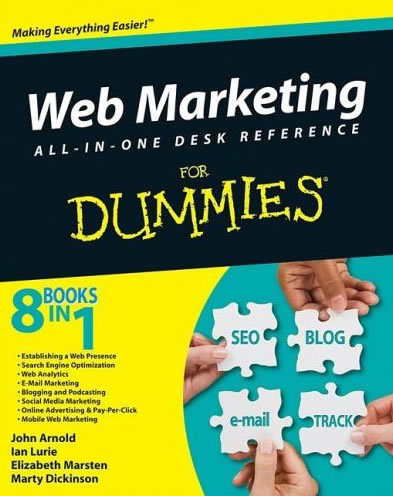 It is a true honor to be sharing pages with these industry experts as we make our contributions to what I believe will be the most talked about Internet strategy book in years.
When I was asked what I would like to write about, I immediately said, "the money part of course" So, I get the first section of the book which will be covering topics like:
Converting more visitors to paying customers
Writing promotional copy that sells
Shopping cart setup
Finding and promoting affiliate products
Starting and building your own affiliate program
Joint venturing
Which website type is the best for you
Design components that sell
Hiring helpers so you're not doing everything yourself
More coming on this topic coming soon but I have to mention that something else has happened in the process of writing this book, which is now listed on Amazon by the way. I think I've had more leads for business in the past two months than the first six months of this year combined. How could that be? I haven't been doing anything differently in my promotions than usual. Must be the book. Just by telling people about it, people are talking about it. The book isn't even out yet and people are talking about it. We're not even finished writing it yet and people are already talking about it. Strange but true.