Posted by Marty Dickinson on Aug 26, 2008
I finally came out of my cave Monday afternoon after finishing the required 70% complete deadline for my portion of the Web Marketing All-in-One Desk Reference for Dummies book due in bookstores everywhere March/April 2009 (Wiley Publishing, publishers of the "For Dummies" books). John Arnold of Constant Contact (E-mail), Ian Lurie & Elizabeth Marsten of Portent Interactive (SEO, AdWords, Social Networking, blogs), and just added, Michael Becker (Mobile Marketing) from Iloop Mobile (personally can hardly wait to see what he'll be adding about THAT very hot topic!).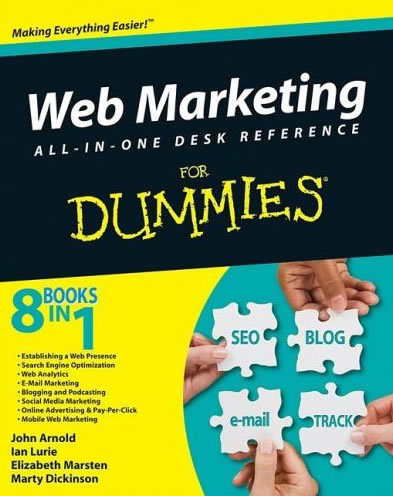 It is a true honor to be sharing pages with these industry experts as we make our contributions to what I believe will be the most talked about Internet strategy book in years.
When I was asked what I would like to write about, I immediately said, "the money part of course" So, I get the first section of the book which will be covering topics like:
Converting more visitors to paying customers
Writing promotional copy that sells
Shopping cart setup
Finding and promoting affiliate products
Starting and building your own affiliate program
Joint venturing
Which website type is the best for you
Design components that sell
Hiring helpers so you're not doing everything yourself
More coming on this topic coming soon but I have to mention that something else has happened in the process of writing this book, which is now listed on Amazon by the way. I think I've had more leads for business in the past two months than the first six months of this year combined. How could that be? I haven't been doing anything differently in my promotions than usual. Must be the book. Just by telling people about it, people are talking about it. The book isn't even out yet and people are talking about it. We're not even finished writing it yet and people are already talking about it. Strange but true.
Click a Star to Rate This Post:
Tell Others About This Post:

Email This Post to a Friend