Posted by Marty Dickinson on Jul 26, 2011
Did you hear the speech by President Obama last night where he suggested we the people should contact our congressman? Well, people did what they were told to do. Phone calls packed the lines and websites crashed.
Posted by Marty Dickinson on Sep 15, 2010
If you use Go Daddy email or email on BestDomainPlace.com, use this checklist to setup your Droid with your email account. Just really making this as a bookmark for myself in case other clients ask.
Posted by Marty Dickinson on Mar 12, 2009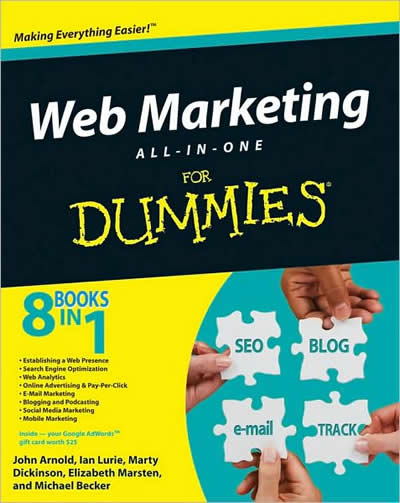 My co-authored Web Marketing All-in-One Reference Guide for Dummies book is officially in-stock at Amazon. And, even though I haven't seen the live version come in quite yet, it sure is exciting to know that it's close to being in stores everywhere! Next week I will be interviewing my fellow co-authors about their book chapters and hope to get a few nuggets showcasing the most secret Internet strategy techniques.
Here's a link to the book on Amazon for you to order right now!
As a SPECIAL LAUNCH BONUS, I'm offering 1 month access to my Level 2 membership program featuring the Internet Marketing Organizer tool. All you have to do is send a receipt to me by email at Marty@HereNextYear.com so that I have proof you've actually purchased the book and I will hook you up with a username and password to access Level 2. That's a value of $141.00 and is my special gift to you for supporting our book project. [UPDATE: We now have more than $700 in bonuses available during our week-long book launch March 23-28, 2009!! Visit WebMarketingBook2009.com for details.]
Posted by Marty Dickinson on Dec 16, 2008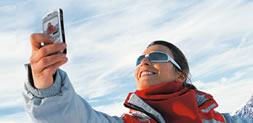 Can it be right that almost 80 percent of mobile users use Smartphones? I just saw this statistic in DM News November 17, 2008 issue that suggests 79.5% use Smartphones and 18.9% use a basic cell phone. These numbers were discovered by The Kelsey Group in October 2008 sampling 512 US mobile phone users.
Now, I'm not nearly as interested in the exact number as I am the reason why so many more people use smartphones than a regular cell phone. My brother has a "regular" cell phone and I asked him yesterday if he has Internet access. He said, "I think so, but I have to pay extra."
But, I think one discovers why the increase after one actually begins using a Blackberry, Motorola Q or iPhone. The answer is because smartphones are really more like little computers than anything else.
I was on the phone with a client last week talking about mobile web and the fact that only 10% of my audiences at workshops have even viewed their websites through a mobile device. I predict that in 3 or 4 years, the majority of users will access the Internet first through their Smartphone and a distant second through their computer.
And, it makes total sense. There's a lot you can do with one of these Smartphones without ever having to turn on a computer. You can chat with employees even when you're out of the office, send text messages that are often read before e-mail, find directions within minutes to a meeting you're supposed to be at on-time, and of course find a great pizza place around the corner.
But, my favorite use for a Smartphone is when I'm in a place where I can't lug around a computer. That could be an airport, restaurant, or anyplace where I might have to stand in line for more than 3 minutes (yeah, kind of impatient).
I just pull out my Blackberry Smartphone and go to one of my favorite blog sites and start reading. If I see something interesting, I can even get myself involved in the conversation.
Smartphones are a great way to have a computer in your hands when you are in a place where the computer probably wouldn't be a good fit. How have they helped you and changed the way you get things accomplished throughout the day?
Posted by Marty Dickinson on Nov 6, 2008
Got this email in today threatening my Internet access was going to be suspended. It's a hoax! And it's confirmed to have a virus attached to the zip file.
If you get an email like this, do NOT open it! Just delete it. It's very tempting to click the link they provide because, who wants to get suspended from Internet access after all?
But, if you do, be forewarned.
Here is the letter I got with the subject as follows…
(Ha, I just noticed they couldn't even spell consortium right!
Geez, if you're going to start a virus to drive Americans crazy, at least learn how to spell!):
- – - – - -
Subject: Your internet access is going to get suspended
The Internet Service Provider Consorcium was made to protect the rights of software authors, artists.
We conduct regular wiretapping on our networks, to monitor criminal acts.
We are aware of your illegal activities on the internet wich were originating from
You can check the report of your activities in the past 6 month that we have attached. We strongly advise you to stop your activities regarding the illegal downloading of copyrighted material of your internet access will be suspended.
Sincerely
ICS Monitoring Team
Attachment
Attachment: user-EA49945X-activities.zip (33Kbytes)
Posted by Marty Dickinson on Aug 21, 2008
Every time I get on a plane to go to a conference or other business trip, I sit in the airport with my laptop connected to the Internet up to the minute we board. "When will they just offer Internet access on airplanes?" I wonder…..
The time has arrived! According to a post I saw on Information Week this morning, American Airlines is offering mobile broadband Internet on it's 747 planes flying non-stop from San Francisco, Los Angeles and Miami to New York. More 3-hour or more flights will soon follow suit I'm sure.
Now, that still doesn't help me much because I live in Denver. And, just about everywhere I fly is 2.5 hours or less. But at least a first step has been made. In a couple of years surely every plane will grant Internet access for at least those flights that feature movies.
The way it's been described to me by some of my techie friends is that there will be a series of mobile Internet signal silos on the ground and an Internet connection box on the bottom of the plane. A seamless connectivity between the silos will enable you to keep your Internet connection in tact while the plane moves from one silo's reach to another.
One of my personal worries is peering eyes from the seat behind me reading my email while it's up on my screen or watching over my shoulder to see what website I'm checking out.
Actually, maybe even worse could be the uncaring freedom of speech porn lover that surfs adult sites while other peoples' young children sitting by getting an eye full! Surely there will be some crazy stories to evolve as airlines….go online.
Still, the good with the bad, I'll take the good. Internet access on airplanes is a very good thing and a long time in waiting. What is your view?