Posted by Marty Dickinson on May 5, 2010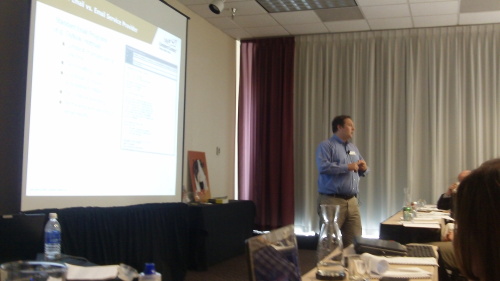 Zakary Barron is doing a great job presenting best practices of email marketing. Focus on email marketing is a great follow-up to what I was presenting to the group, which was social networking on Twitter, Facebook and Linkedin.
Highlights include:
1. Email is not dead: Proof: Didn't you check your email this morning?
2. What are your goals?
3. Your welcome email is gold! Include your logo, salutation, welcome sentence, privacy reinforcement
4. Keep your list current
5. Provide link so people can change their profile
6. Ask for feedback
7. Survey customers to understand interests then target messages & offerings
8. Expect 15-30 open rates for emails sent out
Zakary told me our workshop was closed off to registration at 120. We had a couple of walk-ins that we managed to squeeze in, but we're definitely going to do this again. Zak says there were 40 on a waiting list. So if you missed it, look for another workshop day to be scheduled soon! Great job Zak!
Click a Star to Rate This Post:
Tell Others About This Post:

Email This Post to a Friend