Posted by Marty Dickinson on Oct 29, 2008
I have some real estate investors and agents for clients and friends. As you can imagine, most are having a rough go with the current real estate market. But, there are a few who are doing just fine…and are in fact making money in real estate! Do you want to know what their secret is? They have home staging experts to help them sell.
Home staging involves bringing in a bunch of furniture and decor to dress up a few rooms for show in a house.
What is the secret shared by the best staging experts in America? They've learned from the best! And, apparently, Sandy Dixon is the best.
I had the privilege of sitting-in for a few hours on one of Sandy's live workshops in Evergreen Colorado a couple of months ago and she is in more demand then EVER right now with this economy.
So, why do I bring this up?
Do I want you to go out and start a home staging business? Ha, only if that's what you want to do…and Sandy's home study home staging business course would be the one to buy for sure…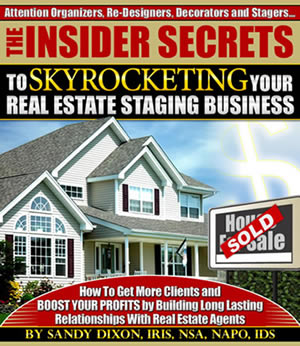 But, I have another reason.
It's to demonstrate how in even the WORST of markets and economies, opportunities present themselves. There are plenty of people out there who are doing just fine in this economy. It's just a matter of looking at your own business and doing things a little differently.
Okay, maybe a lot differently.
So, I have a question for you…
What kinds of businesses have YOU seen become popular in this down economy? Maybe your own? Tell other readers about it here!
Click a Star to Rate This Post:
Tell Others About This Post:

Email This Post to a Friend