Posted by Marty Dickinson on Aug 5, 2008
The question "What fonts can I use besides arial on my website?" came in from one of my "Small Doses" subscribers where I offer Internet marketing and business growth tips…well, in small doses. Thanks for the question and here's the answer. The font types you choose for the text areas of your website should be whatever font type you KNOW for certain your visitor's computers have the capability of displaying on their screen the same as you intended when you wrote the page on your screen. Unfortunately, you never know for sure.
Said another way, stick to fonts that are considered "safe." My favorites are Trebuchet and Verdana when I want to be "different" but stick with "arial" when I want to be professional because it's safe.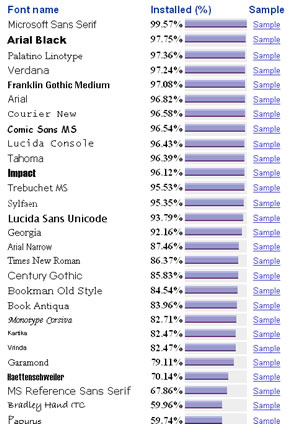 Here's a great resource to use when trying to identify which font is best for your site. The Installed (%) means what percentage of computers have that particular font installed on them.
Now, just because Microsoft Sans Serif is right on top of the list doesn't mean that would be the best fit for use for your website. But, it does show why Arial Black, Verdana and Arial are so widely used–because people have come to realize that most computers have those fonts loaded.
This display also shows that Garamond might not be such a predictable choice, even though many web designers choose it.
If you must use a font that is not high on the list, that's your opportunity to use the font in an image instead of the main text of the site. That way, any computer will still be able to see the wording the way you intended it to be seen.
Don't go too overboard with using images to display your text, however. You need a lot of text on your pages so that search engines will be able to evaluate your content for placement.
Interesting how we have lots of choices when it comes to using fonts besides the common Arial 10-point. Then again, maybe we don't have as many choices as we thought. Anyway, just thought you'd like to see this chart.  Have a great day!
Click a Star to Rate This Post:
Tell Others About This Post:

Email This Post to a Friend