Posted by Marty Dickinson on Aug 19, 2008
The question "How do I add a YouTube video to a blog post?" comes up a lot when talking about blogs. The answer is simple to begin with, but if you add the right plugin to your WordPress blog, it's even simpler than you might believe.
First, let's start off with an example video that I searched for on YouTube. No, this isn't my boy, just someone I came across from searching. Hope he appreciates the video views we'll be bringing his way!
[youtube]http://www.youtube.com/watch?v=cwhkG3LhZO8&feature=related[/youtube]I went to YouTube.com and searched for 7-year-old-guitarist, being a guitar player myself. When you use a YouTube video, you sure want to choose one that will be of interest to your viewers. If you've ever played an instrument, you'll surely be amazed at this little guy!
After I decided to use this video as my example, I started a blog post which looked like this: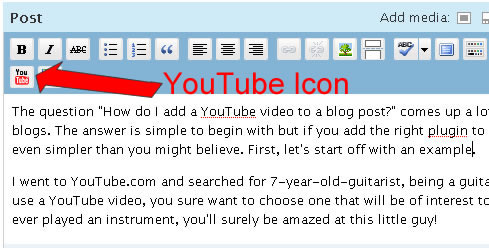 Then I clicked my mouse in the position I wanted the video to appear on my page and then clicked on the YouTube plugin icon that I installed when my blog was originally setup.
This video plugin can be found within your WordPress account by searching for Viper's Video Quicktags. Simply download the plugin and install it as the instructions describe. [Note: If you're not familiar with basic blog setup techniques, check out my Ultimate Blog Checklist.]
Notice when I clicked on the plugin icon, a little window pops up. That is where we'll add the video's location.

By returning to the video page on YouTube, I can now select ("copy") the visitation URL (Do NOT choose the embedded code) as shown in this next photo.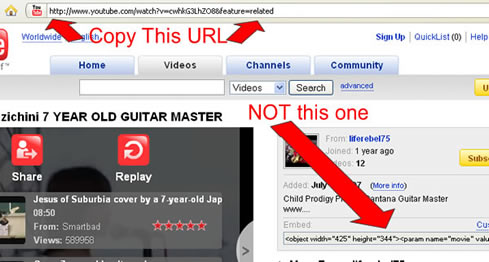 Next, with the url copied into my clipboard, I will return to my blog post where the popup window is showing from the plug-in I clicked and I'll "paste" the url into that window:

When I click on "OK" the video code will be added to the content of my post. Note that of course the video won't truly display live to the world until I "publish" the blog post to the blog. But, you can see where the code has been added to the blog post:

So that's how I added this YouTube video to my blog post. And, with the proper plugin, the entire process takes mabye 10 seconds or so. With that in mind, I encourage you to start adding YouTube videos to your blog posts. Why? Because using the right video will capture the attention and interest of your readers. And, that's probably 70% of what good blogging is all about.
Click a Star to Rate This Post:
Tell Others About This Post:

Email This Post to a Friend