Posted by Marty Dickinson on Jul 8, 2008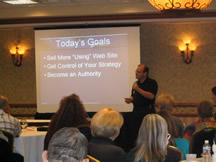 Just a quick note that I've been invited once again to present at Colorado Independent Publishers Association (CIPA). This time, it's for a full-day workshop on Saturday, July 19, 2008.
The focus will be on blogs (of course), traffic, improving sales conversion rates, and just a whole heck of a lot of new things happening in the web world. But, there will be an emphasis on promoting books.
So, if you're not writing a book or have a book that you've published, just be aware there will lots of "book talk." But, the networking at any CIPA event is simply incredible.  You will truly be amazed at the contacts you make at a CIPA event.
This is not a seminar where I tell you a little and then sell you the goods. There are plenty of people in that business. My workshops are training classes so come prepared to learn and do a bit of sharing what you know at the same time.
I heard yesterday there are already more than 30 registered so if you'd like to attend, might want to get in sooner than later. I'm not sure what the cutoff is but I'm sure it won't be much more than 50…just the way I like it. Hope to see you there!
Click a Star to Rate This Post:
Tell Others About This Post:

Email This Post to a Friend