Posted by Marty Dickinson on Apr 30, 2009
Web sites used to be designed with the primary intent to push pages of content onto the public through search engines. But, when social networking began, the traditional Web site became more of a second, higher-level form of introduction. First people would meet each other on the social network and then your newly found friend would eventually click on something to get to your main Web site.
But, traditional Web sites still today are too slow to keep up with the traffic and conversations that result from the many forms of social networking available on the Internet. When someone becomes introduced to you on Twitter, Facebook or Linked-in types of sites, and THEN they visit your Web site, they are usually wanting to interact with you more.
If you don't know how to use Dreamweaver or have given up trying to learn your high-end Joomla or Drupal install, it's just not that motivating to offer to pay someone to make changes or additions to a Web site every day. This potential for interaction is gone unless they pick up the phone to call you or send an email to you.
I'd like to suggest that the importance of a blog has reached a whole new level. Your blog is now at the heart of your entire social traffic flow as shown in this diagram: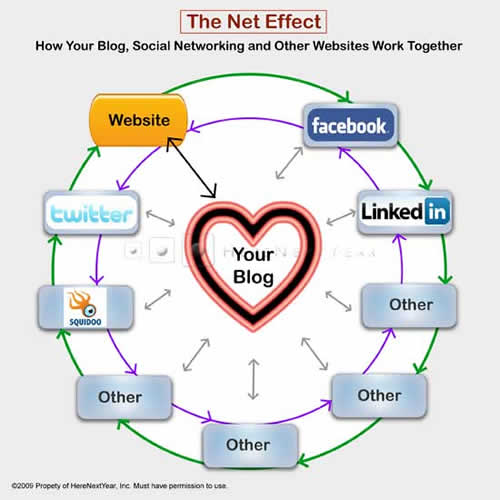 Whatever interaction you have on social sites eventually should flow to your blog where you can encourage further interaction. Then, once someone is ready to really look at the services you offer, they are directed to your main Web site.
Note too that the "Net Effect" of using your blog as the very heart of your social gathering place is your ability to add new content quickly and even automate it to be pushed right back to the very social networks you are already receiving traffic from.
Join me on my new Linked-in Group where discussions are already underway for a variety of subjects related to how blogs interact with social networking. We're calling it
The Social Blogger Group at Linked-in:

I hope to see you on Linkedin soon!
Click a Star to Rate This Post:
Tell Others About This Post:

Email This Post to a Friend