Posted by Marty Dickinson on Apr 20, 2009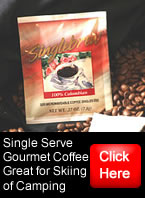 Single Brew Gourmet Coffee in tea bag style containers is great for skiing, camping, and visiting with the inlaws.Closing day at Copper Mountain yesterday, I was having lunch in the upper lodge called Solitude Station. The downstairs restaurant was closed but fortunately I brought my lunch. They were cooking burgers on the grill outside and there was a condiment stand, a couple of microwaves, some cups in the dispenser, and a large container of hot water. That was it, but that's all I needed to get my coffee fix!
A new client gave me a few samples of his famous "Single Brew" coffee before Christmas. My mother visited for Christmas Day and we broke open our first package, which was about the size of a large tea bag. We didn't even bring out our coffee pot that day to make our traditional presents opening coffee. With these, you just dip the bag into hot water in your cup and your ready to roll. We both instantly fell in love with the taste. No cream or sugar needed!
Anyway, I thought we had drank them all over Christmas but on Saturday I found one straggler in the cabinet so I brought it to Copper to have for lunch. The single serve single brew bags are nice and flat and durable so I wasn't worried about them getting torn inside my backpack as I skied around for the morning.
After my sandwich, I grabbed a cup of the boiling hot water and dipped my Single Brew coffee bag into the water and walked outside to sit in the warm sun and watch the other skiers go by. One guy could smell the coffee as he walked by and asked where I got my coffee because he didn't see any for sale inside. I had to laugh as I told him this was "gourmet single brew single serve coffee that I brought from home, but you can always buy some for the next time at SingleBrew.com."
He laughed and said "You say that like you own the company." I replied with, "No, I just know the owner but it sure is good stuff."
This summer I'm looking forward to bringing some Single Brew packets with me to Arkansas where we visit inlaws. None of them drink coffee and I always feel out of place lugging their coffee pot out just for me. This way, I'll be able to just stick boil some water in a cup and stick it in the microwave.
Single Brew single serve gourmet coffee gets my highest recommendation.
Click a Star to Rate This Post:
Tell Others About This Post:

Email This Post to a Friend