Posted by Marty Dickinson on Sep 17, 2013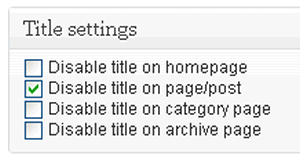 Just found a great plugin that helps to remove or hide the "Title" from displaying on a page or post. It's called, obiously, "Disable Title" and can be found here >>
This plugin was found in a comment to a blog post on the topic that I felt was well written and gave several options for hiding a title.
Remember, the "Title" I'm referring to is what really should be called a "headline" I believe. The <title> of a website is what Google lists as its live link to a page on a website. By using another plugin like the All-in-One SEO Pack the <title> will become whatever you designate in the post or page within the SEO Pack text fields. So, I prefer to distinguish that as the Title and the Headline as the Headline.
How Does This Remove Title Plugin Work?
Pretty simple.
Install the plugin
Go to the page or post you want to hide the Title
Scroll to below the content
Click check boxes if you want to hide title from this page, this post, or if this is the home page and you want to hide the Title from displaying on it
Click a Star to Rate This Post:
Tell Others About This Post:

Email This Post to a Friend