Posted by Marty Dickinson on Oct 21, 2008
Last night I made the trek to Westminster Colorado to hear the great Dave Taylor teach us how to "make a living from your blog." I won't reveal any actual numbers here, but let's just say Dave is in the mid 6-figure range for annual revenue derived from his blogs. Here are some notes I took from his presentation:
1. Dave told us how some Kontera, Vibrant Media and Infolinks are worth adding to your blog as money generators. And, of course AdSense is the staple that all blogs should have if you want them to become money generating.
2. You don't have to make blog posts all by yourself anymore. Try Blogger4Hire.com or MarketingPilgrim.com.
3. Dave likes to have the goal of making $275 per day with any particular blog (corrected by Dave in comment below…he actually said any particular "business" as a whole. Thanks Dave…). That seemed to me to be a good number to shoot for instead of having a lofty annual goal that you may never come close to reaching.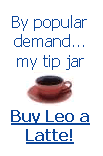 4. He showed an example of a tip jar on Ask-Leo.com which won't put your kid through college but Dave says it's amazing how many people will buy you a cup of coffee through a tip jar.
5. When it comes to tracking AdSense…track every major keyword phrase with channels. That way over time you will come to know the phrases people are most interested in reading on your blog and you can create more posts for those popular terms.
6. Don't use WordPress.com to host your WordPress blog. If they find out you are using your blog for commercial purposes, they will shut you down. Get a hosting account somewhere…anywhere!…and host your blog there. I always knew there was a reason. Now I know why.
7. My favorite: "If you want to get a higher clickthrough rate in your Adsense ads, create your posts about topics where people are prepared to buy something."
A good example of that is software. If you write about a new computer virus you just heard of, then AdSense will surely pop a bunch of ads in your post related to viruses. People are willing to invest in a good virus protection software so they're more likely to click on one of those ads.
Finally, one thing I really liked about Dave's presentation is that he stopped the powerpoint slides and just sat on stage asking questions. It seems offering to ask questions these days is becoming rare. Great job to Dave and the Davinci Institute for offering this program.
Dave's presentation was recorded by video and will be made available to Davinci Institute members.
Click a Star to Rate This Post:
Tell Others About This Post:

Email This Post to a Friend