Posted by Marty Dickinson on Jun 25, 2010
▶

Zakary Barron from Constant Contact and I had another great turnout at Profit Again in 2010. Our workshops are typically just 3 hours from 9 to noon during a weekday so you can get your work done during the rest of the day. Looks like we might start doing these once a month as we always have a waiting list. Keep checking our Denver Internet marketing workshops page on the HereNextYear.com site and sign-up for the Tuesday Triplet and receive notices whenever we have another upcoming workshop.
At every session, we cover social networking, blogging, WordPress, SEO, video, email marketing strategies and other essentials. And, yes, that's just 3 hours of jam packed content. Hope to see you at the next one!
Posted by Marty Dickinson on May 5, 2010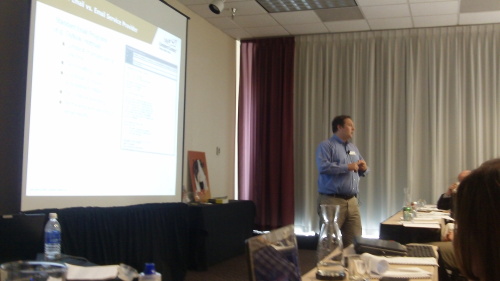 Zakary Barron is doing a great job presenting best practices of email marketing. Focus on email marketing is a great follow-up to what I was presenting to the group, which was social networking on Twitter, Facebook and Linkedin.
Highlights include:
1. Email is not dead: Proof: Didn't you check your email this morning?
2. What are your goals?
3. Your welcome email is gold! Include your logo, salutation, welcome sentence, privacy reinforcement
4. Keep your list current
5. Provide link so people can change their profile
6. Ask for feedback
7. Survey customers to understand interests then target messages & offerings
8. Expect 15-30 open rates for emails sent out
Zakary told me our workshop was closed off to registration at 120. We had a couple of walk-ins that we managed to squeeze in, but we're definitely going to do this again. Zak says there were 40 on a waiting list. So if you missed it, look for another workshop day to be scheduled soon! Great job Zak!
Posted by Marty Dickinson on Mar 31, 2010
In my family of full-time Internet marketers, there seems to be a hot trend to make as many websites as we can and build traffic from those sites in order to feed our main sites. But, how exactly does one manage the "feeding" part?
About a year ago, I looked at a free product called OpenX. Last week I heard about it again and all day today I've been playing around with getting it installed. Essentially I can create an image add (or video or text among others) and then have that ad automatically display to any website I add the code to. I can have multiple ads rotating out on hundreds or even thousands of websites…promoting my own products and services.
Here's how it works:
1. I had to install the software to my web hosting account. Visit OpenX.org to get the free download files or just contact your hosting company to see if it's already installed on your server.
2. Watch the video on the OpenX.org website to get a quick tutorial and then setup your campaign and sites so that ads will display.
3. Copy and paste the code provided by OpenX to your website. In my case it was (openx:1) and here's what displays within this post:
4. Add the code to your sidebar. OpenX made a free plug-in for WordPress so you can just download that and add it to your sidebar as a widget and you're good to go!
5. Create more ads and add them to your OpenX campaign. You can have as many ads rotating as you'd like!
6. Watch your visitation stats and click-through's from within your OpenX account. You can even assign CPM and CPC prices
7. Take it all to the next level and open up your websites for others to post to and have them pay you for the traffic you're bringing to them. I'll get there…but, for right now, I'm just building these out on my other sites.
Give OpenX a try. It's free and it's probably already loaded on your web server. Just ask support how to implement it. Maybe I'll do a setup video on it once I've figured it out myself

Posted by Marty Dickinson on Oct 14, 2009
Today a client asked me how he could get a list of emails for his market and send spam to them promoting his website using iContact. Here was my response:
I just got off the phone with a list provider I've used in the past called InfoUSA.com and they have a list of 888 total contacts in their database under the umbrella of "h-isniche."
388 opt-in emails are on their list, meaning, people who have agreed to get email from them. InfoUSA will not give you this list of emails, but they will do an email campaign for you for $475 one-time. That is their starting rate, so you might be able to get that list number up higher targeting some other related categories and still only pay $475 for the emailing.
Call InfoUSA if you'd like to ask any questions or for next steps.
So, using that scenario, you would have InfoUSA send the email to their list on your behalf. Then you would offer something on your website as some kind of incentive for those email recipients to sign-up onto YOUR email list (the opt-in form would be provided by iContact). That could be a coupon or a free report that could be as simple as "5 Ways to Know You're Getting the Best Deal on Your Niche Product". Then you would be able to build your own list and send to them whenever you want using iContact.
In talking with iContact this morning, I did discover that we can now import existing lists to iContact and start sending email out. It used to be that they required an authorization email to go out first to the list you import (like Constant Contact still does) to verify that those people really do know who you are and want to receive your emails. That no longer appears to be the case.
So, you could certainly canvass your existing customers and get their email addresses and then import them into iContact. Then new visitors to the website would add their name and email to that list as well.
I'm sure we could use some kind of hacker script to go scrape solar sites and get email addresses. But, that's not an ethical way to build a list.
I strongly suggest staying away from visiting websites, copying and pasting email addresses, and sending blankets of unsolicited email to them. That will get you in trouble.
The question you will ask yourself as a result of that statement is "Everybody does it, why can't I?" Well, the reason people do spam and get away with it is because the FTC (Federal Trade Commission) cannot find who the sender is to fine them thousands of dollars. True spammers spend their days creating programs that use other peoples' IP addresses to send their broadcasts from and fake addresses where the companies supposedly reside. People like you and me who would send genuine emails to people out of the blue would get reported and blacklisted and fined and all kinds of potentially bad things. Best to avoid it all and focus on getting people to opt-in to your list and build your list over time.
So, those are just some findings for you.
The alternative, and maybe a happy medium I suppose, would be to simply search google manually and find all the sites you can like hisnichecompetitor.com and then call them on the phone and ask for an email address of the person that would make the buying decision. Then you could send an individual email to that person saying "nancy" or whoever "suggested I send this email to you with the following information…" and invite them to come to the site and opt-in to your iContact list. At least you would have "semi" permission that way.
Hope that helps.
Posted by Marty Dickinson on May 1, 2009
LinkedIn has finally revealed to me how it can produce more leads and sales for a business and I did it without even trying. I started my LinkedIn profile in 2007 and setup my profile just like the pros. Got a bunch of connections and then just sort of left it be. I thought the whole purpose of LinkedIn was to just wait for connections to happen. Boy was I way off!
Since starting my LinkedIn profile, I've spent far more of my online social networking time with other systems like forums, Facebook, most recently Twitter. I've had leads, made sales, increased my opt-ins with every single one of those systems…but nothing from LinkedIn…until the last two weeks.
Here let me show you!
Today is Friday. On Wednesday night, I sat in my recliner for the second half of the Denver Nuggets once again destroying New Orleans in the basketball playoffs. During the last 10 minutes of the half-time report and commercials, I read questions people were making in groups I had signed up to be a member of (free member of course).
After the game was over I just sat in my chair for another 30 minutes joining another 3 groups and posting a few questions of my own and answering others.
The next moring, this is what my email box looked like:

#1 is a lead, someone asking me about what kind of Web site work my HereNextYear company does for clients. #2 is an opt-in to a subscriber list for my Ultimate Blog Setup Checklist site. #3 is a product sale where someone bought one of my e-manuals and #4 is an invitation to join someone's linked in profile.
The rest of what you see in my email there are from comments made to the groups I belong to after I made comments to them. So, about 80% are people commenting about my comment.
What does all this mean?
It means the secret to using LinkedIn as a lead and sales generator is to participate. You need to do the following:
1) Create a profile in LinkeIn if you don't have one already
2) Add links to your Web sites in your linkedIn profile so that when people do decide to find out more about you from your participation in groups that they will have a place to go
3) Click the "Groups" link from within your profile to search for groups where your target audience might be already members.
4) Join 10 or more groups if possible and choose some groups that have more than 5000 members. It's okay to belong to some groups that have smaller membership numbers, but you need to be part of some larger groups just for sake of volume. For any group member that has the "email me every time a comment is made to this group" activated, when you make a comment, an announcement will go out to everyone on that group list. That's what you see in my e-mail inbox image above besides the #1,2,3,4 is notices that comments have been made to the group I'm participating in.
5) Every time a notice DOES come in to your email, read the reply and engage in more conversation.
One conversation I was participating in is about LinkedIn spam. It was such a popular topic that there were 4 pages of comments within a week's worth of discussion. I shared my opinion on the first page of the comments but then added more comments to make sure I had visibility on other pages too.
So, keep track of those discussions and participate frequently.
Should you ONLY participate in LinkedIn groups with the intent of getting sales or leads? YES is my opinion! That's why we spend time on the Internet for social networking. But, the WAY in which you do it is important too. Don't just be salesy about it. Simply make comments and share your opinions and expertise. When you write good responses, people will send you emails saying "Hey, great comment to that question and thanks for the help." And, that's when you know you've made a great first impression. Someday, a person like that could turn into a client, an opt-in, or even a recommender for your services.
And, that' is the power of how LinkedIn can help you get leads and sales without even trying.
Join me on my new Linked-in Group where discussions are already underway for a variety of subjects related to how blogs interact with social networking. We're calling it
The Social Blogger Group at Linked-in:


Posted by Marty Dickinson on Mar 12, 2009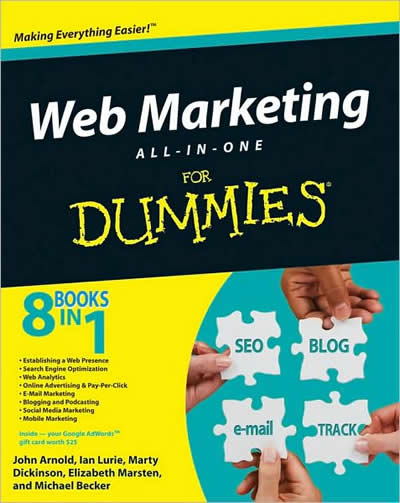 My co-authored Web Marketing All-in-One Reference Guide for Dummies book is officially in-stock at Amazon. And, even though I haven't seen the live version come in quite yet, it sure is exciting to know that it's close to being in stores everywhere! Next week I will be interviewing my fellow co-authors about their book chapters and hope to get a few nuggets showcasing the most secret Internet strategy techniques.
Here's a link to the book on Amazon for you to order right now!
As a SPECIAL LAUNCH BONUS, I'm offering 1 month access to my Level 2 membership program featuring the Internet Marketing Organizer tool. All you have to do is send a receipt to me by email at Marty@HereNextYear.com so that I have proof you've actually purchased the book and I will hook you up with a username and password to access Level 2. That's a value of $141.00 and is my special gift to you for supporting our book project. [UPDATE: We now have more than $700 in bonuses available during our week-long book launch March 23-28, 2009!! Visit WebMarketingBook2009.com for details.]
Posted in
Blog Strategies
,
Business Education
,
copywriting
,
Driving Traffic
,
Internet Access
,
Internet Marketing: Tips and Tools
,
List Building
,
social networking
,
Squeeze Pages
,
Website Design Tips
,
Website Hosting
,
Website Promotion
,
Website Revenue
,
Website SEO
,
Website Video
,
Websites Mobile
||
1 Comment »
Posted by Marty Dickinson on Feb 6, 2009
After you have put up a website, it might be a good idea to start thinking about a newsletter you can offer weekly, bi-weekly, or monthly to your customers. Study after study shows that newsletters can create a loyal following and repeat sales. And the good news is, newsletters are fast, easy, and can be a very fun way to let your creative side out. BUT, if you're not creative, you don't have to be!
So, a few things to think about before you start designing:
What is the purpose of your newsletter? Do you want to put together a document to keep readers updated on your industry? Do you want to make this more of a personal newsletter on your interests, recommended products, etc.? Get a good sense of your objectives and goals.
Sit down and brainstorm every possible component you can think of that could be included in your newsletter – tips, jokes, quotes, testimonials, video, articles, etc. Make this list as long as possible (research what others have done for more ideas) and then refine your list down to the elements that get YOU excited. If you aren't excited about what you're doing, it'll never get done.
Think about what format you want to use for your newsletter:
-   You can do a plain text format which is easy, fast, and has good deliverability in email accounts – but, it's a little boring because there are no graphics or creative ways to break up the text.
-   HTML newsletters are a little more fun because you can adjust the theme, colors, and layout – but, some email accounts only accept text emails which could hurt your deliverability a little.
-   You could also create your newsletter in a word processor and publish it as a PDF. This can give you a little more of a professional feel and you have creative control as well. (Word even has pre-made newsletter templates available to help you get started.)
-   Also, do you want this to be a digital newsletter that you send to people via email or post on a website? Or will this be a printed newsletter that you mail to your customers?
If you've done writing in the past for articles or blogs, you know that writer's block can set in and deter you from producing a finished product. I suggest writing out a list of ideas – article topics that you can put into a document and pull out when you need a little shove in the right direction.
Frustrated with the design process or feeling a wave of procrastination in getting started? Go to your favorite search engine and type in "free newsletter templates" and bingo! – You've got instant motivation and a fill-in-the-blank template you can go to town with.
So, start with brainstorming, then finish up with creating the template. Newsletters can be fun and rewarding (both personally and financially). Let me see your newsletter once you've designed it, and then we can create a blog post around it and get you some increased exposure!!